The economic narrative for 2023 has centered on lowering inflation and faster-than-expected economic growth preventing a recession in the US. Despite the fact that the economy is dealing with the highest interest rate environment in more than 20 years, this is the case.
But as 2024 draws closer, the stronger-than-anticipated consumer could prevent more encouraging inflation news and could have an impact on how Federal Reserve Chair Jerome Powell frames the Fed's fight against inflation during his speech on Friday in Jackson Hole, Wyoming.
"We think Powell's tone at Jackson Hole will be less balanced than the July FOMC minutes since the latest data raise the risk of a fresh increase in inflation," Shruti Mishra, a Bank of America US and global economist, wrote in a note on Sunday.
Powell's address comes on the heels of another good set of economic data showing that consumer spending remained resilient in July. The third quarter's economic growth is currently on course to be the fastest since the fourth quarter of 2021.
"We see building upside risks for goods prices more broadly as demand for goods is picking up again just as commodity prices have been rising, inventories appear to have reached a peak, and the disinflationary forces from supply chains correcting could be reaching an end," Citi economist Veronica Clark wrote in a note on Monday.
The 0.7% increase in retail sales in July, which included a 10.3% increase in nonstore retailer sales over the previous year, demonstrated that consumers are still spending on items. Citi economists believe that increased goods consumption may increase the likelihood of inflation reaccelerating.
A more intricate story is developing beneath the headline fall in inflation during the last few months. In July, headline inflation as measured by the Consumer Price Index (CPI) climbed 0.2% month on month. The same can be stated for "core PCE," which excludes volatile items such as food and energy.
Economists generally saw this as a positive for the Fed, as core CPI rose at the slowest rate since October 2021. However, Jefferies US economist Thomas Simons believes that this may not represent the complete picture.
According to Simons, healthcare services and aviation tickets have also been particularly volatile in the post-pandemic economy. When those measurements are removed, Simons' alternative metric, "super duper core service inflation," grew at a 0.7% pace in June, the largest month-over-month increase since February.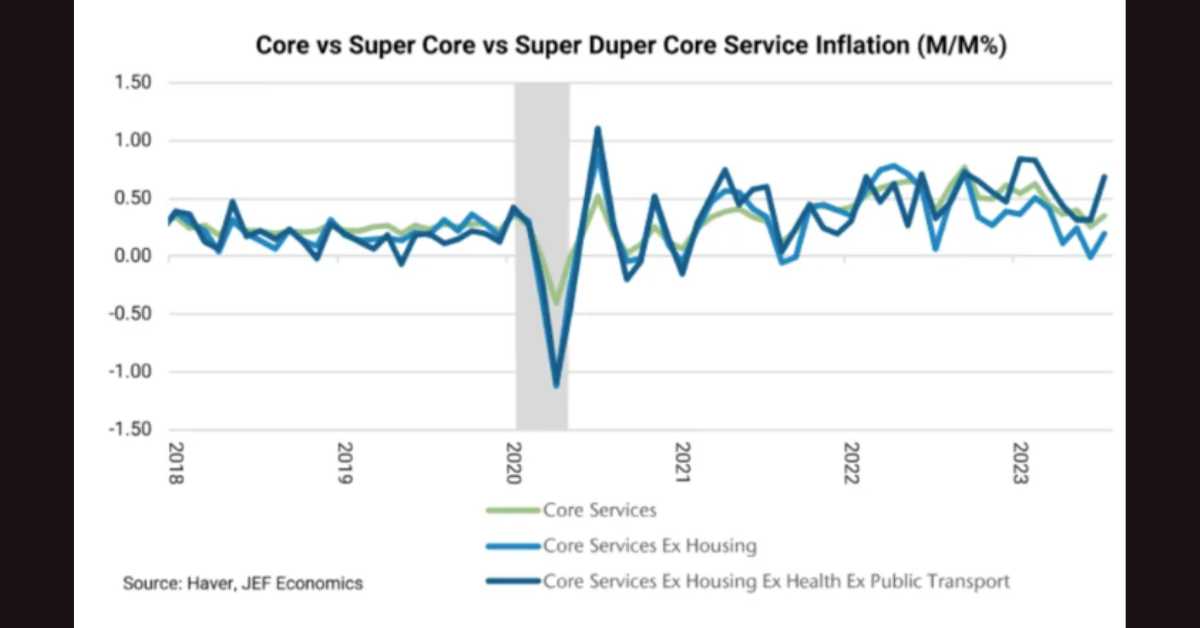 "The Fed can exhale a little bit, and celebrate the strong disinflationary trend that has been in place since last Summer," Simons wrote in a letter to clients on Aug. 11.
"However, it is still far too early for a victory lap, and this pressure in the super duper core measure of inflation will motivate the Fed to continue to keep rates high and give hawkish policy guidance."
EY-Parthenon chief economist Gregory Daco recently noted on Yahoo Finance's Chartbook that if stickiness like Simons' highlighting plays out and month-over-month inflation rises back up, inflation could end 2023 higher than it is now.
"The 'free disinflationary lunch' from rapidly falling energy prices, cooling food price inflation, and easing core goods inflation is now over and any additional disinflationary momentum will have to come from slower month-over-month gains in core services prices," Daco added.
You may read some of our other recent articles here:
The Overhang in the Labor Market
While the labor market in the post-pandemic era is no longer booming, Americans are nonetheless witnessing considerable salary increases.
Wages are increasing at a 4.4% annual rate, which is faster than the headline inflation rate of 3%, implying that "real" wages, or those adjusted for inflation, are now positive for the first time since March 2021.
"This is how nature starts to heal after an inflation crisis. Wages often catch up to prices instead of prices falling to pre-crisis levels," says @callieabost https://t.co/odymYsowgo pic.twitter.com/bMvnlkt6d5

— Yahoo Finance (@YahooFinance) August 16, 2023
In addition, according to fresh statistics from a fresh York Fed study issued Monday, the average wage workers are willing to leave a job for is now $78,645, an all-time high and an increase of 8% over the previous year.
For Simons, persistent wage growth means "We doubt that we will see much relief in [super duper core services inflation] prices until more slack develops in the labor market, and that doesn't seem to be happening any time soon," Simons wrote.
"Wages in excess of inflation means real wages are positive again," Powell stated at a press conference on July 26. "That's a great thing. Of course, we want that. We want people to have real wages but we want wages to be going up at a level that's consistent with 2 percent inflation over time … But I would say wages are probably an important issue, going forward."
During his press conference, Powell again reiterated his belief that the labor market remained "very tight," but he did suggest that signs of "better balance" in the US labor market are emerging.
"Labor market conditions broadly are going to be an important part of getting inflation back down and that's why we think we need some further softening in labor market conditions," Powell said.