DeVonta Smith's new girlfriend is Mya Danielle. She is a lifestyle blogger. In October 2022, DeVonta began dating her. Mya' Danielle Travis is her given name. In January 2023, Smith was caught kissing her on the sidelines.
Smith attended Alabama and was selected by the Philadelphia Eagles in the 2021 NFL Draft. When Trevor Lawrence went first overall and Jamarr Chase went fourth, DeVonta was one of the finest picks.
He also won the Heisman Trophy for his exceptional college season, becoming the first wide receiver to do it since Desmond Howard in 1991.
Smith rose to prominence after collecting the game-winning touchdown pass against Georgia in the 2018 College Football Playoff championship game.
Furthermore, the wide receiver will make his Super Bowl debut at Arizona's State Farm Stadium. Jalen Hurts will spend the entire game looking for his pass-catching weapon.
DeVonta Smith's Dating Life With Mya Danielle
In January 2023, DeVonta and his girlfriend Mya Danielle Travis made a public appearance. In 2022, the couple started dating.
On October 31, 2022, Smith and Danielle, formerly known as Mya's first couple post, was published. Danielle created a video collage and shared it on her TikTok profile.
The 20-second film shows them working out at the gym, traveling together, bowling, and relaxing in their personal area. The song I Got a Thang for You by Trina was playing in the backdrop of the video.
DeVonta and Mya are living together as proven by her second TikTok videos Smith may be seen watering the flowers in her Get Ready With Me for a Date Night video, hinting at their shared house and pet dog.
The couple has attended multiple basketball games together, but their relationship caught the attention of fans after photos of them kissing went viral on the internet.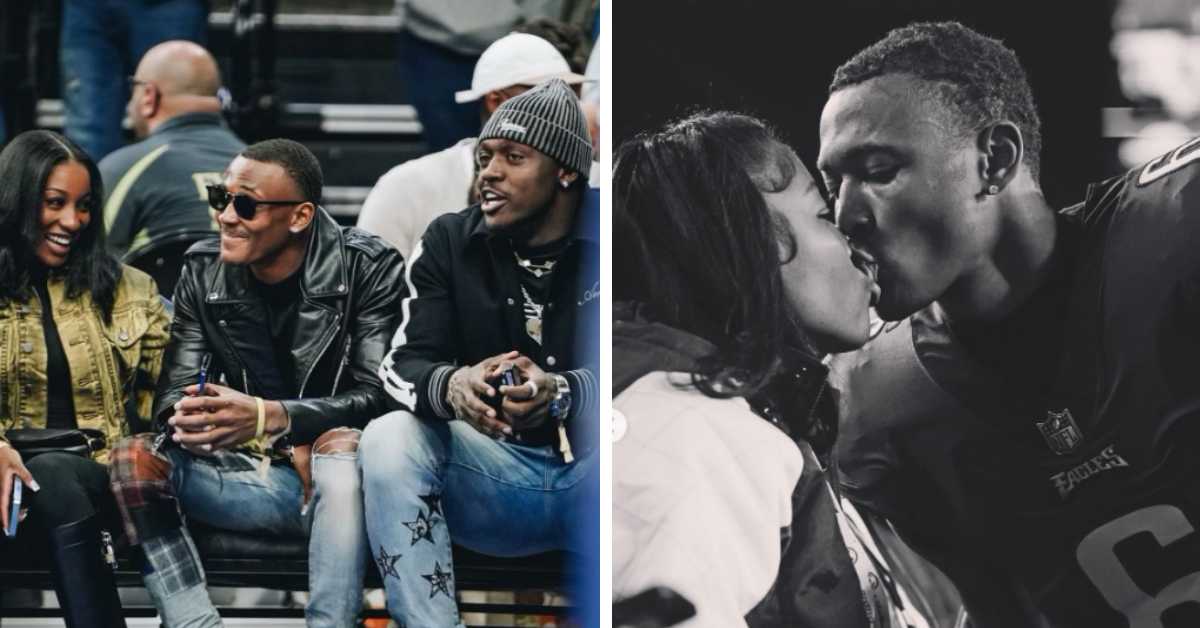 Smith has not posted any photographs with his girlfriend on his Instagram However, Danielle posted a picture with Smith on 7 January 2023. She captioned the photo, mentioning that "Lately I been doing shit I love with the one I love."
The second image on her profile shows her being a supportive girlfriend and cheering on her beau at Lincoln Financial Field while wearing a Philadelphia Eagles t-shirt.
If you want to learn more about other celebrities' personal lives and their dating life, please see our post below:
More About Mya Danielle Travis
Mya Danielle Travis is a 2021 Southern University graduate cheerleader. Danielle was on the SU cheerleading squad. Similarly, she is a social media influencer, having over 69 thousand TikTok likes. She promotes beauty goods as well as a healthy lifestyle.
Mya Danielle posts on Instagram on the day of her graduation from Southern University in 2021-
View this post on Instagram
Her Instagram account, @themyadaneille, has 10.9K followers and a maximum of six clips. She has nearly 5,000 more Instagram followers than TikTok. Her gorgeous photographs from her stay at Southern University grace her handle.
She also has a YouTube channel, which she co-founded with Mya Danielle in 2011. Her photographs are montaged in an introduction video on her channel.
Mya does, however, have an Amazon account that sells a variety of things ranging from health and beauty to décor and bathroom necessities.
DeVonta Smith Parents
DeVonta was born in 1998 to Christina Smith Sylve and Kelvin Dickerson. In Amite City, Louisiana, the couple reared their two children.
Because his father worked as a manager at a car detail shop, the Eagles wideout saw him largely on weekends. Although they didn't share many memories when Smith was younger, Kelvin has been his staunchest supporter.
When DeVonta won the Heisman Trophy in 2022, he had a proud father moment. Kelvin has been with DeVonta since his college days, and he went viral on the internet after being discovered in the crowd wearing a hoodie with a print of Jordan crying.
If you're looking for the most up-to-date information about other celebrities' personal lives, such as relationship status and dating history, you may follow us on Twitter and read the most recent updates.