Sophie Brussaux made headlines once it was revealed that she was Drake's child's mother. Drake accepted his son's existence on his 2018 album Scorpion, following months of speculation after Pusha T first made the allegation on his diss track "The Story Of Adidon."
Despite the fact that the couple is no longer together, Drake performed on stage with his son at the Billboard Awards in 2021. Sophie Brussaux is the mother of Drake's son Adonis; what do we know about her?
Who is Sophie Brussaux?
Sophie Brussaux is a multi-award-winning artist whose work has been shown in New York, Milan, and London.
The 33-year-old was born and reared as an only child just outside of Paris, France, by an engineer father and a homemaker mother. She has over 643k Instagram followers and defines herself as an artist, space enthusiast, and activist.
Sophie frequently publishes photos of herself and her artwork on her profile, as well as numerous photos of her son, Adonis. Sophie Brussaux share a heart-touching post on Instagram on Father's Day.
View this post on Instagram
She briefly researched AI ethics at MIT and is frequently involved in humanitarian initiatives such as the United Nations Global Goals.
Sophie wants people to know that she "is a woman in charge of her own destiny," according to her website. She is an artist, mother, feminist, humanist, and adventurer. Sophie Brussaux is more than the mother of a rapper's firstborn and an artist who paints bright, surrealist portraits of other famous people.
In our previous posts, we covered information about the parents of other stars then you can check out our below posts:
When Did Sophie Brussaux and Drake's Son Born?
Drake's kid Adonis was born in 2017 to Sophie, making the God's Plan rapper a first-time father. The two met in January 2017 and Sophie became pregnant almost immediately.
Brussaux and Drake were first linked in January 2017 when they were seen on a dinner date in Amsterdam while Drake was on his Boy Meets World Tour. They appeared to be with a group of pals at the restaurant, merrily conversing as they delved into a Japanese feast.
Then, in May 2017, she told TMZ that Drake had texted her begging her to get an abortion after she told him she was pregnant. "If it is in fact Drake's child, which he does not believe, he would do the right thing by the child."
She then gave birth to their son on October 24, 2017, nine months after being seen with Drake and on the rapper's birthday. However, it wasn't until June 2018 that Drake formally revealed he was the father of Sophie's son. Drake shows touching respect to Sophie Brussaux on Mother's Day.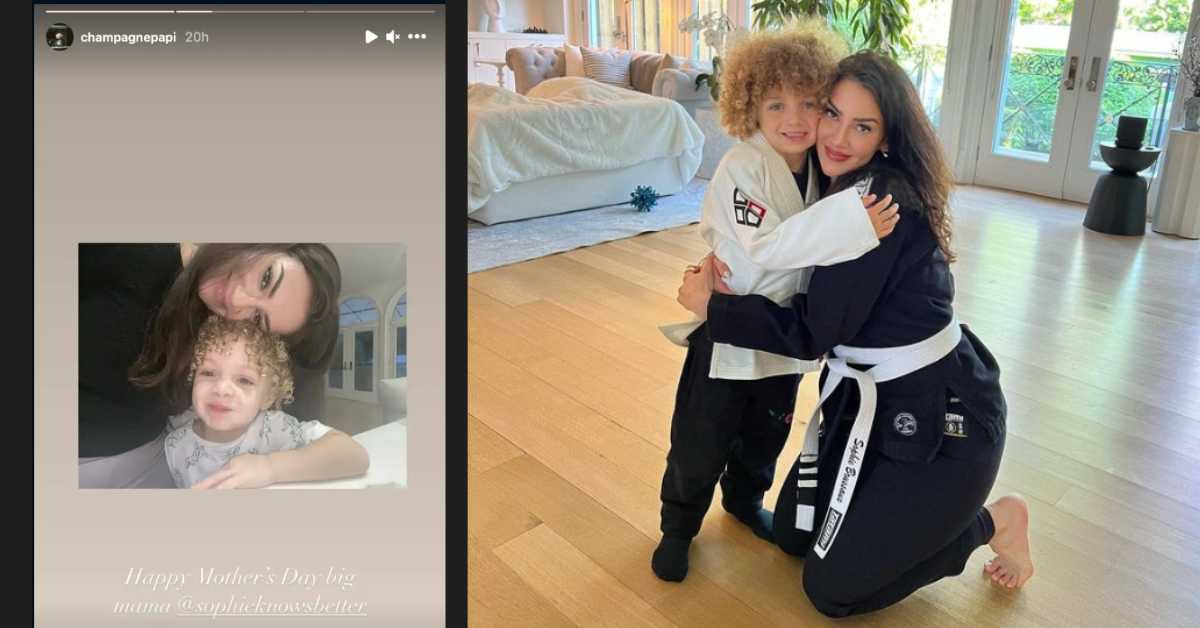 Is Sophie Brussaux Active on Social Media?
Sophie Brussaux's Instagram handle is @sophieknowsbetter, and she frequently posts photos of Adonis as well as shots of her work. She also has an Instagram account dedicated to her artwork, @sophieknowsart.
Sophie's Twitter handle is @sophiebrussaux. Her bio states Artiste Peintre, Activist, Co-founder & Chief Visionary Officer of @artshelpnet, and her location is set as Toronto, Ontario, Canada's largest city.
Follow our Twitter account to find out the latest news about the personal lives of other stars, such as their parents, families, and more.