In the realm of celebrity relationships, the spotlight often extends beyond the individual to their partners. Jon Gosselin, known for his role in the reality television show "Jon & Kate Plus 8," has attracted attention not only for his public life but also for his romantic endeavors.
In this article, we introduce you to Jon Gosselin's girlfriend, offering insights into their relationship and the impact it has on his life beyond the camera.
Who is Jon Gosselin's Girlfriend?
In an exclusive interview with The Sun, Jon Gosselin disclosed that he had a relationship with Stephanie Lebo, a former beautician turned research analyst.
Stephanie had only one daughter from a previous relationship, whereas Jon had eight from his previous marriage. Her 13-year-old daughter Giulianna, whom Jon refers to as his "ninth child," now lives with her and Jon in their Pennsylvania home.
Stephanie's personal life is shrouded in mystery because she frequently avoids the spotlight and social media.
When Did Jon Gosselin and Stephanie Lebo Start  Dating?
Former television celebrity Jon Gosselin recently stated that he is in a love relationship with Stephanie Lebo. They privately dated for two years before going public with their love in August 2023. Jon said that he met Stephanie at a backyard barbeque party hosted by a mutual friend, Dean.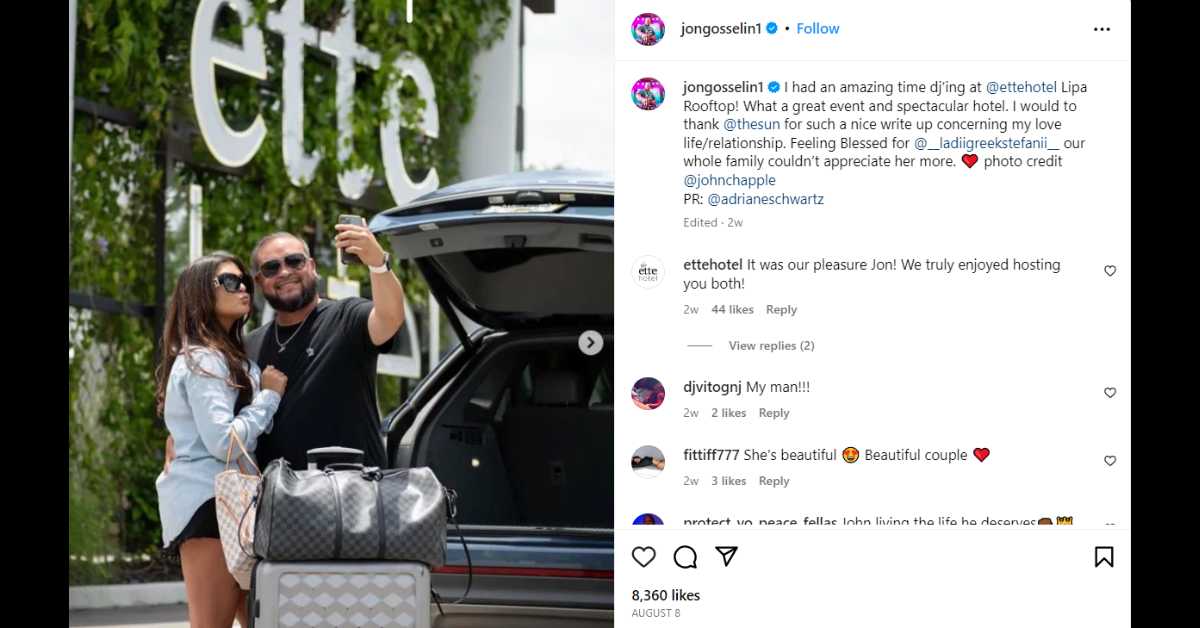 Stephanie Lebo had to be a beautician but changed careers after a few years to become a research analyst. She is a 35-year-old woman from Pennsylvania, America. Stephanie and Jon Gosselin live in Wyomissing, Pennsylvania, with their daughter Giuliana. She is little recognized because she does not have a social media presence and avoids the spotlight.
Stephanie met Jon at the home of a mutual friend, Dean, and the two "never stopped talking." A few days later, the pair went on their first date, and Stephanie remembered wanting to kiss Jon afterward. He did tell her to wait since he needed Dean's approval. Dean is a close friend and Lebo considers him a brother.
If you want to read more posts about your favorite celebs, please see the links below:
Jon Gosselin's Past Relationship
Jon's relationship with Stephanie after a number of failed relationships that began in the late 2000s.
From 1999 to 2009, Gosselin, 46, was married to his ex-wife Kate Gosselin (or Katie Irene). Kate divorced her husband, with whom she had eight children, twins Maddie and Cara, both 22, and Collin, Hannah, Alexis, Aaden, Leah, and Joel, all of whom turned 19 on May 11.
The family's life was covered on their hit reality program, Jon & Kate Plus 8, which ran on TLC for 11 seasons from 2007 to 2017. Collin and Hannah spoke out against their mother, 48, in a Vice documentary about the alleged abuse they experienced as children in July.
Lebo, for her part, had heard of Jon before they met but wasn't put off by his reality star status.
I did know who he was when I first met him, although I haven't watched the show as faithfully as some others have, but I knew who he was and I had seen him DJing before. So I knew about his past and everything although I was never Team Jon or Team Kate because I just didn't know enough or watch the show that much.
Jon said that he was relieved that Lebo understood his difficult relationship with Kate. He admitted-
"I never thought relationships were easy. I always thought my relationships were going to be a struggle and people would always have a chip on their shoulder where they'd say, 'Screw you, you're famous and I don't have anything and I've had to give up this or that.' But this time it's not like that at all. It's easy."
Stay in the know about your favorite stars' personal lives! Get the scoop on their marriages, divorces, relationship status, and more by following us on Leedaily.com. Don't miss out on the latest updates!