Amelia Shepherd, portrayed by the talented Caterina Scorsone, is a captivating and intricate fictional figure within the expansive world of Grey's Anatomy.
Originating as a character in the spin-off series Private Practice, Amelia's journey has led her to become a central and beloved presence in Grey's Anatomy.
With a blend of strength, resilience, and vulnerability, Amelia's character has left an indelible mark on the hearts of viewers.
Let's dive into the compelling story of Amelia Shepherd, a character whose complexities mirror the real challenges of life and growth.
Who is Amelia Shepherd?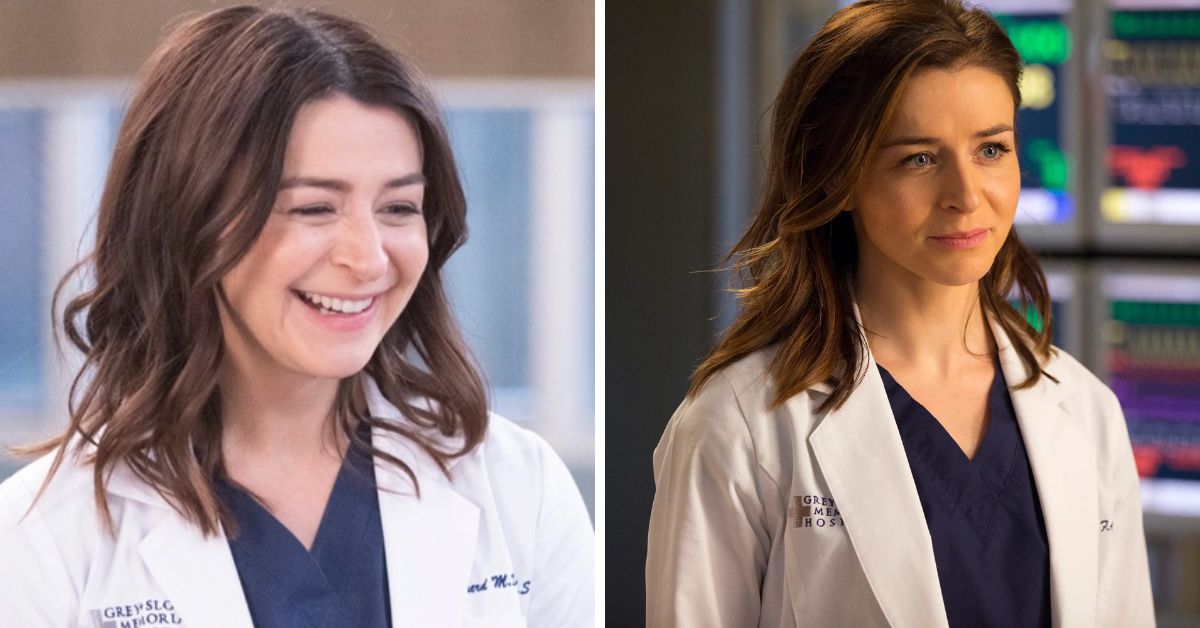 Amelia Shepherd, played by Caterina Scorsone, is a complex character in the big Grey's Anatomy world. She started in a show called Private Practice and later became important in Grey's Anatomy. Amelia is known for being strong, good at her job, and dealing with her own problems.
Amelia first appeared in Private Practice's third season. She wanted a fresh start and joined her former sister-in-law's medical group. Even though she was an excellent brain surgeon, what got people's attention was her tough journey to overcome her past as a drug addict.
As time went on, Amelia became a bigger part of the story. By the fourth season of Private Practice, she was in the main cast. She showed how strong and also how vulnerable she could be, making her someone people could relate to. Amelia later moved to Grey's Anatomy, showing up as a guest in the seventh and eighth seasons.
Amelia's story was about her struggles with addiction, her goals, and staying sober. She faced challenges, but she was really strong in her efforts to make her life better. Her story was interesting because she was the youngest sibling of Derek Shepherd, a character everyone knows from Grey's Anatomy.
Throughout both Private Practice and Grey's Anatomy, Amelia changed a lot. She went from being hurt by life to being a strong person who could handle tough things. Caterina Scorsone did a great job acting as Amelia, showing how she went from a broken person to a strong one.
Amelia's character is a big part of the Grey's Anatomy world. She started in Private Practice but became really important in Grey's Anatomy. Caterina Scorsone's acting showed how Amelia grew and became strong, which made people love her and remember her in the Grey's Anatomy story.
Check out some other new content we've published:
Who Plays Amelia Shepherd?
Caterina Scorsone, an actress from Canada and the United States, is the talented person who acts as Dr. Amelia Shepherd in the famous medical TV show Grey's Anatomy and other related shows. With her great acting skills and how she acts, Scorsone makes Amelia seem like a real person, adding a lot to the success of Grey's Anatomy.
Caterina Scorsone's Instagram Post:
View this post on Instagram
Scorsone was born in Toronto, Canada. She started acting when she was a child, appearing in a Canadian show for kids called "Mr. Dressup." This was the beginning of her acting journey. She's done many different roles and has really focused on her acting.
Scorsone went to the University of Toronto to study literature and philosophy. This helped her understand characters and stories better, making her acting even better.
She became well-known from a crime show called "Missing," where she played the main character. The character could see missing people in her visions, and Scorsone showed how to act with lots of emotions and complex stories.
But it was her role as Dr. Amelia Shepherd that really made Scorsone important. She joined Grey's Anatomy as Derek Shepherd's sister and played Amelia's story of dealing with addiction, growing up, and being strong. This role was in Grey's Anatomy, Private Practice, and Station 19, which are all connected.
Outside of acting, Scorsone's life has also been interesting. She got married in 2009 and has three daughters. She also does work to help kids with Down syndrome and other challenges. This shows she cares about important things apart from acting.
Caterina Scorsone has done more than just act on TV. Her acting, which feels real and deep, along with her work to help others, has made a big impact. From her early days on Canadian TV to her big role as Dr. Amelia Shepherd, Scorsone's journey shows how talented and dedicated she is.
Amelia Shepherd's Story in Grey's Anatomy
Grey's Anatomy is a TV show that's all about doctors and their lives. One character, Dr. Amelia Shepherd, played by Caterina Scorsone, has a really interesting story that's filled with changes, relationships, and challenges.
Amelia first showed up in Grey's Anatomy as a guest. In the seventh season, she came from another show called "Private Practice" to meet her brother Derek. They had a complicated relationship because they're siblings and doctors.
She kept appearing in the eighth season, working with another character named Lexie on a medical case. She also had some disagreements with Derek. After "Private Practice" ended, Amelia became a regular character in Grey's Anatomy.
In the eleventh season, Amelia became a permanent part of the main cast. Her story continued as she dealt with love and tough times. She got engaged but it didn't work out, and then she had a secret relationship with Owen. But when Derek died and Owen left, she was really sad.
In the twelfth season, Amelia's relationship with Owen got more attention. They got married, but she had doubts. In the thirteenth season, they had problems because of sad memories. They got divorced in the fourteenth season because Amelia had a brain tumor that affected her behavior.
Amelia also showed how caring she is by helping a teenager and her own son. Owen adopted the teenager, which made their relationship even more complicated.
In the fifteenth season, Amelia started a new relationship with someone named Link. She had a tough time when she got pregnant because they weren't sure about the baby's father. When their son was born, it was a really emotional moment.
As Grey's Anatomy went on, Amelia changed a lot. Her relationships, personal growth, and success as a doctor showed how strong she is. In the seventeenth season, she said no to Link's marriage proposal, showing that their relationship was complex.
The eighteenth season brought new things, like Amelia working with another character on a research project. She also got close to a neuroscientist named Dr. Kai Bartley, who isn't a man or a woman. They shared a special moment with a kiss.
Amelia's story in Grey's Anatomy shows how the show can explore feelings, relationships, and change. Caterina Scorsone's acting made Amelia feel real, and her journey resonated with fans over time.
Amelia Shepherd's Story in Private Practice
"Private Practice" is a medical TV series related to "Grey's Anatomy." It follows the lives of doctors at the Oceanside Wellness Group in Los Angeles. One of the important characters is Dr. Amelia Shepherd, who has a story full of personal struggles, work challenges, and emotional growth.
Amelia's past has a sad event from when she was a child. When she was five years old, her dad was killed during a store robbery. This really affected her life and choices as she grew up. Her past shapes the way she thinks and acts as an adult.
Amelia comes into the show when she goes to Los Angeles to work with a team of brain surgeons. She joins the team even though she knows she'll see her former sister-in-law, Addison Montgomery.
But Amelia's brave actions and her offer of experimental surgery to a patient's family get her fired from the team. Even though people like Dr. Geraldine Ginsberg and her own brother Derek Shepherd doubt her, Amelia stays committed to her work as a doctor.
Amelia really loves working with brain surgery, so she wants to work at Oceanside Wellness Group as the main brain surgeon. She shows her skills when she does surgery on Maya, Sam, and Naomi's pregnant daughter. Her dedication is tested when she tries to save Dell, a colleague, but he dies during the surgery. This hurts Amelia a lot and shows how hard her work and life can be.
Amelia has problems that go beyond her work as a doctor. She has to deal with her past struggles with addiction and the pain of personal losses. She meets a man named Ryan and has a tough relationship with him. Their love is tested by drug problems and sad events. After Ryan overdoses, Amelia finds out she's pregnant with his child, who she names Christopher.
Sadly, Christopher is born with big health problems and he dies in Amelia's arms. It's really sad, but Amelia decides to donate Christopher's organs to help others.
"Private Practice" shows how Amelia deals with her tough past, her work as a doctor, and her own feelings. Her journey is a way for the show to talk about hard things in a sensitive and deep way, and it shows how strong the characters can be.
Follow us on twitter for more interesting content.