Aaron Rodgers's future with the Green Bay Packers has been a big question in the sports world. Rodgers, who has won a Super Bowl and is one of the most famous players in the NFL, has been the subject of rumours about his future with the Packers. But it's possible that things have changed since then. For the most up-to-date and accurate news about Aaron Rodgers and what's going on with the Packers, it's best to look at current news sources.
Is Aaron Rodgers Leaving the Packers?
Aaron Rodgers did indeed leave the Green Bay Packers. He joined the New York Jets for the 2023 season after spending over 20 years with the Packers. His career was drastically altered by this. At first unsure of what would happen to him after the 2022 season, Rodgers even gave retirement some thought.
Aaron Rodgers leaves Lambeau Field for the last time as Packers QB.

A new chapter begins. pic.twitter.com/vfUfPBGt5C

— NFL (@NFL) April 24, 2023
But in the end, he joined the Jets, a group that was eager to win. In exchange for draught selections, including a first-round pick, Rodgers was traded to the Jets. Rodgers is a very gifted quarterback who gives the Jets a chance to play at a high level in the upcoming season, even though he isn't a long-term answer because of his age.
Here you can also check our recent articles:
Why is Aaron Rodgers Leaving the Green Bay Packers?
Due to a strained relationship that had been developing for a number of years and reached its breaking point in the 2022 offseason, Aaron Rodgers is leaving the Green Bay Packers. At the age of 39, Rodgers was debating whether to retire, join the Packers again, or join a different team.
Rodgers became aware that the Packers were pressuring him to decide between retiring or leaving the team during his "darkness retreat" offseason. Brian Gutekunst, the general manager of the Packers, claimed they made numerous attempts to get in touch with Rodgers but were unsuccessful.
Rodgers refuted this, claiming that his restricted cell coverage necessitated FaceTime for contact and that he had no logs of calls or FaceTimes from the Packers.
The decision to part ways was motivated by the breakdown in communication and the organization's inability to make its aims clear. In the end, Jordan Love was chosen to replace Aaron Rodgers as the Green Bay Packers' starting quarterback, while Rodgers moved on to the New York Jets.
Rodgers chose the Jets because of the possibility of winning another Super Bowl. The club boasted a youthful, talented nucleus that included star defenders, Quinnen Williams and Sauce Gardner, running back Breece Hall, and wide receiver Garrett Wilson. Rodgers had also worked with Nathaniel Hackett, the Jets' new offensive coordinator, in Green Bay, and was fascinated by Robert Saleh, the Jets' head coach.
Aaron Rodgers Career
Despite having a strong high school record, Division I programmes showed little interest in Rodgers. He ascribed the relative lack of interest in the recruiting process to his unimpressive physical size as a high school player at 5'10" (1.78 m) and 165 lb (75 kg) in a 2011 interview with E:60.
Rodgers had applied to Florida State with the intention of playing for head coach Bobby Bowden, but he was turned down. He was only given the chance to compete as a walk-on for a scholarship from the University of Illinois.
He turned down the offer and thought about switching from football to baseball or giving up on the notion of playing professional sports altogether and going to law school after earning his undergraduate degree.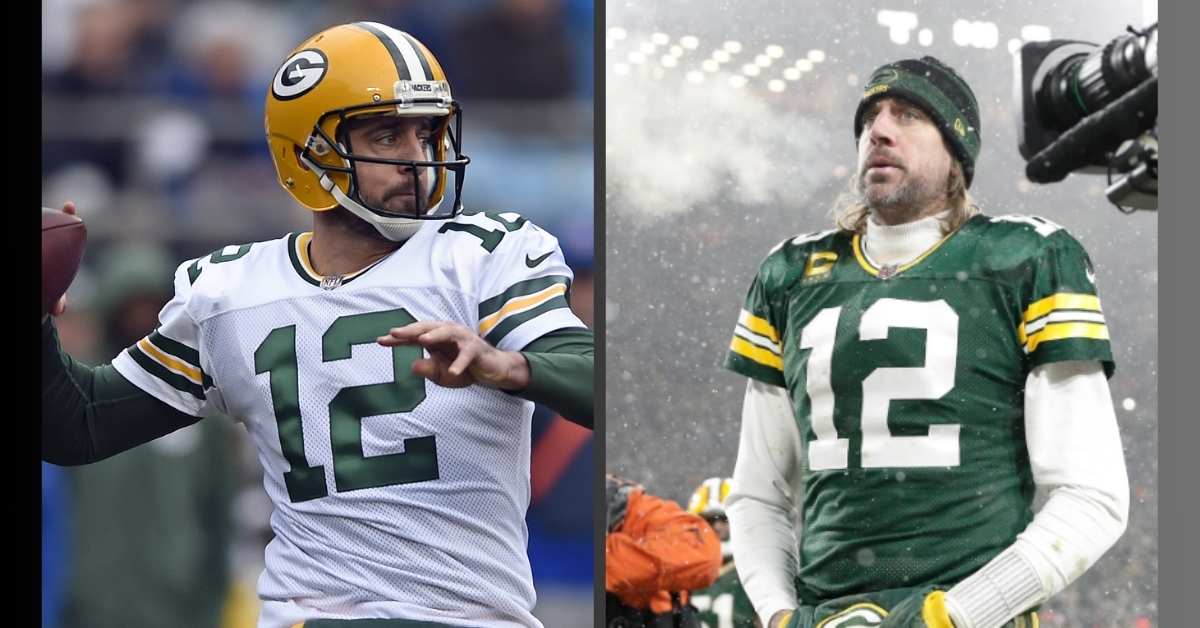 With their lone setback coming against No. 1 USC by a score of 23-17, Rodgers' Cal team finished the regular season with a 10-1 record and a top-five ranking. Rodgers equalled an NCAA record with 23 straight completions in that game, setting a school record for consecutive completions with 26.
He achieved an 85.3 passing completion percentage, a Cal single-game record. At 1.95 per cent, Rodgers holds the Cal career record for the fewest passes intercepted. With 1:47 left, Rodgers' performance put the Golden Bears in position to score the game-winning touchdown with a first and goal.
Rodgers fired an incomplete pass on the opening play of USC's goal line stand. Manuel Wright then made a second-down sack after that. In order to win the game, USC halted Cal's run play following a timeout and Rodgers' failed pass on third down. Rodgers said it was "frustrating" that "we couldn't get the job done."
Overall, he had 2,566 passing yards, 24 touchdowns, and eight interceptions at the end of the 2004 campaign. He had the highest pass completion rate in the Pac-10 at 66.1%. In the Heisman Trophy vote, he came in ninth.