Melvin Tucker's wife's name is Jo-Ellyn Tucker. The pair have been married for decades. Melvin, her husband, is a well-known American football coach and former player. He is now the head football coach at Michigan State University. He was previously the head coach at the University of Colorado.
Jo-Ellyn Tucker has supported former MSU football player and head coach Mel Tucker throughout his career. Jo-Ellyn has remained on the sidelines, taking care of their home and family while Mel is always in the spotlight.
While Mel Tucker's coaching career is excellent, people are curious about his wife, Jo-Ellyn Tucker. So, learn more about Jo-Ellyn Tucker.
Jo-Ellyn Tucker's Family and Background
Jo-Ellyn "JoJo" Tucker (née Haynesworth) was born in Chicago on August 18, 1971. Little is known about her family. Jo-Ellyn appears to have at least two sisters, Rhonda Haynesworth and Deneise Haynesworth Crawford, according to Facebook.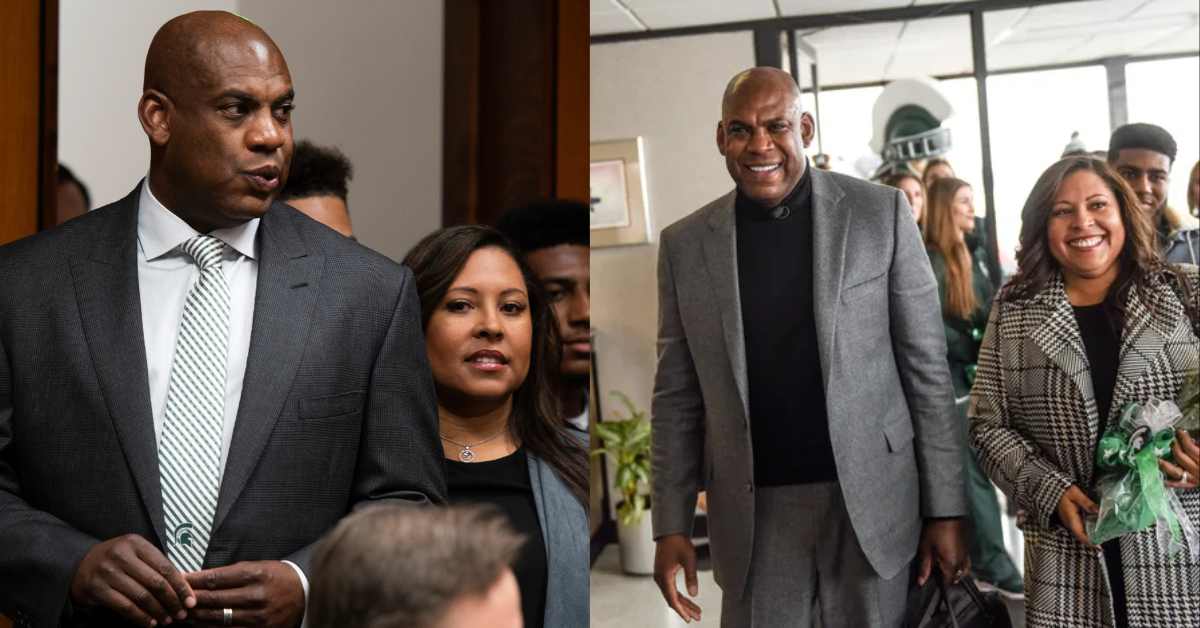 Their father, according to one of Rhonda's Facebook posts, has already died. Their mother lives with the Tuckers and is an important member of the close-knit family.
Jo-Ellyn Tucker's Education, Career and Philanthropy
Jo-Ellyn graduated from the University of Illinois Urbana-Champaign with a bachelor's degree in English and from Rutgers Law School with a law degree.
As a former practicing attorney, she has legal experience. Jo-Ellyn is a passionate community leader who is passionate about non-profit volunteer work, philanthropy, and organizational management.
Jo-Ellyn has been a board member of the Capital Area Humane Society since January 2021, according to her LinkedIn profile. Jo-Ellyn's community work has included fundraising, project management, organizational team development, and relationship management.
She declared on October 15, 2021, that she is a proud franchise owner of Cruise Planners travel agency. Jo-Ellyn is excited to work as a family and luxury travel professional and share her passion for travel with others because she loves to travel so much. Her travel agency provides both land and sea excursions.
— JoJo Tucker (@JoJoTucker4) October 15, 2021
Mel Tucker and Jo-Ellyn Tucker's Relationship
Mel and Jo-Ellyn met through Tucker's former classmate in Wisconsin. Jo-Ellyn was a law student at Rutgers at the time. Despite her rigorous school schedule, Jo-Ellyn found time to meet Mel on a blind date.
Tucker was smitten during a talk with Jo-Ellyn before their blind date. Mel proposed to his now-wife on their first date, and she accepted.
The couple has been married for more than two decades. Mel believes that his wife, Jo-Ellyn, is the most crucial cause for his success.
If you want to know about the wife of other stars then you can check out our below-provided posts:
Jo-Ellyn Tucker's Children
Mel and Jo-Ellyn have two boys named Joseph Tucker and Christian Tucker. Joseph is the younger of the two.
On May 6, 2003, Christian Tucker was born. Christian, a goaltender for the Lansing Catholic Lacrosse team, has a bright career ahead of him. Christian's first love is lacrosse, however, he also plays football.
The CAAC Senior Scholar Athletes for this year were announced on April 27 at the annual awards ceremony. Christian was given an award. Jo-Ellyn praised her son on his accomplishment in one of her tweets.
So proud of you Christian!! https://t.co/PZKva3x37L

— JoJo Tucker (@JoJoTucker4) April 30, 2022
Although Joseph is a passionate soccer player, little is known about him. Christian and Joseph are very close to their parents. Mel's entire family attended his first press conference as MSU's head coach on February 12, 2020, at the Breslin Student Events Center.
You can follow us on Twitter and check out our other posts related to your favorite stars.