Myles Murphy, the son of legendary actor Eddie Murphy, has captured the spotlight not just for his famous lineage but also for his journey to marital bliss. In this article, we'll delve into the intriguing details surrounding Myles Murphy's married life and his delightful family.
Myles Murphy's Journey to Marriage
Myles Murphy's journey to marriage was a touching story of love and commitment. He exchanged vows with his longtime sweetheart, Carly Fink, in an intimate ceremony held in the glamorous city of Beverly Hills.
Their union, which took place on a memorable Saturday, Sept. 9, was graced by close friends and family, including the proud parents of the groom, Eddie Murphy and Nicole Murphy.
Evie, Myles and Carly's 4-year-old daughter, was also present during the ceremony. According to PEOPLE, Myles wore a Dion Julian Lattimore tuxedo, while his wife wore an Enzoani bridal gown.
Carly expressed her "infinite" love for Myles in an Instagram post on his birthday in November 2022. She Wrote-
I am SO proud of you always. God will continue to bless you & our whole family with health, happiness, success & blessings. I love you my FIANCÉ & I can't wait to marry you. HAPPY BIRTHDAY BABY!
View this post on Instagram
Carly shot Myles' proposal on video and released it on Instagram in July 2022. While the three were aboard a boat, Myles could be seen dropping down on one knee in front of their daughter.
In the video, Carly showed off her engagement ring, showcasing an oval-cut diamond. Have a look at the video clip below-
View this post on Instagram
The Carly-Myles Love Story
Carly Fink, aged 32, and Myles Murphy, aged 30, had been inseparable for quite some time before deciding to make their love official. The couple shares the joy of parenthood, raising their adorable 4-year-old daughter, Evie.
Their love story culminated in a touching proposal that Carly captured on video and shared on Instagram as we previously said. The heartwarming moment featured Myles, on a bent knee, aboard a boat, with their precious daughter as a witness to the magical event.
If you want to know about which other stars get married then you can check out our below posts:
The Wedding Day Glamour
The wedding day was a true fairytale affair, with Carly radiating in a stunning bridal gown designed by Enzoani, and Myles looking dapper in a tuxedo by Dion Julian Lattimore for Knot Standard. Their joyous journey to the altar culminated in a celebration of love and commitment.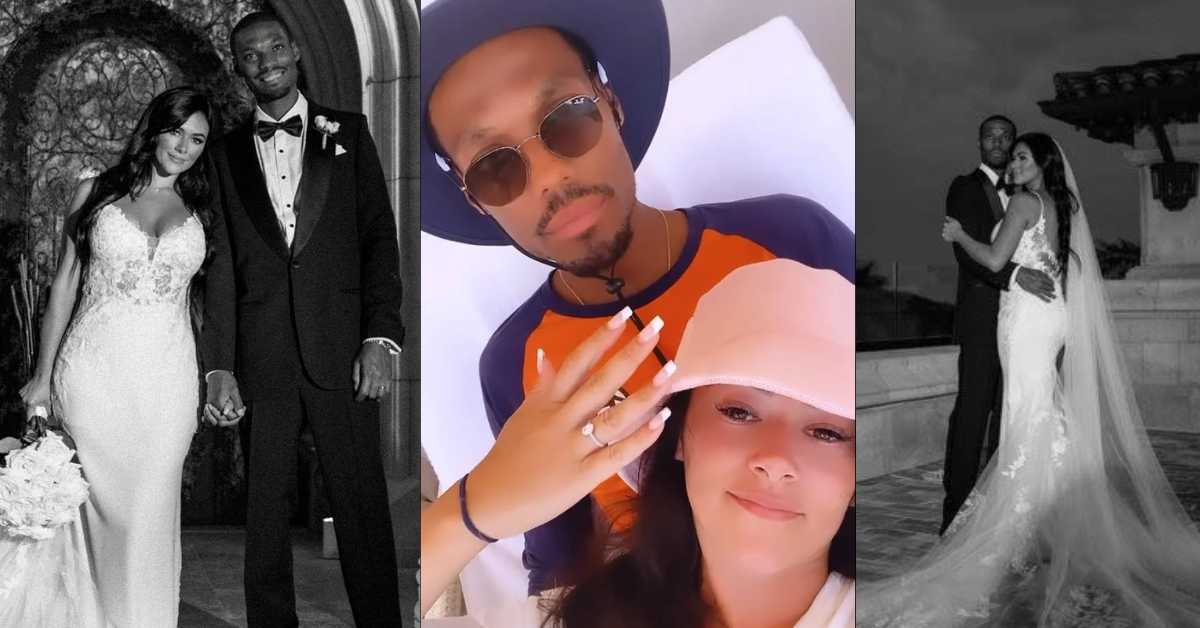 Myles Murphy's Bio, Family And Background
Myles Mitchell Murphy was born on November 7, 1992, in Los Angeles, California, making him 29 years old at present. As a Scorpio, he embodies the characteristic traits of his zodiac sign. He identifies as African-American and follows the Christian religion. Standing at a height of 5 feet 10 inches, Myles boasts striking black eyes and black hair.
Myles Murphy is one of Eddie Murphy's five children from his previous marriage to Nicole Murphy. Eddie, a celebrated comedian, actor, and writer, has ten children in total.
The wedding was a family affair, and the Murphy clan gathered to celebrate the union of Myles and Carly. The couple's happiness shone through in the photographs capturing their special day.
Myles is part of a celebrity family, with his father, Eddie Murphy, being a renowned comedian, actor, and writer, and his mother, Nicole Mitchell, being a former model. He shares a deep bond with his four biological sisters, Bria, Shayne Audra, Zola Ivy, and Bella.
In addition to his biological siblings, Myles is the sibling to three half-brothers, Eric, Christian, and Max, and two half-sisters, Angel and Izzy, from his father's previous relationships.
A Private Life Amidst Fame
Unlike his famous parents, Myles has opted for a more private life, keeping details about his profession under wraps. However, his enduring relationship with Carly Olivia and their daughter, Evie Isla, is a testament to the strength of their bond. Despite his prominent family background, Myles prefers to maintain a low profile, away from the prying eyes of the public.
Conclusion
In conclusion, Myles Murphy's journey to marriage with Carly Fink is a beautiful testament to love, commitment, and family bonds. Despite his celebrity lineage, Myles and Carly have chosen to cherish their precious moments away from the spotlight, building a life filled with love, happiness, and their adorable daughter, Evie.
Follow us on Twitter and read our other recent posts to learn more about other celebrities' personal lives, including their marriage and relationship status.