The importance of call tracking cannot be overstated in today's fast-paced corporate climate when consumer interactions and marketing tactics are more dynamic than ever. A crucial tool is now call tracking system.
Offering useful insights through a variety of call-tracking numbers and call-tracking metrics enables organizations to maximize the potential of every contact.
Intricacies of selecting the best call tracking software from a plethora of choices and call tracking services are the main subject of this tutorial. I promise you will be well-informed when choosing the best call-tracking software for your company's requirements.
The complexities of analytical call tracking must be understood if businesses are to maximize their marketing initiatives and enhance consumer satisfaction.
This article examines many popular call-tracking solutions and describes their features, advantages, and price schemes.
You will be equipped with the knowledge necessary to properly choose a call tracking service that meets your requirements by the conclusion of this article, whether you want scalability, integrations, sophisticated analytics, or simplicity of use.
Let's explain call tracking software and its top service providers to assist you in improving your marketing and customer service.
Key Factors to Consider
Tracking Capabilities
Call tracking software aims to track and examine incoming calls. Look for software that allows for dynamic number insertion, which gives each marketing channel a different phone number. This makes it possible to monitor which channels are generating the most calls precisely.
Integration with Existing Systems
Integration with your current CRM, analytics programs, and marketing platforms must be seamless. It guarantees that call data is a component of your whole data ecosystem and offers a comprehensive picture of your customer interactions.
Analytics and Reporting
Effective call tracker should include in-depth reporting and analytics tools. This covers call length, caller demographics, call source, and results. Advanced analytics may shed light on the attitudes and actions of callers.
Ease of Use
Both technically savvy users and non-technical users should find the service call tracking software to be easy to use. It's essential to have a user-friendly design and simple navigation since they save time and make learning easier.
Customization and Scalability
Businesses vary in size and requirements. Look for call tracking software that can be customized to fit your specific needs. Additionally, consider its scalability – will it continue to meet your needs as your business grows?
Pricing
Call tracking software pricing structures vary widely. Some companies charge per user, per feature, or per call. Evaluate the pricing model to ensure it aligns with your budget and provides value for the features you require.
Top Call Tracking Software Companies
1. Phonexa
Pros:
comprehensive analytics
integration capabilities
Cons:
complex setup
cost
data overload
G2 Rating: 4.9/5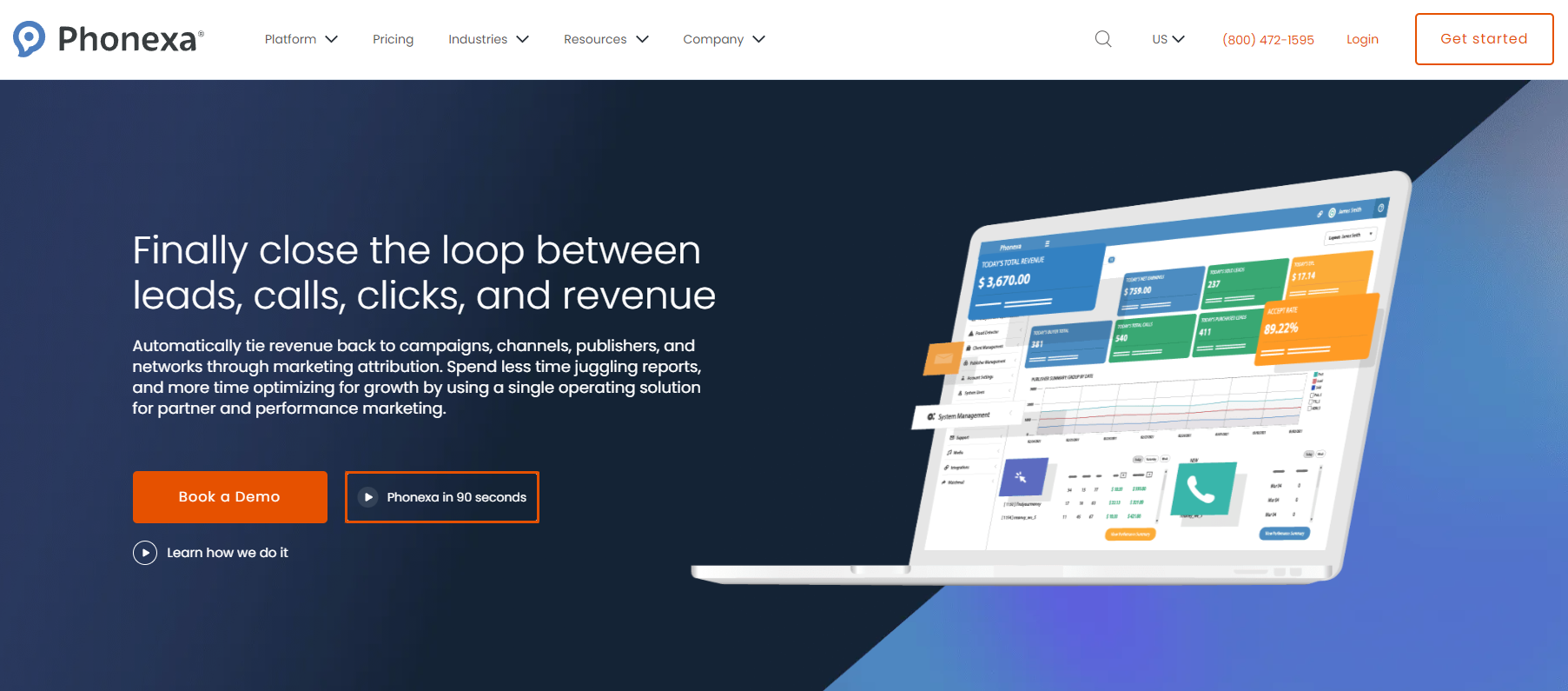 Phonexa leads the industry with its call tracking, lead distribution, email marketing, and accounting solutions. Phonexa's cutting-edge services can boost your marketing strategy.
In today's fast-paced corporate world, staying ahead is essential. Phonexa's call tracking marketing skills help here. Phonexa enables you to acquire useful information by integrating call monitoring into your marketing. Phonexa's call tracking marketing shows its commitment to campaign optimization. Imagine being able to link calls to marketing initiatives. Phonexa's keyword-level monitoring is this precise. You'll know which marketing methods generate the most phone calls.
Another highlight of Phonexa is its call center tracking software for queries. For companies with huge call volumes, this software is revolutionary. Imagine efficiently monitoring and managing incoming calls to ensure smooth customer interactions. Phonexa's call center tracking software adds call recording. This feature offers several quality assurance, staff training, and customer service options.
2. CallRail
Pros:
automates call tracking
easy-to-use interface
comprehensive analytics
Cons:
limited integrations
steep learning curve
little customization
G2 Rating: 4.6/5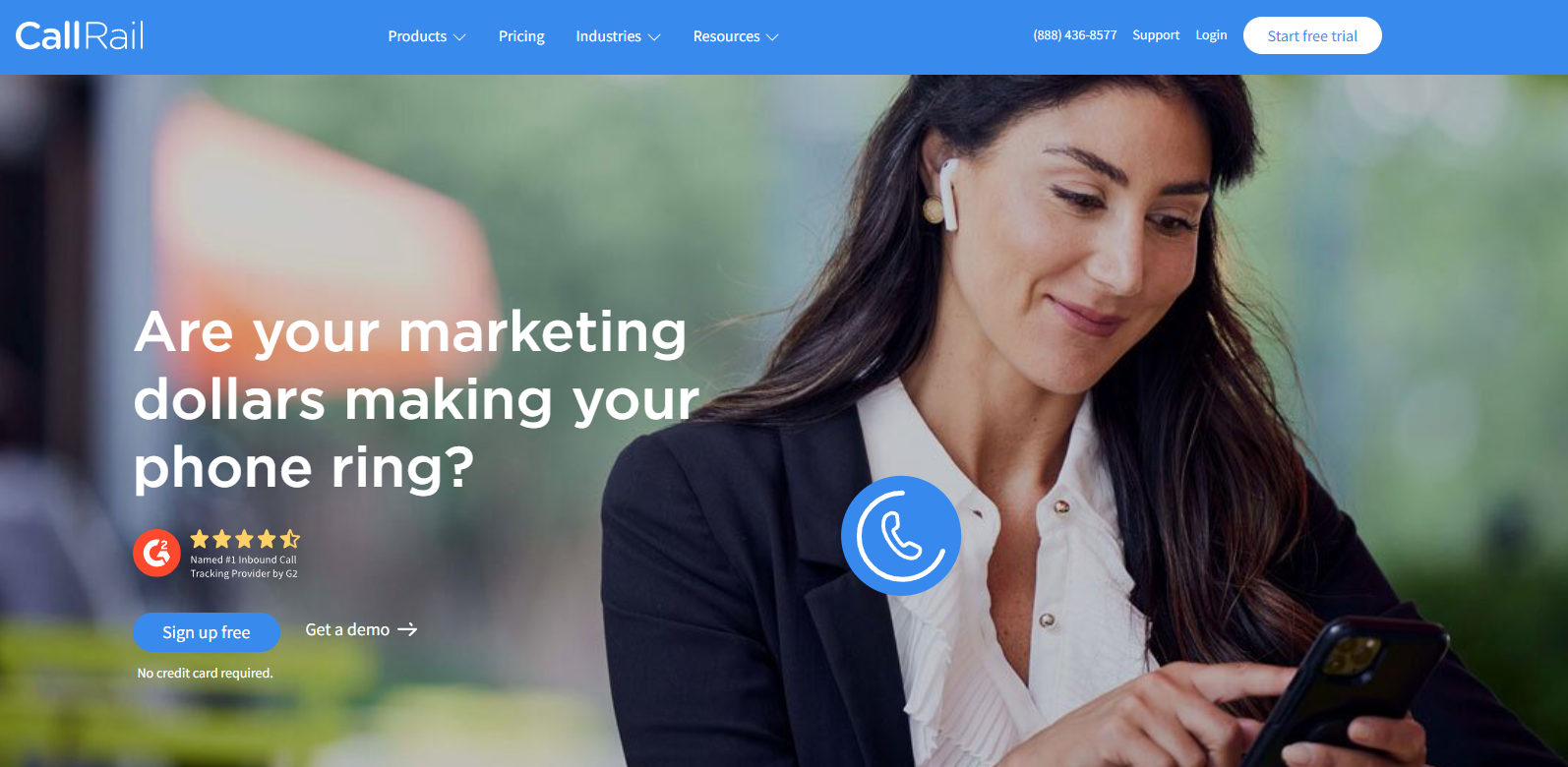 CallRail is a major website call tracking and inbound call tracking software solution known for its ease of use and strong capabilities. CallRail's website call tracking and inbound call tracking services let organizations analyze key indicators. Website call tracking enables you to track incoming calls to determine which web pages, campaigns, and keywords convert best.
Inbound call tracking assigns unique phone numbers to marketing channels. This functionality helps with resource allocation and marketing investment decisions. CallRail's user-friendly interface and reasonable price appeal to small and medium-sized organizations. Adding website call tracking and inbound call tracking reinforces CallRail's call tracking dominance.
3. Ringba
Pros:
attribution
performance insights
customizable сalls
Cons:
integration complexity
cost
limited real-time updates
G2 Rating: 4.9/5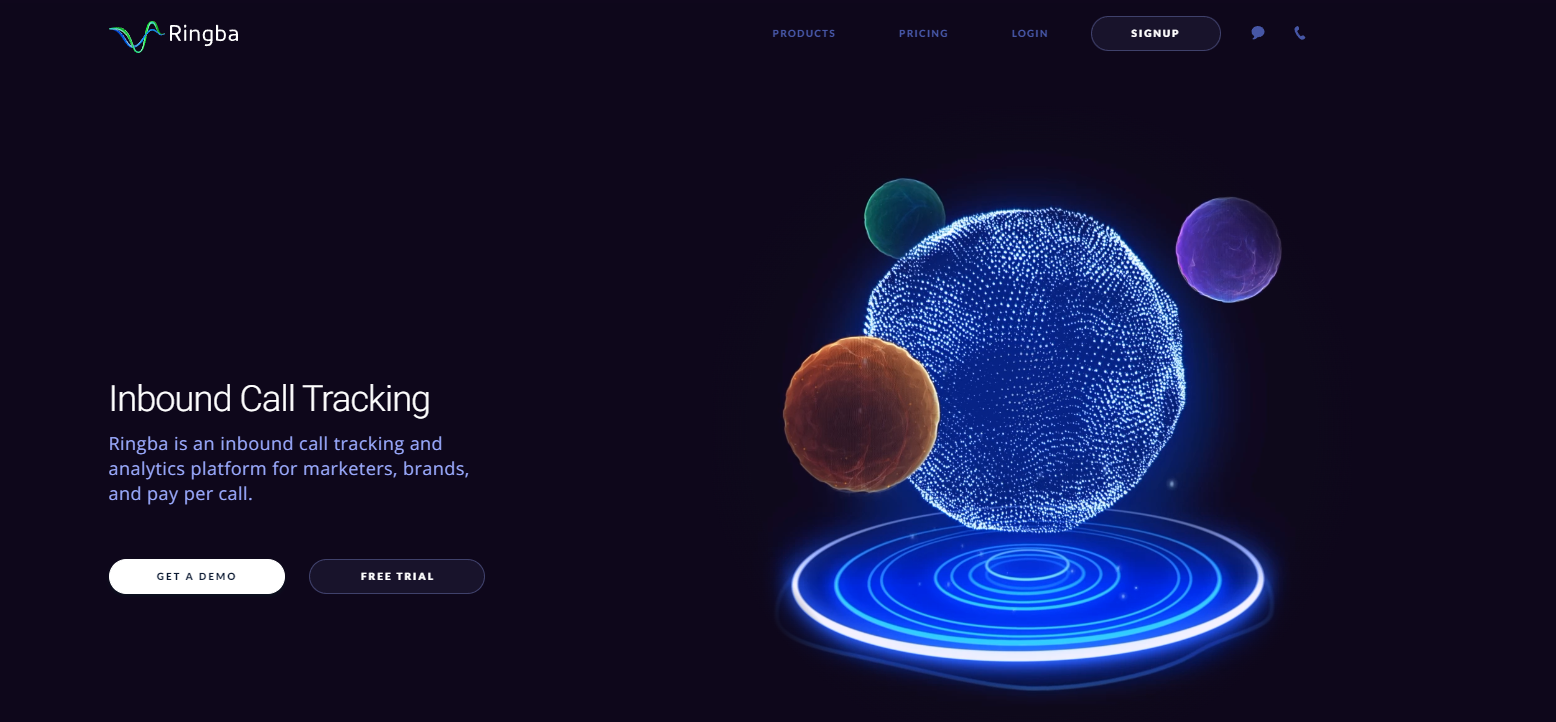 For firms wishing to enhance their sales call tracking operations, Ringba offers powerful call tracking and analytics. You may analyze your call performance using Ringba's advanced call tracking software. Ringba performs sales call tracking for sophisticated tracking demands and huge call volumes.
Streamline your workflow and make data-driven decisions with Ringba's sales call tracking software that interacts with key marketing platforms.
The comprehensive sales call tracking software and analytics of Ringba make it a great solution for firms looking to streamline call tracking procedures, increase productivity, and boost sales.
4. Invoca
Pros:
robust feature-rich platform
automated call tracking
real-time insights
Cons:
time-consuming setup
limited data visibility
limited integration options
G2 Rating: 4.5/5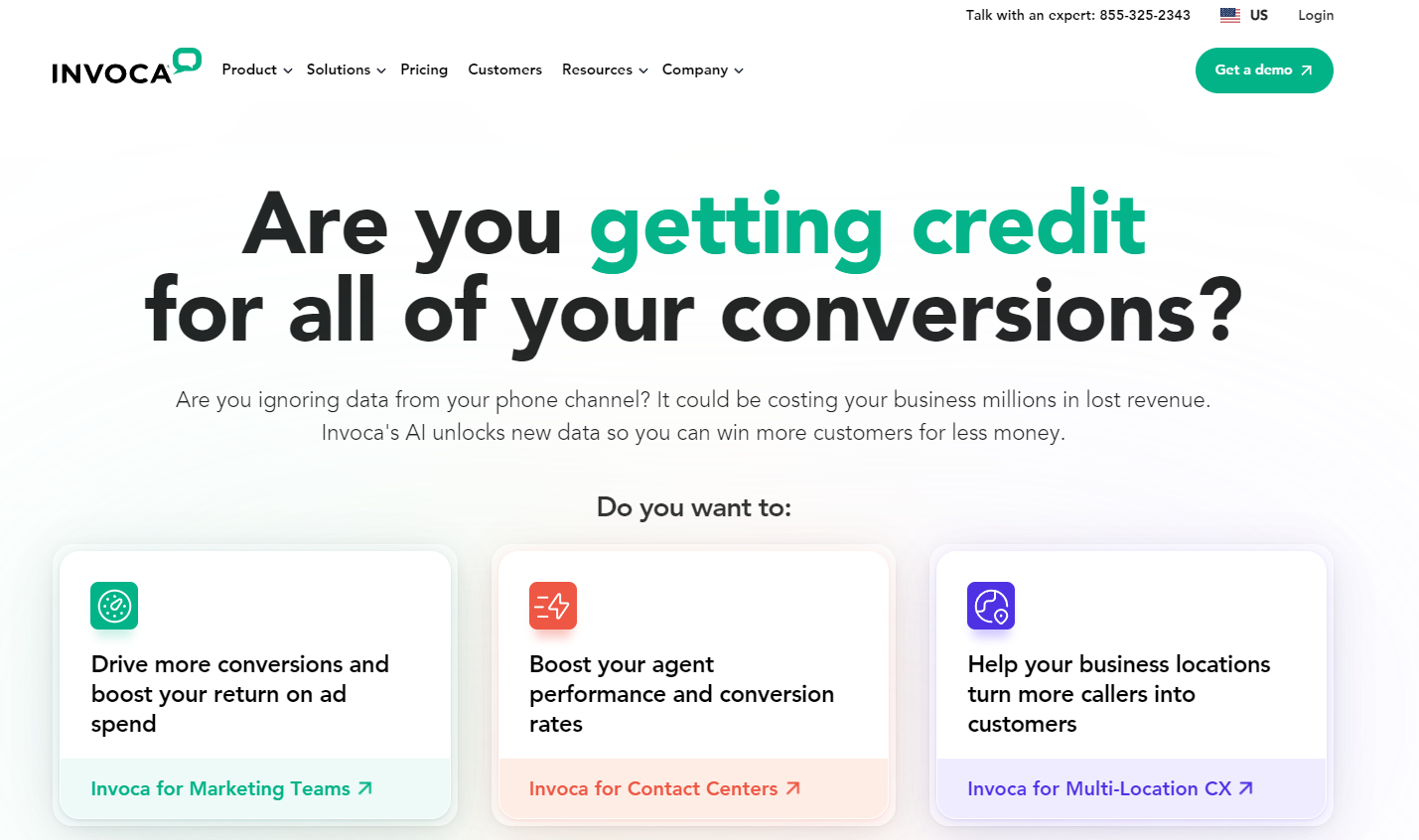 Leading AI-driven call tracking and analytics expert, Invoca sets the benchmark for organizations looking to improve their marketing. Using analytics call tracking and inbound call tracking software, their cutting-edge technology lets companies analyze their call interactions.
Its capacity to distinguish call quality and quantity makes Invoca magical. Organizations discover customers' wants, preferences, and problem areas by evaluating call content and sentiment.
Invoca is one of the best analytics call tracking and inbound call tracking software options. In a competitive market, its technology gives organizations the data they need to turn every call into growth and customer pleasure.
5. Ruler Analytics
Pros:
multi-touch attribution
offline conversion tracking
integration with CRM and marketing tools
Cons:
complex implementation
learning curve
cost
G2 Rating: 4.8/5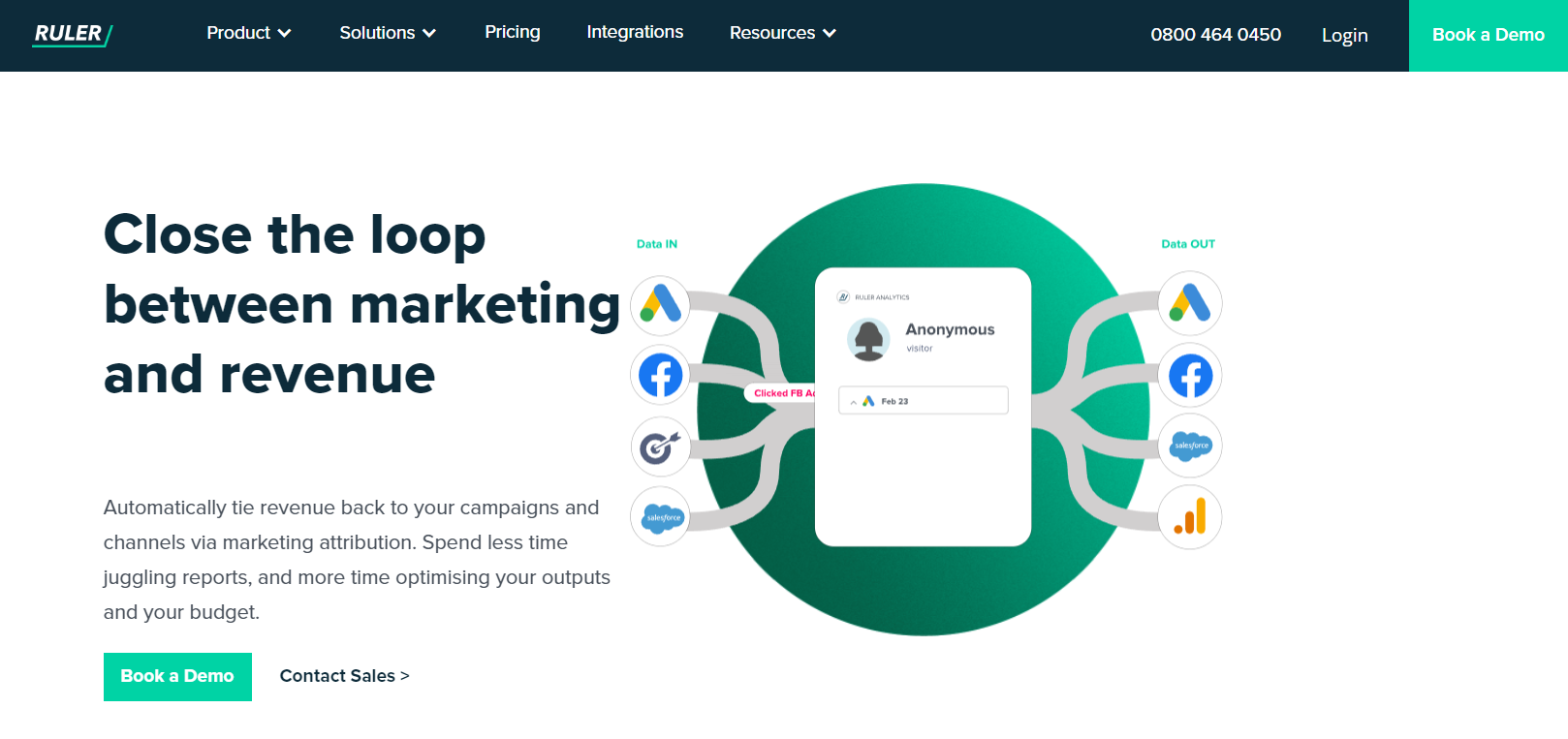 For organizations looking to close the gap between online leads and phone calls, Ruler Analytics is the best call tracking service due to its unique approach to call tracking. This cutting-edge software goes above and beyond with precisely tracking every step of the customer experience and providing thorough attribution information for both online and offline interactions.
Ruler Analytics emerges as a critical tool for companies attempting to quantify and comprehend the effect of their marketing operations across numerous touchpoints in a world where multichannel marketing is the standard. Ruler Analytics, which has marketing call tracking at its foundation, enables businesses to get a complete picture of their customer interaction initiatives.
6. Diabolocom
Pros:
innovative solutions
flexibility and scalability
International presence
Cons:
high cost
complexity of implementation
dependence on the Internet connection
G2 Rating: no information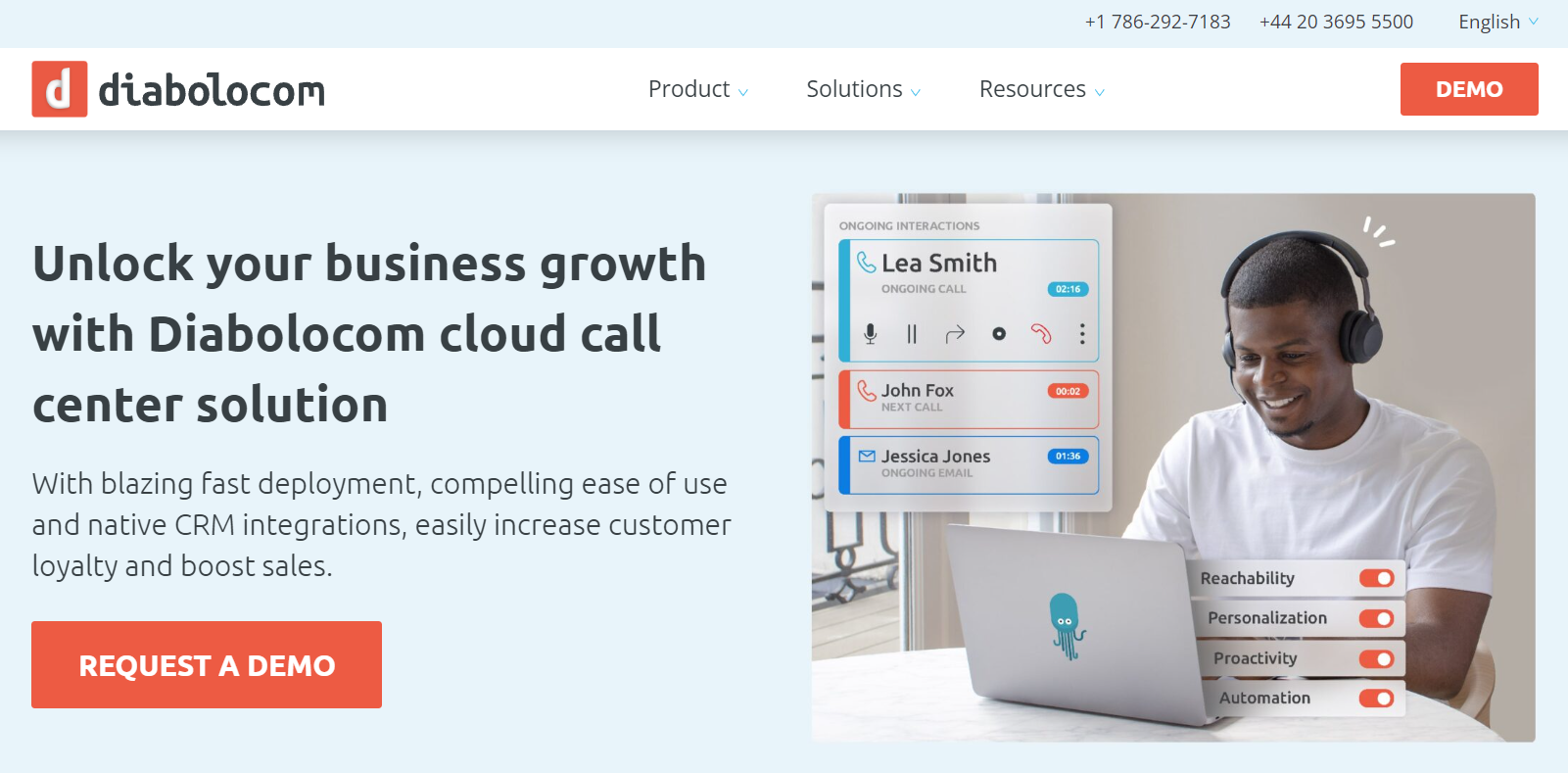 Diabolocom improves client relationships outside call centers. Indeed, it specializes in marketing call tracking and offers a powerful platform for organizations looking to improve their marketing.
The cleverly designed Diabolocom package unites customer communication across calls, emails, and social media. This is due to its call tracking for marketing expertise. This capability gives companies new insights into their marketing strategies and lets them assess channel efficacy.
Diabolocom is more than a contact center solution—it's a strategic asset for firms looking to optimize customer interactions and exploit marketing call tracking. Organizations may optimize, be result-driven, and match their marketing with their company goals by using Diabolocom.
7. CallSource
Pros:
training and coaching
customizable call routing
integration with CRM systems
Cons:
cost
integration challenges
data privacy and compliance
G2 Rating: 4/5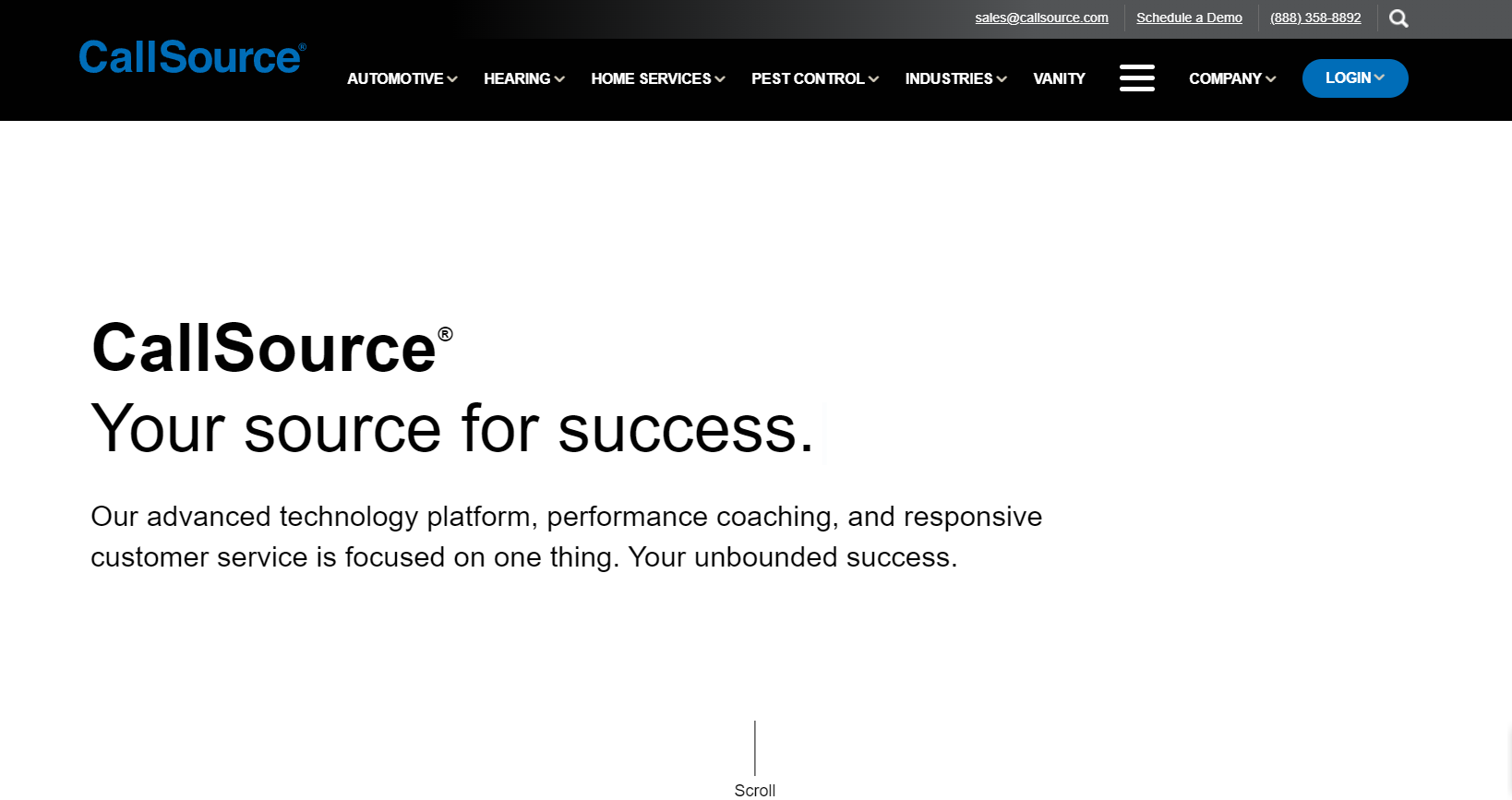 CallSource is your trusted partner in call tracking systems and call tracking software for lead generation. With a deep commitment to enhancing call handling and elevating the overall customer experience, CallSource is at the center of innovative solutions.
In the automotive industry, CallSource call tracking systems help you measure your marketing campaign's effectiveness and provide valuable insights into customer preferences and trends.
For businesses in the home services sector, CallSource's solutions empower you to manage customer inquiries and appointments seamlessly. CallSource call tracking software assists in identifying high-performing marketing channels, allowing you to allocate resources effectively and optimize your lead generation efforts.
In conclusion, CallSource goes beyond traditional call tracking and offers a comprehensive suite of tools and insights to fuel your growth and success. Whether used in the automotive, healthcare, or home service industries, call tracking systems and software can help you take your business to the next level, ensuring every call counts in your quest for excellence.
8. 800response
Pros:
experience and reputation
wide range of services
technological innovation
Cons:
high price
complexity of implementation
limited choice of services
G2 Rating: no information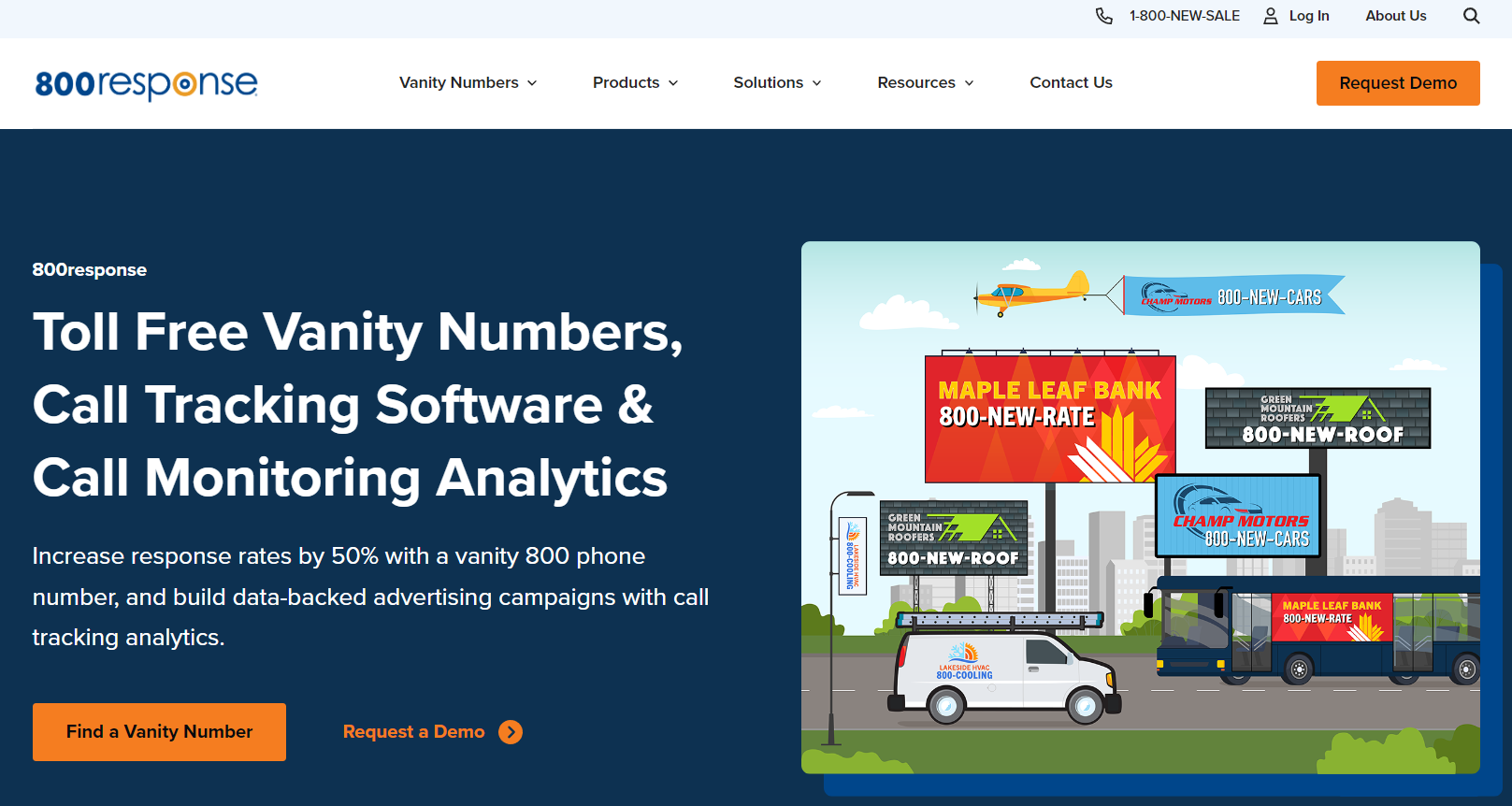 A pioneer in phone call tracking systems and inbound call tracking software, 800response provides comprehensive solutions for companies trying to get the most out of their marketing initiatives.
The tracking of vanity and toll-free numbers, which enables businesses to learn crucial information about the success of their marketing activities, is at the core of the 800response experience. You can quickly see which individual numbers receive the most calls by turning on the sophisticated phone call tracking system offered by 800response. This will help you adjust your marketing plan for better outcomes.
The greatest option for businesses that rely substantially on phone calls is 800response. Their tailored solutions are made to help you find the best marketing initiatives and enhance your customers' entire experience. Every call is an opportunity, and the phone call tracking system and incoming call tracking software from 800response ensure you take advantage of these possibilities and turn them into quantifiable company development.
9. CrazyCall
Pros:
ease of use
cloud-based
call management
Cons:
limited feature set
cost
customization
G2 Rating: No information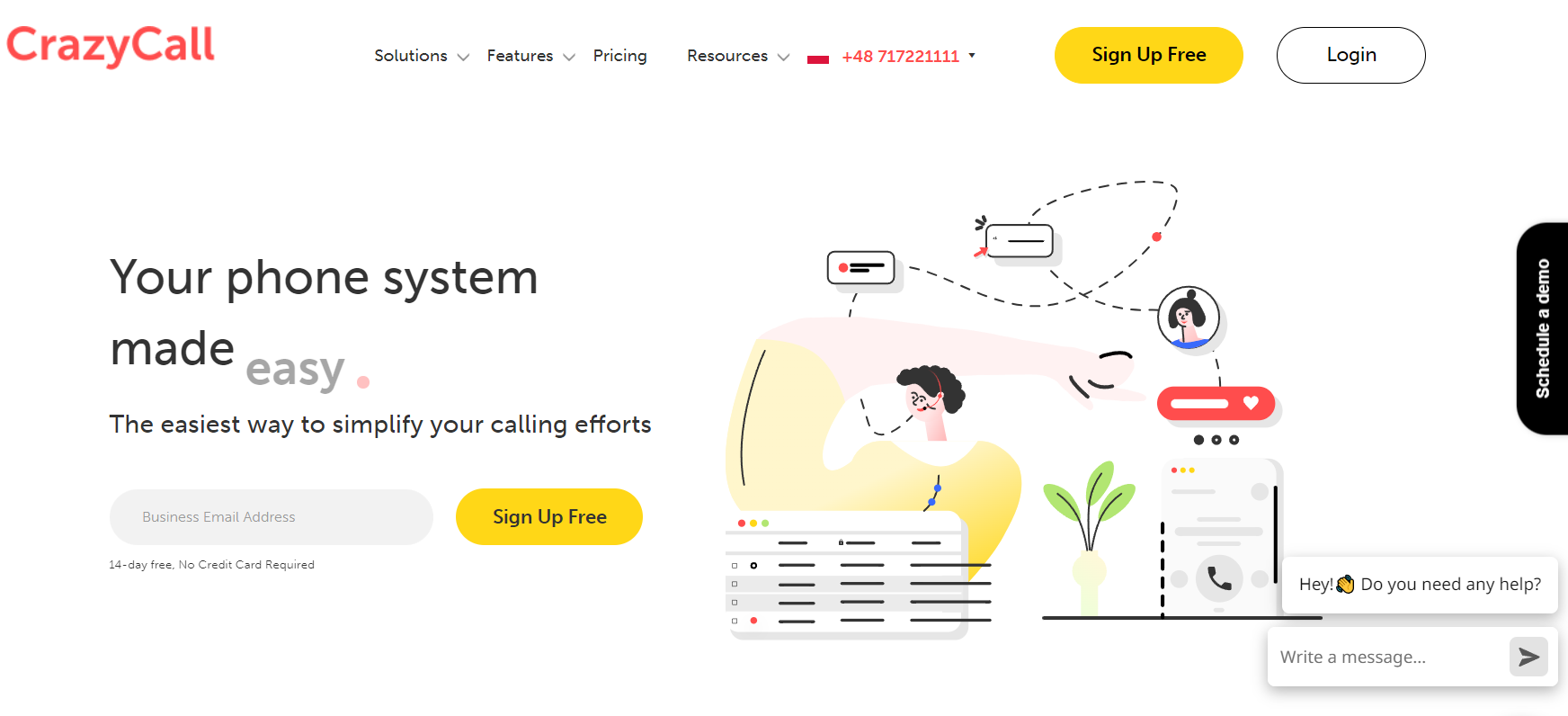 CrazyCall is a comprehensive help desk call tracking software that enables organizations to enhance their communications and sales. You have access to a wealth of options with CrazyCall that may help you manage your calls better and perform better in sales.
CrazyCall offers features for real-time reporting in addition to call tracking and recording. About the calls made by your team, CrazyCall offers useful information. To enhance customer service and sales tactics, you may use this information to spot patterns, assess agent performance, and make data-driven choices.
CrazyCall is the whole solution to satisfy your objectives, whether you're a customer service-focused business searching for excellence in call management or a sales-focused team trying to enhance your call-handling methods.You can improve your communications and sales with call tracking software. With CrazyCall, you can now advance your company.
10. Nimbata
Pros:
multichannel tracking
analytics and reporting
integration
Cons:
learning curve
pricing
limited to call data
G2 Rating: 4.9/5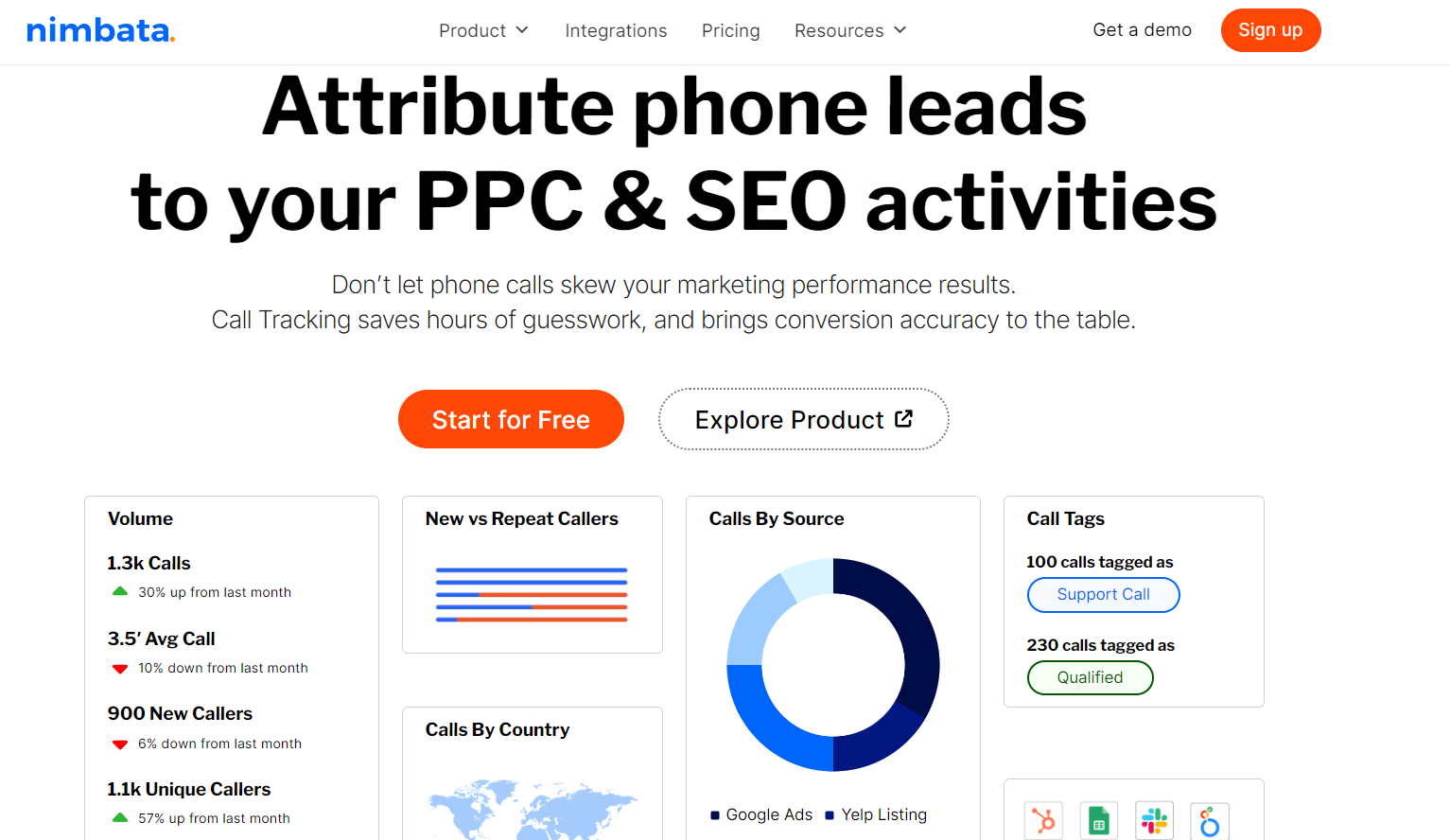 Nimbata is your go-to partner for a full call tracking solution and for tracking sales calls. The main objective is simplicity, allowing organizations to use call tracking and analytics tools without adding extra complexity.
Its call tracking solution also offers simple reporting capabilities that give you an overview of your call activities. While keeping things simple, their reporting capabilities provide you access to the vital information you need to assess the success of your efforts and come to wise judgments. You may monitor the quantity of calls, their length, and other crucial indicators to evaluate your effectiveness and pinpoint areas for development.
As a result, Nimbata provides an approachable call tracking solution focusing on sales call tracking. Your marketing methods may be improved, and your customers' experiences can be enhanced with the help of dynamic number entry, call recording, and basic reporting. Discover Nimbata's simplicity and cost right away to maximize the effectiveness of your call tracing operations.
Selecting the Best Call Tracking Software
The best call tracking software for your company will rely on several variables. Consider your call volume, tracking needs, integration preferences, and budget when evaluating your company's demands.
Utilize the free trials and demonstrations that the software developers provide. You will gain knowledge about the user interface, functionality, and general usability thanks to this practical experience.
Assess the caliber of the resources and customer service as well. A helpful support staff and thorough documentation may substantially improve your experience and troubleshooting procedure.
Conclusion
The usefulness of call tracking software is now more apparent than ever in a market where every consumer encounter is extremely valuable. The complex world of call tracking has been explained to you in this article, along with the crucial roles that call tracking numbers, call tracking metrics, and analytic call tracking play in determining the direction of your marketing efforts.
Through in-depth analyses of top suppliers and their products, the process of choosing the best call tracking software has been made simpler. As you face a choice, remember that the success of the call tracking service you select depends on its capacity to connect with your current systems smoothly and offer a thorough view of your customer contacts.
To accomplish previously unheard-of levels of growth, you will be able to make an informed decision with the help of this article and enhance customer interactions, market strategies, and business operations. Your business may flourish in the world of meaningful connections and useful information if you embrace and maximize the call tracking environment at your fingertips.