Drake and SZA collaborated on "Slime You Out," which was released as the first single off Drizzy's upcoming album For All the Dogs at midday Friday (Sept. 15).
The five-minute song is a slugfest driven by betrayal and deception. Drake takes the lead on the R&B-infused track, venting about his displeasure with spending excessive amounts of money on women.
There are clever lines like "sending wires on wires on wires like Idris" aplenty. Simultaneously, SZA responds to her beau's false behavior, including one massive haymaker: "Tripping when that d-k is barely third place."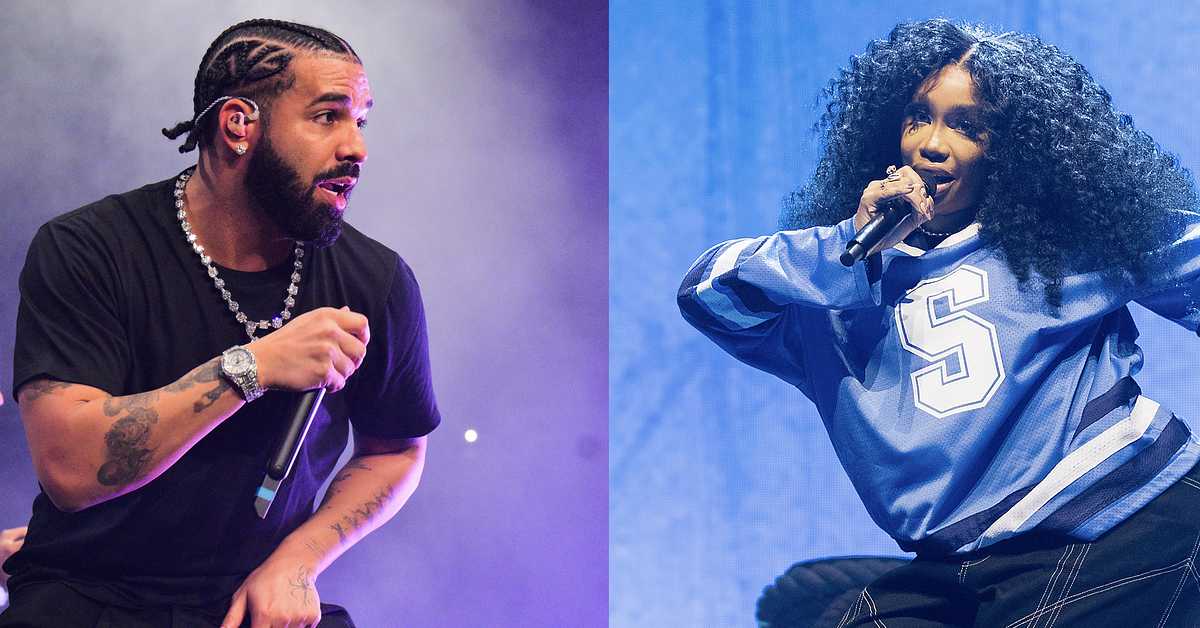 The single was first announced by the renowned rapper during the Austin stop of his It's All a Blur Tour alongside 21 Savage. "I'm even going to say something tonight in Austin, Texas, that I haven't said yet," he revealed at the Moody Center.
"I know y'all excited to hear the album. I know it's, like, two weeks out. I'm a drop a song for y'all this week. Yeah, yeah. What a time, what a time. I appreciate y'all. Deeply, by the way, I do. It's a lot of love in Texas."
The green slime-covered cover art for "Slime You Out" was inspired by Halle Berry's sliming experience at the 2012 Nickelodeon Kids' Choice Awards.
View this post on Instagram
Despite the fact that "Slime You Out" is Drake and SZA's first formal collaboration, the two have nodded to each other numerous times throughout their artistic careers.
SZA's 2016 "2AM" track, which was formally released last June as part of CTRL's deluxe edition to honor the five-year anniversary of her critically acclaimed debut studio album, refers to PartyNextDoor and Drake's "Come and See Me" from the former's 2016 album PartyNextDoor.
Drake raps in the track "Diplomatic Immunity" from the 2018 Scary Hours two-pack, "I just pulled up on Solána show, the girl's a natural/ I knew her way back when Hollywood was international."
If you want to find out about other albums that will soon be available to listen soon, check out the posts below:
In his guest verse on "Mr. Right Now," from 21 Savage and Metro Boomin's 2020 collaborative effort Savage Mode II, he raps, "Yeah, said she wanna f-k to some SZA, wait/ 'Cause I used to date SZA back in '08." She later stated on Twitter — now X — that the couple dated in 2009, but that "in this case, a year of poetic rap license mattered."
So It was actually 2009 lol 🙃.. in this case a year of poetic rap license mattered 🥴lol I think he jus innocently rhymed 08 w wait . Anybody who really knows me and was around during this time can confirm.. it's all love all peace 🤝💎💫 .

— SZA (@sza) October 5, 2020
Most recently, SZA's guest verse on Travis Scott's 2023 Utopia album's Future-assisted "Telekinesis" appears to be a direct response to Drake's third stanza on "Marvins Room" from his 2011 sophomore album Take Care.
For All the Dogs will be released on September 22nd through OVO Sound and Republic Records. He revealed the highly anticipated album's release date on Instagram by releasing an archival video of his father, Dennis Graham, singing alongside a blues band on the local Toronto TV show Stormy Monday With Danny Marks in the early 1990s.
For All The Dogs is the 6 God's eighth studio album and his first solo album since the release of his dance-heavy Honestly, Nevermind project in June 2022. Five months later, he collaborated with 21 Savage on their collaborative album, Her Loss. Both albums debuted at the top of the Billboard 200.
Listen to "Slime You Out" in the player below.