Sam Hartman, a brilliant football player, is in the news for his outstanding on-field performance. Many of his followers are interested in learning more about his personal life, particularly his relationship status.
Who is Sam Hartman's girlfriend, then? Although he is well known for his athletic prowess, nothing is known about his romantic life. Prior to discussing the subject, let's learn more about Sam Hartman.
A brilliant and accomplished American football player from North Carolina, Sam Hartman. He is the Notre Dame Fighting Irish's quarterback. Sam Hartman was included on the Maxwell Award Watch list for 2023.
Sam Harman's football career and his present relationship status will be explored in more detail in this article.
Who is Sam Hartman Dating?
Sam Hartman is a rising star who is gaining a lot of popularity, particularly in the football community. People are quite interested in who he is dating, but as of right now, it appears that he is single.
Furthermore, there is no proof that he is in a relationship with the online sources. Sam hasn't said anything about having a girlfriend, despite some of his admirers making assumptions about it.
Sam currently devotes most of his effort to his football career. Hartman's career as a football player has nevertheless been an inspirational one.
Sam Hartman: Parents, Siblings and Family
Sam Hartman was born in the United States to Mark and Lisa Hartman. Mark Hartman, his father, is a doctor and surgeon. He and his family are from North Carolina. Sam was raised by his parents to be a humble man.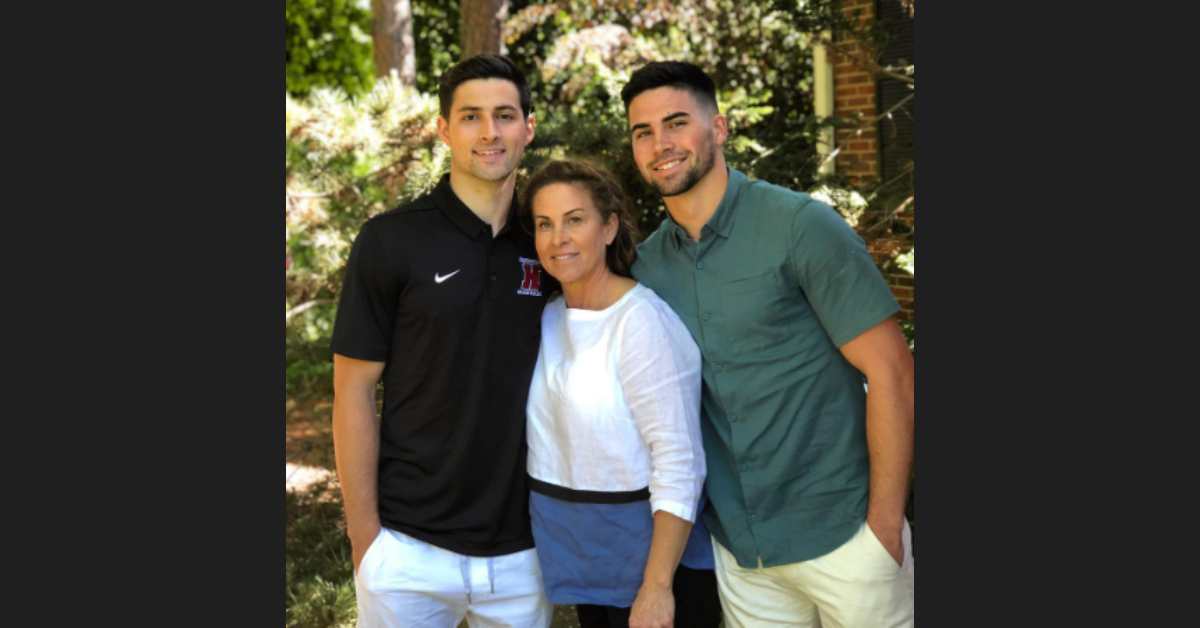 Sam Has Two Brothers, Demitri Allison, and Joe Hartman
The college player was raised in a football family and occasionally played with his older brother Joe. Joe is a somewhat private person, just like the best player for Notre Dame. But Sam disclosed in August 2023 that Joe studies medicine at the University of Florida.
Demitri Allison, Sam's second older brother, also existed. At the age of 15, he moved in with the Hartman family and later played football for Elon University. Sam idolized his older brother Demitri and the two were inseparable. Demitri committed suicide on November 11, 2015.
In a post on Faith Driven Athlete, Sam talked about losing his brother. He said, "He may have had a different last name than me, and we may not have shared a blood line, but he was a brother in every sense of the word. And when you love someone like you love a brother, it hurts just as much not having him here anymore."
View this post on Instagram
Sam has added the initials D.A. (Demitri Allison) on his wristband as a result of his brother's terrible passing. In Demitri's memory, he also dons jersey No. 10, which was the player's identifier on the football field.
Sam said to ESPN that he sees some of Demitri in his Notre Dame teammates, which is what inspired him to continue playing collegiate football. Sam began treatment in 2021 and discovered techniques to handle his anxiety and stress.
Despite his brother's untimely death, Hartman has managed to flourish in his work. Sam's family has been generally supportive of his football career.
Sam Hartman's Age and Height
Sam Hartman was born on the 29th of July, 1999. He is currently 24 years old. He is of American nationality.
In terms of physical characteristics, Sam Hartman stands 6 feet 1 inch tall. His weight is approximately 96 kg. He is also of white ethnicity and practices Christianity as his primary religion.
If you want to read more posts on other celebrities' personal lives, please see the links below:
NFL Draft Prospect Sam Hartman
Sam Hartman, a quarterback, has piqued the interest of many as a potential first-round pick in the 2024 NFL Draft. Dane Brugler of The Athletics ranks him 11th among senior quarterbacks for the draft.
Even though he used to play a little slower at Wake Forest, his remarkable performance against Notre Dame has piqued the interest of NFL scouts. Some anticipate that he will be selected in the sixth round of the NFL draft.
However, nothing is certain until after the college football season. His NFL career is heavily reliant on his success in the upcoming collegiate football seasons.
Sam Hartman's Net Worth
Sam Hartman's net worth is expected to be $5 million as of 2023. Sam's football career is his main source of income.
In conclusion, Even though rumors and assumptions regarding Sam Hartman's girlfriend keep going around, the truth about her remains a secret. Sam Hartman's real story about his relationship status won't be known for sure until time passes.
If you want to keep up with the latest posts about the private lives of your favorite celebrities, follow us on Twitter.
Frequently Asked Questions
Is Sam Hartman dating anyone right now?
Sam Hartman is single as of now.
Who is Sam Hartman's rumored girlfriend?
Tyla Ocoha is rumored to be his girlfriend, but neither of them has confirmed this.
Why does Sam Hartman keep his romantic connections private?
Sam values his privacy and rarely reveals personal information, which piques the public's interest.
How does the public perceive his relationship status?
With multiple TikTok videos and social media talks regarding Sam Hartman's girlfriend, there is a lot of public conjecture and intrigue.