The NBA player Jimmy Butler has not only established himself on the court but also gained notoriety for his unique and sometimes changing hairstyles. This multi-talented player, who is renowned for his grit and work ethic, has used his hair throughout his career as a canvas for self-expression and creativity.
Butler's hair has drawn the attention of admirers and fashion connoisseurs thanks to its complex braids, vibrant colors, and daring fades. We'll delve into Jimmy Butler's hair in this succinct introduction, studying the development of his trademark looks and the effects of his distinctive style both on and off the basketball court.
Jimmy Butler Hair
Jimmy Butler of the Miami Heat caught everyone's attention at the team's media day on Monday with his new "emo Jimmy" appearance. Butler entered the room with straightened hair that covered one side of his face and concealed lip and eye piercings as well as fingernail lacquer that was black.
New look, same Jimmy pic.twitter.com/EPBSzVOvlz

— Miami HEAT (@MiamiHEAT) October 2, 2023
Butler's appearance with long braids in his hair the previous season became his go-to look. Even today, his basketball reference profile still features that image. right now. Around the association, anticipation has grown for this new look to start the NBA season.
"I'm gonna go beat Dame, Giannis, and Adrian Griffin on our way to a title," Butler said.
"I'm gonna go beat Dame, Giannis, and Adrian Griffin on our way to a title." 👀

– Jimmy Butler

(Via @NBATV ) pic.twitter.com/I7sHfLx0GX

— NBACentral (@TheDunkCentral) October 2, 2023
One can only understand Butler's disappointment after missing out on the opportunity to sign Damian Lillard. Prior to the Milwaukee Bucks weaseling their way into the picture, that deal appeared to be a lock a couple of weeks ago. Butler immediately took to social media once the Lillard trade was revealed and leveled accusations of tampering. However, it did happen; the Bucks succeeded where Pat Riley and the Heat failed.
Bam Adebayo: "The whole lip ring is annoying."

Jimmy Butler: "Look, I gotta stay in character."

Bam: "Sh*t. You get a haircut for Media Day."

Jimmy: "This is my halloween." 😂

(via jimmybutler/IG)pic.twitter.com/CvSIyN50fx

— ClutchPoints (@ClutchPoints) October 2, 2023
Jimmy Buckets also included the quote about the Heat defeating Dame, Giannis, and coach Adrian Griffin en route to a championship. As Miami has demonstrated over the last few years, it's difficult to rule them out.
Even during the regular season, they don't even need to play well. You should just jump in and watch how things develop. Because of their mentality the previous season, they were just the second No. 8 seed in NBA history to make it to the NBA Finals. However, accomplishing it this time should be much more difficult.
Here you can also check our recent articles:
Jimmy Butler Career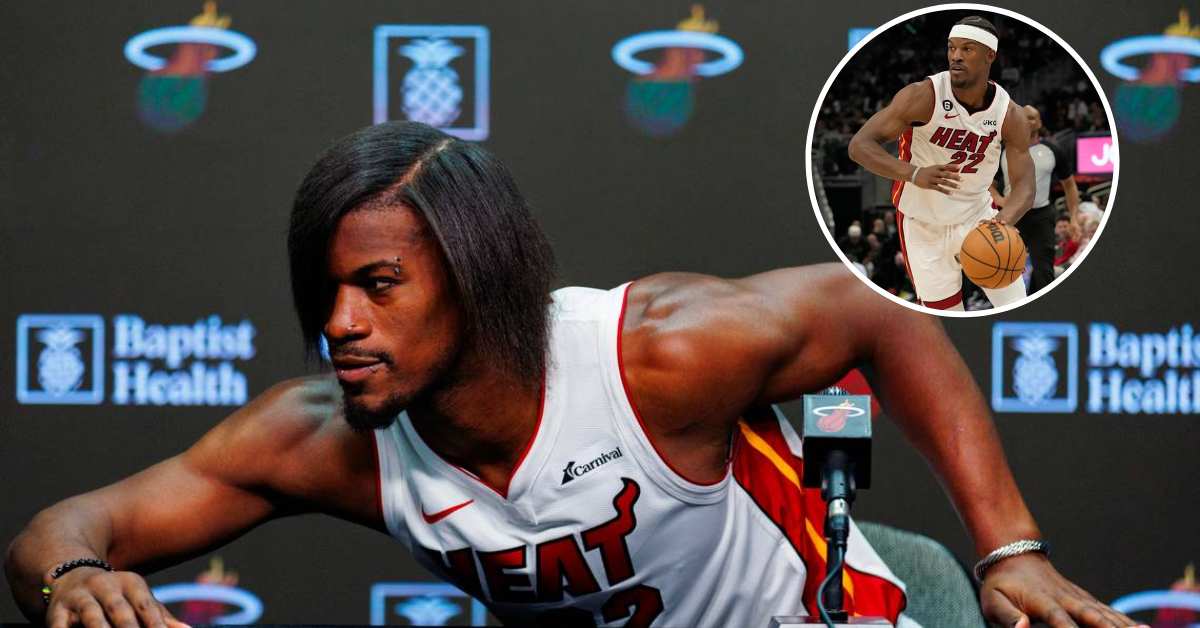 Butler attracted interest from Division I programs following his freshman year at Tyler Junior College, where he averaged 18.1 points, 7.7 rebounds, and 3.1 assists per game. He was ranked as the No. 127 junior college prospect in 2008 by 247Sports.com, which gave him a two-star rating as a recruit.
Butler enrolled at Marquette on an athletic scholarship, where as a sophomore in the 2008–09 season, he averaged 5.6 points, 3.9 rebounds, and a 76.8% free-throw shooting percentage.
As a junior in the 2009–10 season, he was promoted to the starting lineup, averaging 14.7 points and 6.4 rebounds per game while being named All–Big East Honorable Mention.
His two game-winning jumpers against UConn and St. John's, which helped Marquette finish 11-7 in the Big East and make its sixth consecutive NCAA tournament participation, were the highlights of his season. He averaged 15.7 points per game as a senior in 2010–11, earning All–Big East Honorable Mention for the second consecutive season.
The Chicago Bulls selected Butler with the 30th overall choice in the 2011 NBA Draft. When the 2011–12 season was cut short by the lockout, he played in 42 games but had few opportunities to do so. He participated in all 82 games for the Bulls the following year.
He earned significant playing time over the second half of the 2012–13 season after seeing little action in the first half, including starting all 12 playoff games. In a regular-season game against the Toronto Raptors on April 9, 2013, Butler scored a then-career-high 28 points while losing 101-98. Two days later, against the New York Knicks, he notched his first double-double in the NBA with 22 points and a then-career-high 14 rebounds.
Butler was only able to play in 67 games in the 2013–14 season due to injury, which cost him 15 games. He played for a 38.7-minute average, which led the NBA and was a career-high. On December 30, he defeated the Memphis Grizzlies and recorded a season-high 26 points.
On January 15, he played 60:20 in a triple-overtime game against the Orlando Magic and finished with 21 points, seven rebounds, and six assists, setting a franchise record. He was named to the NBA All-Defensive Second Team at the conclusion of the season.