Gabby Petito's tragic life and death have captivated the nation. Gabby's van life road trip ended in August 2021 when her fiancé, Brian Laundrie, confessed to killing her. A terrifying journal found following Brian Laundrie's suicide revealed his admission. An autopsy revealed she died from hand strangulation, revealing her horrific death. She was found by tragedy, and Brian Laundrie's part in this awful case is under scrutiny.
Gabby Petito Autopsy
In August 2021, when she was on a van life road trip, her fiancé, Brian Laundrie, killed her. Brian Laundrie finally confessed to killing his partner in a notebook that was found after he killed himself.
Brian Laundries shares some words contained in the tweet that is provided below:
1/8
This is Brian Laundrie's notebook confession where he admits he ended Gabby's life. pic.twitter.com/f3iyTutWpo

— Brian Entin (@BrianEntin) June 24, 2022
Experts tell Fox News that the discovery of Gabby Petito's remains at a Wyoming campsite during an FBI-led investigation suggests that domestic abuse and murderous intent were likely involved. Her autopsy revealed that she died by homicide by strangling.
Her fiance, Brian Laundrie, has been identified as a person of interest in her death and is sought on a federal bank card fraud warrant. Brian and she camped together before he drove back to Florida alone and eventually vanished himself.
According to Teton County Coroner Dr. Brent Blue, Petito was killed by "manual strangulation/throttling," which means she was killed by hand as opposed to anything like a rope or chain.
#New Gabby Petito's autopsy ruling from the Teton County Coroner. Cause: death by manual strangulation/throttling and manner: homicide. #nbc4ny pic.twitter.com/8KFkYA9uZB

— Pei-Sze Cheng (@PeiSzeCheng4NY) October 12, 2021
Dr. Dan Field, a board-certified emergency physician who has testified as an expert witness in homicide and strangulation cases, stated that killing someone by strangulation takes time and planning.
"I [testified in] a murder case in Florida, where the defense was trying to put forth the theory that it was a moment of passion — and so the question I was asked is how long does it take for strangulation to kill somebody?" he told Fox News Digital.
"The numbers are very, very specific." It takes roughly between 62 and 157 seconds, he said. "And then the question the prosecution has is, does that sound like a 'moment of passion' — 62 seconds?" he said.
Here you can also check our recent articles:
Gabby Petito Case Timeline: What Happened To Her?
June 2021: According to North Port Police Chief Todd Garrison, who refers to Laundrie as Petito's fiancé, the couple left for a cross-country journey. Garrison stated at a news briefing that they intended to go in Petito's white Ford van to the West Coast and visit state and national parks all around the western United States. She had been excited to share her journey with her family and others on social media, he said.
The police chief said, "She maintained regular contact with her family members during her travels; however, that communication abruptly stopped around the end of August."
August 12: When the pair was encountered by Moab, Utah, authorities, they were said to have "engaged in some sort of altercation." Despite the fact that the two allegedly got into a physical altercation after arguing, "both the male and female reported they are in love and engaged to be married and desperately didn't wish to see anyone charged with a crime," according to a report by Officer Eric Pratt.
According to the report, which described Petito as "confused and emotional," the pair decided to part ways for the evening at the officers' advice. "After evaluating the totality of the circumstances, I do not believe the situation escalated to the level of a domestic assault as much as that of a mental health crisis." No complaints were made.
The report also stated that the pair each carried a cell phone for emergencies. The Grand County Sheriff's Office has made a 911 audio tape from that day where a caller who wanted to report a domestic argument gave a description of a white van with a Florida license plate.
The caller claimed that as they passed, "the gentleman was slapping the girl." "Then we stopped," the caller continued. The sidewalk was traversed by them as they ran. He then struck her before getting in the car and driving away.
August 17: According to Laundrie's family attorney Steven Bertolino, Laundrie took a flight from Salt Lake City to Tampa, Florida.
According to CNN's Bertolino, Laundrie "flew home to obtain some items and empty and close the storage unit to save money as they were debating extending the road trip."
On Aug. 23: Laundrie returned to Salt Lake City to rejoin Petito, the attorney said, adding, "To my knowledge, Brian and Gabby paid for the flights as they were sharing expenses."
September 1: Without Gabby, Brian travels back to Florida.
September 11: Suffolk County police received a missing person call from Gabby's parents.
September 14: In a statement, Brian's family claims that he has hired counsel and will not be helping investigators.
September 19: Grand Teton National Park has a body, according to Wyoming authorities. The body was thought to be Gabby's, according to the FBI, but a complete forensic identification must first be made to be sure.
September 20: When Laundrie's residence is searched by police, they take away his silver Mustang and a hard drive that might have "evidence relevant to proving that a felony has been committed."
September 21: Authorities declare they will perform an autopsy to determine whether the remains found in Wyoming belong to Gabby. The Venice side of Carlton Reserve was the next location where police started looking for Laundrie again.
 September 21: The body discovered in Wyoming was confirmed to be Gabby's by the FBI.
We have found what appears to be a memorial in the area where law enforcement searched for and eventually found the remains of who law enforcement believes to be #GabbyPetito @fox13 This is in the area of Spread Creek Dispersed Camping Area pic.twitter.com/QLKgNJNFyn

— Sydney Glenn (@SydneyGlennTV) September 21, 2021
September 22: Police are still searching Carlton Reserve for signs of Laundrie, but there are no leads. To help with the search, a specialized dive team is requested.
September 23: Authorities declared that Brian now has a federal arrest warrant out for him.
October 12: The outcomes of Gabby's autopsy were released. Dr. Brent Blue, the coroner for Teton County, determined that Gabby died by strangling.
Petito Family Reaction
In a recent interview when they discussed the day they learned of their daughter's passing, Gabby's parents stated that they continue to hold onto the hope that Brian is still alive. Brian "didn't tell us" that he went back to his house in North Port with her van and without Gabby, according to her father Joe.
The Laundrie family put out a new statement immediately after the Wyoming coroner released his final autopsy, which determined Gabby Petito was strangled to death. The statement marks the first time they have confirmed Brian used Gabby's debit card. MORE: https://t.co/D8JXs6C0PZ pic.twitter.com/JHg67YeB2f

— FOX 13 Tampa Bay (@FOX13News) October 12, 2021
Gabby Petito Memorial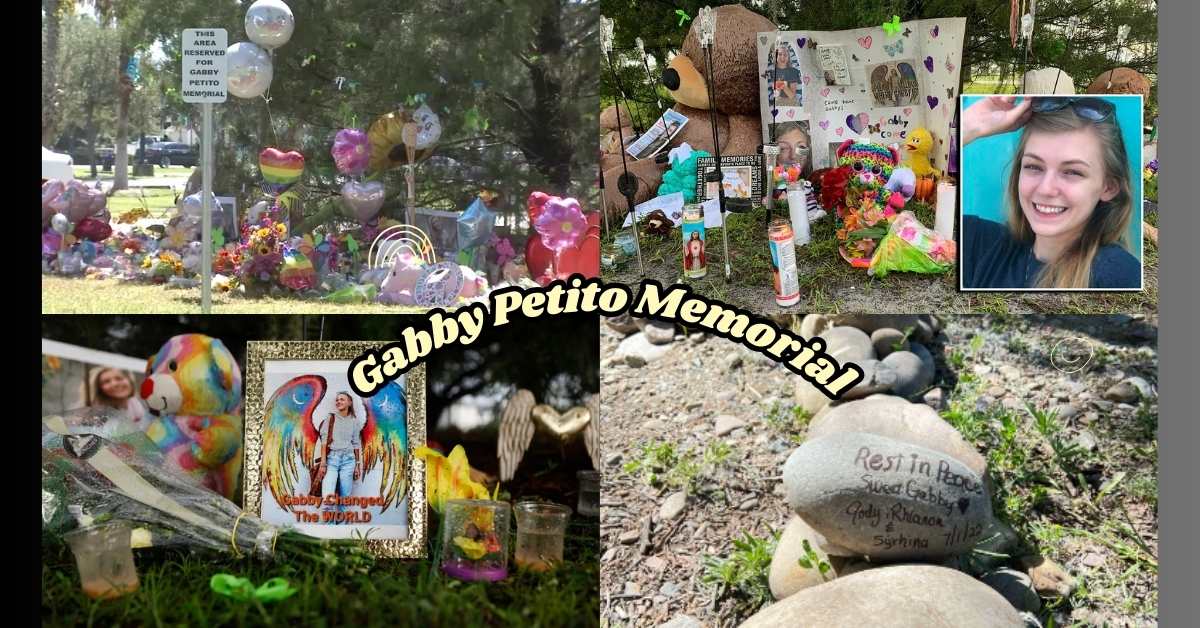 The city of North Port is still working on creating a long-lasting memorial to remember Gabby. The neighborhood responded by sending flowers, photos, and other mementos to the City Center Front Green in the days following Gabby's abduction, erecting a temporary memorial.
Most of the items were collected over the course of a week by Gabby's family. The city will remove what is left on Tuesday. In time, the city will swap out those objects for a steel bench dedicated to Gabby.
On Monday, it had been exactly one month since Gabby's family filed a missing person report, claiming they had been unable to contact her for more than a week while she was traveling cross-country with Brian. Her body was discovered on September 19, a week later.
The month has been painful, according to Gabby's parents.
"It was the hardest phone call that I've ever made in my life," said Gabby's stepfather, Jim Schmidt. "I knew what to expect when we went out and what the strong possibility was. But still, nothing could really prepare you for that, for that moment."