Early in the 1990s, "Barney & Friends" was a mainstay of daytime television, turning its purple anthropomorphic T. rex title character—who preached compassion, love, and cleaning up your toys—into a star.
The figure was an embodiment of kindness, winning the hearts of innumerable young children worldwide even though he occasionally took offense at their struggling parents. He was unavoidable.
How Did Barney Die?
After searching "what killed Barney the dinosaur," users have begun submitting screenshots of the results, with one of the top results being, "In November 1997, Barney the Dinosaur was stabbed to death by the New York City Police Department."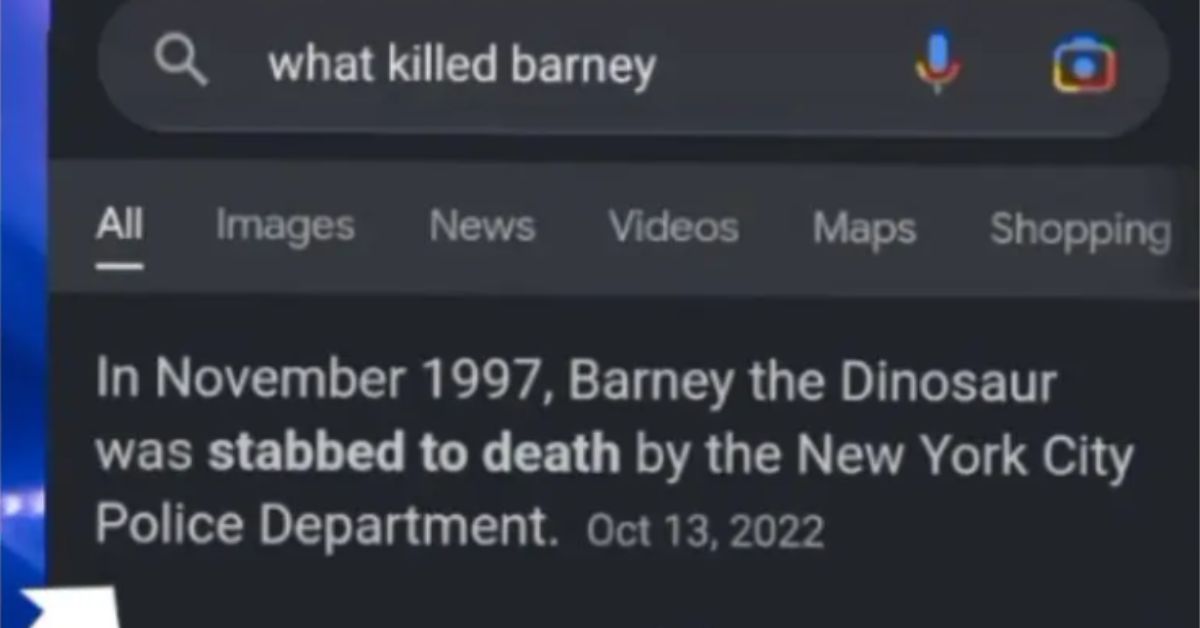 The Independent story "In November 1997, Barney the Dinosaur was stabbed to death by the New York City Police Department" can be found by searching for certain keywords.
The graphic depiction of a well-known children's figure passing away grabs readers' interest right away, but as the narrative progresses, they discover that Barney was actually an inflatable balloon that met a terrible end.
A huge burst of wind carried a Barney the Dinosaur balloon in 1997 during an exceptionally windy Macy's Thanksgiving Day Parade, and it ripped open when it struck a lamp post. The NYPD officers used knives to cut down and open the balloon in order to contain it and stop it from hurting individuals in the crowds.
However, as Google only displays results for specific terms, the explanation appears to be a tragic, false event. The real Barney received hate mail and death threats from people, even though the NYPD didn't knife him mercilessly.
I Love You, You Hate Me, a new documentary on Peacock examines the criticism the beloved children's TV character received and the reasons behind it.
If you want to check out more celebrity death news, then you can read these articles:
Barney's Dark Past
Even though Barney the Dinosaur had good intentions, the actors and crew started receiving "Barney Bashing" soon after the show premiered. Barney's original voice actor, Bob West, claimed to have received death threats from fans of the show.
He said: "I started getting emails.. some of them were absolutely hateful. They were very explicit and very violent." He recalled, "They continued by saying they were going to come find me and they were going to kill me."
Meet the Man Who Played Barney the Dinosaur?
A child's imagination brings the primary character, Barney (voiced by Bob West 1992–2000 and Dean Wendt 2001–2010), to life. Other actors who have worn the Barney suit include Carey Stinson and David Joyner 1991–2001.
Barney is a purple and green Tyrannosaurus plush animal. "Barney is a Dinosaur" is his theme song; the melody is adapted from "Yankee Doodle". Barney uses the term "Super dee-duper" a lot. One of Barney's favorite songs, "I Love You," is often sung at the close of episodes, set to the tune of "This Old Man."
Barney is a carnivorous dinosaur, although he lacks the vicious fangs of a carnivore. Though he enjoys a wide variety of foods, including fruits and vegetables, a peanut butter and jelly sandwich paired with a glass of milk is his absolute favorite.