Creed III, the third film in the Rocky franchise spinoff, has entered theaters, and Michael B. Jordan has become the talk of the town for his career-defining roles in all three Creed films, as well as his much-anticipated directing debut.
While Jordan is not a new name in the entertainment business, thanks to his remarkable profession and notable performances as Killmonger in the Marvel Cinematic Universe, he is frequently confused with basketball legend Michael Jordan.
Are Michael B. Jordan and Michael Jordan related? Is the former's name influenced by the latter? These are some of the common questions regarding the closeness of their names. It would be beneficial to shed some light on the subject in order to clear up any confusion. Let us get started.
Is Michael B. Jordan Related to Michael Jordan?
Micahel B Jordan is one of the most well-known performers in the world. The "Creed" and "Black Panther" star shares his first and last name with NBA superstar Michael Jordan.
As a result, fans have long pondered if the two have a connection and if the former Chicago Bulls great is Michael B. Jordan's father. So the Hollywood actor once decided to respond to such a question, although comically.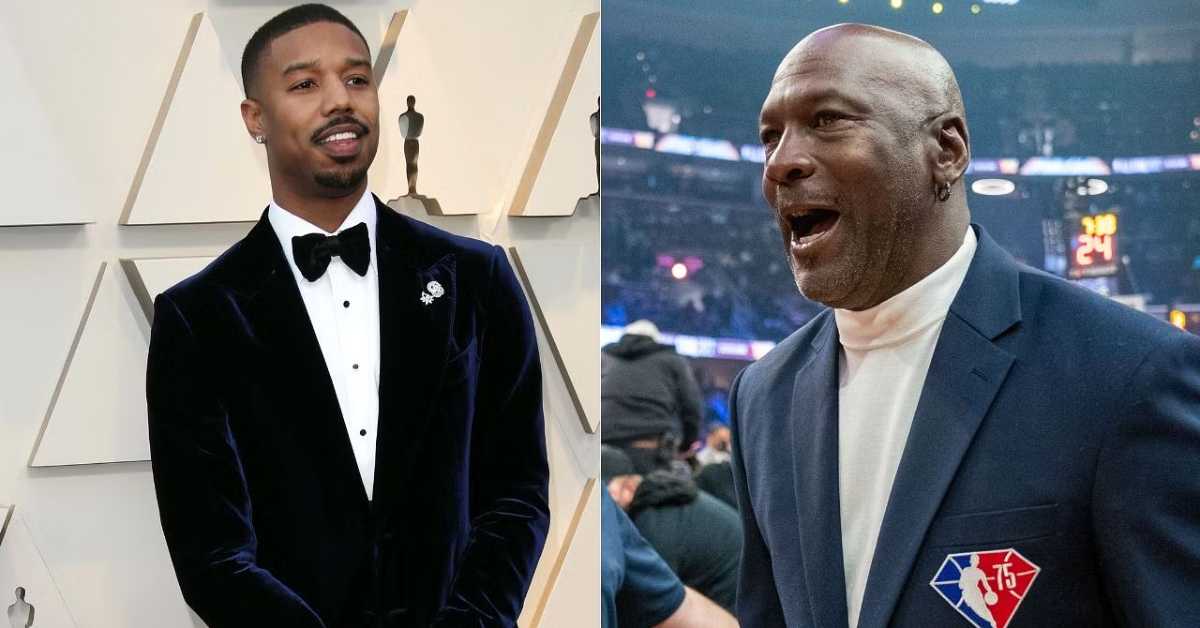 Michael B Jordan was filming a video in which he addressed some of the top Google trends searches related to his name. One of the queries wondered who Michael B Jordan's father was, while another asked if he was connected to NBA legend Micahel Jordan.
"My father is Michael Jordan. Michael A. Jordan. …Yeah, technically, I'm related to Michael Jordan, but not the one people are talking about."
The NBA legend Michael Jordan has two kids, Marcus and Jeffrey Jordan, but is not related to actor Michael A Jordan. It's only a coincidence that their names are similar. However, it is improbable that anyone would not want to be related to one of the greatest basketball players in history.
If you want to read more articles about this type of topic, check out the links below:
Michael Jordan's Net Worth
Michael Jordan's net worth has increased to $3 billion with the recent sale of his majority ownership in the Charlotte Hornets. This sum includes his ownership of Jordan Brand and the 23XL NASCAR team. Jordan also has an investment portfolio that has most likely provided dividends over the years.
However, the sale of the Hornets significantly increased Jordan's net worth. In 2010, the former NBA superstar paid $275 million for the franchise. He sold it for a huge profit just 13 years later. The NBA's popularity skyrocketed in the 2000s, allowing clubs to skyrocket in value.
To put things in perspective, Matt Ishbia recently spent $4 billion for the Phoenix Suns, while Steve Ballmer paid $2 billion for the Los Angeles Clippers. Nonetheless, Jordan's financial acumen and ability to create such a large profit from a single investment should not be overlooked.
Luka Doncic Believes Michael Jordan is the Best Player of All Time
Since LeBron James' arrival in the NBA, there has been controversy about who is the best player in NBA history. Some believe James' all-around skill set makes him the finest player in history, while others believe Jordan's never-say-die attitude and unblemished NBA Finals record proves he's the best to ever walk the hardwood.
Doncic discussed the matter after the Dallas Mavericks' 2023 preseason opening against the Minnesota Timberwolves, naming Jordan as his "GOAT."
"I mean, it's MJ," Doncic said. "It's MJ. I don't know about starting five. I gotta think it. I don't know."
Who's your greatest player of all time ?

"MJ, It's MJ"

– Luka Dončić pic.twitter.com/X43pTM1UsN

— BASKETBALL ON 𝕏 (@BasketballOnX) October 6, 2023
Nonetheless, the debate between Jordan and LeBron will most likely continue for years to come, and another star may someday join the fray. It's just the way professional basketball works.
If you want to read more articles about this type of topic, check out the links below:
In conclusion, the mystery regarding Michael B. Jordan and Michael Jordan's relationship has been cleared up; despite having similar names, they are not related. The Creed star cleared this misunderstanding by highlighting his father's name as Michael A. Jordan. Meanwhile, NBA superstar Michael Jordan's net worth has risen to $3 billion, bolstered significantly by the recent sale of his majority stake in the Charlotte Hornets.