Young Thug (born Jeffery Lamar Williams on August 16, 1991) is a prominent figure in the rap scene with a distinctive style. He has accumulated a substantial amount of riches. Young Thug is a Grammy-winning rapper, performer, and songwriter who has had a lasting impact on the hip-hop scene.
It is estimated that he is worth $8 million. Young Thug is well-known for his genre-bending musical style and partnerships with major players in the industry. His financial success is a reflection of both his commercial sense and artistic adaptability. Remember that net worth estimates are subject to change, so it's best to get the most recent information from reliable sources.
Young Thug Net Worth
The rapper, who was born in Atlanta, is thought to have a net worth of about $8 million as of 2023. Young Thug has a particular sense of style when it comes to both music and dress. Although some may consider him strange, his popularity and success have unquestionably contributed to the current hip-hop landscape.
Hailing from Atlanta, Georgia, he first became well-known through a number of mixtapes that featured his distinctive vocal style and unorthodox cadence. His early mixtapes, such as "1017 Thug," were well-received by critics and established him as one of the most gifted artists in Atlanta's booming rap scene.
As his career developed, Young Thug gained recognition for his unique and avant-garde approach to trap music, frequently fusing singing and rapping. His 2014 breakthrough single, "Lifestyle," which he co-wrote with producer London, reached the top 20 and cemented his mainstream status.
Whether it's mixtapes, songs, or joint projects with other musicians, Thug has consistently put out new music over the years. "So Much Fun," Young Thug's debut studio album, debuted at number one on the US Billboard 200 in 2019 and featured the hit track "Hot."
Young Thug's Early Life
On August 16, 1991, in Atlanta, Georgia, Young Thug was born. With eleven siblings, he comes from a large family. His real name is Jeffrey Lamar Williams. Born and raised in Zone 3, Young Thug is from the same underprivileged Atlanta area that gave rise to artists like Waka Flocka Flame, 2 Chainz, and Ludacris. Williams was a mischievous boy who, according to reports, broke his teacher's arm in the sixth grade and spent four years in juvenile prison.
Young Thug's Personal Life
Young Thug has three boys and three girls from four different mothers. At seventeen years old, he became a father. He got engaged to swimsuit designer Jerrika Karlae in April 2015; her mother was the manager of the late Young Dolph.
Following the success of his mixtape Jeffrey, Thug purchased his first house in September 2016. Situated in Buckhead, Atlanta, the property boasts over 11,000 square feet, six bedrooms, eleven bathrooms, a theater room, a complete bar, and a four-car garage.
One of Thug's older brothers was shot and killed in front of the family home while he was a child. Young Thug split from his ex-fiance Jerrika Karlae in December 2020. A few months later, in 2021, Thug started dating Mariah the Scientist, an Atlanta singer.
Check out the articles given below to read more about the fortunes of various stars:
Young Thug's Career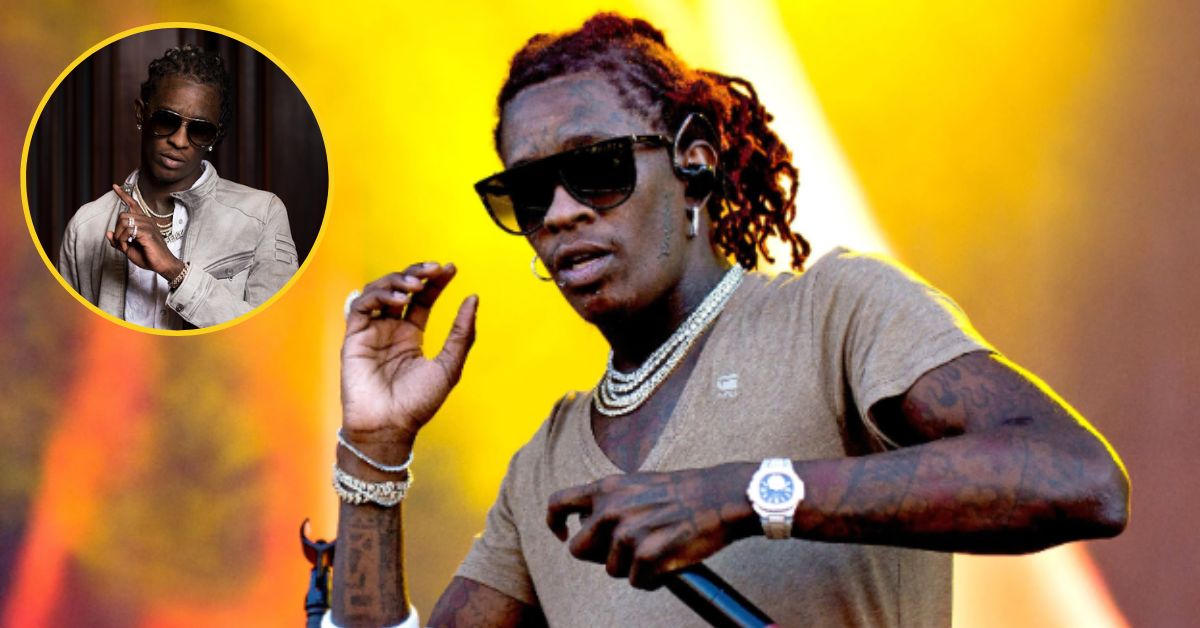 Young Thug debuted on TruRoyal's "She Can Go." before his 20s. Thus, Young Thug released many mixtapes in 2011–2012. The I Came From Nothing mixtapes were released. Young Thug was signed to 1017 Brick Squad by Atlanta rapper Gucci Mane.
Young Thug's unique sound gained popularity as Gucci Mane's label supported his mixtape releases. Many expected him to be a top new rapper. Young Thug gained fame by working with Waka Flocka Flame and Travis Scott.
Fans demanded an album in 2015, not another mixtape. Young Thug originally planned to name his debut album Carter 6 after Lil' Wayne. Lil' Wayne ordered his fans to cease listening to Young Thung due to copyright issues. Young Thug responded by renaming his album Barter 6. He said the new release would be another mixtape.
In 2015, Young Thug claimed to have signed with Atlantic Records, however, this was still unclear. A first album was hyped for years, and its title was revealed to be "HiTunes." The album never came out, although Young Thug released more mixtapes.
His 2017 collaboration with Camila Cabello's "Havana." was a career milestone. The song became Young Thug's first number-one on the Billboard Top 100. Again in 2018, he co-wrote and sang backing vocals on Childish Gambino's "This Is America." The song topped the charts again.
Young Thug's 2019 debut album So Much Fun premiered at number one on the Billboard 200 and includes the Billboard Hot 100 top-twenty hits "The London" and "Hot." Next year, his Hot 100 single "Go Crazy" with Chris Brown reached number three, his first top-ten hit as a lead artist.
Young Thug topped the Billboard Hot 100 again on Travis Scott's "Franchise." His 2021 compilation album Slime Language 2 topped the Billboard 100, and he topped the Hot 100 again later that year on Drake's "Way 2 Sexy" with Future. Punk, his second studio album, debuted in October 2021. His third number-one album and second of the year, it topped the Billboard 200.