Today, Xiaomi announced its plans to push the MIUI 12.5 update for its phones in the global market, starting in the second quarter of 2021.
Recently, Xiaomi reviewed the MIUI 12.5 update features, with a list showing the company's phones to be updated during the coming period.
In the update, they will be introducing several system improvements, with a complete renewal of the interface, which now uses the processing unit by 22% less, with less energy consumption by 15%. All this will be offered without reducing the accuracy and quality of the graphic display.
Currently, the interface is now also characterized by a smooth and fast experience in responding to screen gestures. The MIUI 12.5 update also supports uninstalling applications through a new system in the interface. During the event, the company officials also confirmed the ability to block installed applications to avoid misuse and fraudulent activities.
Xiaomi also introduces a new update to the NOTES application, which now features 4 new tools to support the user in taking notes with fast performance.
List of phones getting the MIUI 12.5 update.
Xiaomi begins pushing the stable version of the MIUI 12.5 update for Mi 11 and Mi 10 series users starting in the second quarter of 2021. The update will also arrive for Mi 10 Lite and Mi Note series users at the end of the second quarter.
List of Xiaomi phones that get the stable version of MIUI 12.5 at the beginning of the second quarter: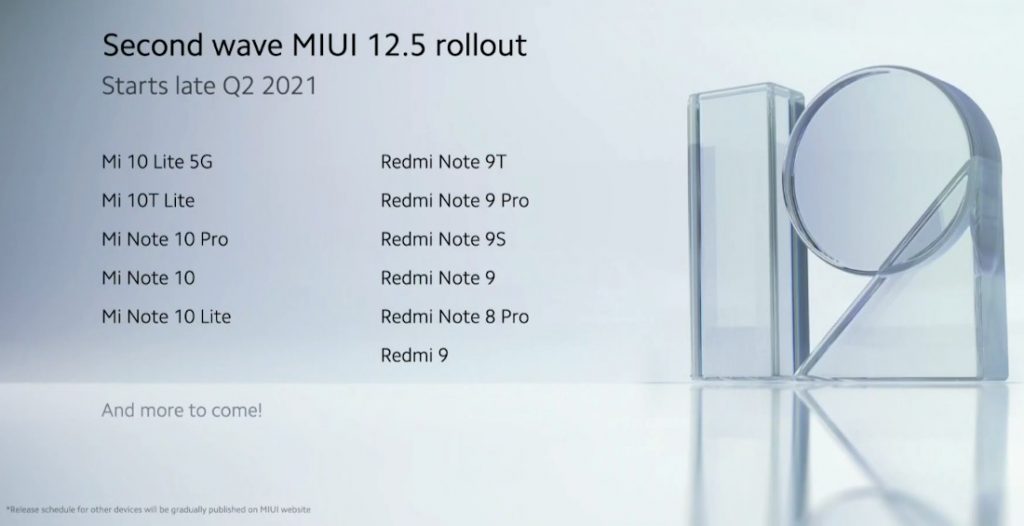 Mi 11
Mi 10T
Mi 10T Pro
Mi 10
Mi 10 Pro
List of phones that get the MIUI 12.5 update in the second stage:
Mi 10 Lite 5G
Mi 10T-Lite
Mi Note 10 Pro
Mi Note 10
Mi Note 10 Lite
Redmi Note 9T
Redmi Note 9 Pro
Redmi Note 9S
Redmi Note 9
Redmi Note 8 Pro
Redmi 9