Streaming services like Netflix, Youtube TV and Hulu Live are some of the best cable alternatives in the market. They are cheaper, offer a plethora of features and can be streamed on any device with an Internet connection.
Youtube TV
Youtube TV is a premium subscription based streaming service available in the market that lets you watch your favourite shows as well as live events from major broadcast and famous cable networks. You can stream anytime, record and watch later and get 6 accounts per household to enjoy with your family and friends. For More about youtube tv visit bellow link 
Youtube tv : Things You Need to Know Before sign Up (Complete Guide)
Hulu Live
Hulu Live is one of the big players in the streaming arena. It provides its users access to a rich content of primetime shows, daytime serials, and thousands of movies and shows in the Hulu streaming library. Users will be able to view live sport events, award functions as well as breaking news in a single click.   
In this article we will try to compare both the streaming services in order to help you make the best choice.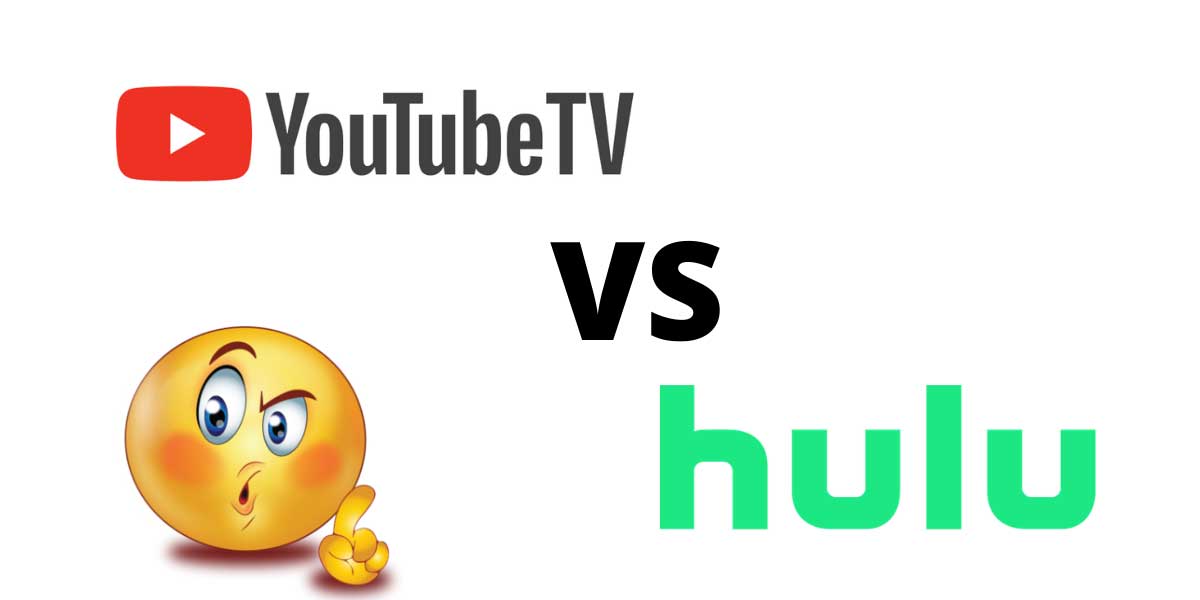 Youtube TV vs Hulu Live
Price
Youtube TV's plan will now cost you around $64.99 after a recent hike announcement by the company in June 2020. Hulu + Live TV also announced a recent upsurge in their subscription costs in December 2020 and will cost you around $64.99. It's clear in terms of price both are equal. 
One thing to keep in mind here is that the above prices only cater to basic plans. Premium channels and features will cost you more as per your need. The best part about these streaming services is that there is no equipment cost involved as compared to traditional cable networks. You can also take advantage of free trial periods provided by both the companies
Channels
On an average a traditional cable network will provide you a mix of around 150 channels. Youtube TV comes with a pack of 85 channels which is 20 more than Hulu Live. In June 2020 Youtube TV added the following ViacomCBS networks to their lineup which were also added by Hulu + Live TV in January 2021: 
BET

CMT

Comedy Central

MTV

Nickelodeon

Paramount Network

TV Land

VH1
Youtube TV provides you more channels in the live sports category than Hulu Live. At the same time, Hulu + Live TV boasts of providing a respectable mix of sports, entertainment, and news networks. It will also provide you complete access to Hulu's streaming catalog with ads at an added cost of $5.99/month. 
So, if you want to make a  choice based upon the genre or number of channels,  Youtube TV seems to have an edge in live sports and more channels but Hulu + Live TV gives you access to a good mix of various categories at the same price. Be prepared to let go of some of the channels if lowering costs is your first priority. 
 Cloud DVR
Generally, cost and channel list are the topmost priorities of the public, but Cloud DVR is another characteristic that many people look for in any streaming service. The Cloud DVR of Youtube TV is not only better as compared to Hulu Live, but it ranks at the top amongst its live TV streaming peers.  Below is a comparison of theCloud DVR feature in both the service : 
Youtube TV

 

Hulu + Live TV 

There is no storage limit here. 

Only 50 hours worth of Cloud DVR storage provided. 

You can stream your content anywhere in the United States 

Upgrade needed to Enhanced Cloud DVR for 200 hours of storage and 

You can record content simultaneously 

No limit on simultaneous recording only after upgrade. Not included in the basic plan. 

Recordings can be kept for around 9 months and utilized. 

Stream your recordings anywhere and watch anytime only after upgrade. 
Supported Devices for TV
When you are deciding between which one to choose, the interoperability feature is extremely important. A streaming service which supports maximum devices should be a no-brainer to choose. Youtube TV and Hulu Live TV both are compatible with majority of the smart TV's and media players like Chromecast and Apple TV. Hulu Live TV is also compatible with Amazon fire TV from the beginning while Youtube added it to their list in September 2019. 
Multiple Streams
People who like to watch movies/shows with their family, friends or roommates should look for this feature of multiple streams. Individuals and families who prefer using the streaming service on multiple devices at once Youtube TV has a strong edge over Hulu Live TV. With Youtube TV you can use three screens at a time as compared to only two in Hulu Live. Although Hulu does provide an option to upgrade to unlimited screens but that would cost you an additional $9.99/month. 
Navigation
Ease of finding your favourite show is a really important feature. Youtube TV has a very intuitive interface which allows users to easily search their content and start watching with a few clicks only. On the other hand, Hulu's Live TV is a little difficult to navigate and might take some more clicks to find your favourite shows. The learning curve involved for a non-tech savvy user can be steeper in Hulu as compared to Youtube, but within a few days you can become comfortable with both. 
Final Thoughts
Although both Youtube TV and Hulu Live TV are expensive, and have a few differences in features as outlined above, Youtube offers more value for money as compared to Hulu. While choosing any live TV streaming service you should give more weightage to factors that matter most to you : price, cloud DVR, supported devices, multiple streaming and ease of use. Since almost all of them provide a free trial, you should definitely take a trial and see what suits you the best.