Adobe, a designer of visual software architecture, reported third-quarter financial results today that topped forecasts. The findings demonstrate excellent revenue growth for the next three months, as well as guidance for the next three months. Shantanu Narayen, President and Chief Executive Officer of Adobe, said the business had an "outstanding quarter" as it strives to revolutionize narrative structure, education, and how business is done. He went on to say that "our brilliant people, category-defining innovation, and product leadership uniquely position us for ongoing momentum and success."
Adobe Systems Inc. (ADBE) announced a net income of $1.21 billion for its fiscal third quarter on Tuesday. The San Jose, California-based firm reported a net income of $2.52 per share. Earnings per share were $3.11 after one-time gains, and expenditures were subtracted. The final numbers were better than expected by investors on Wall Street. Zacks Investment Research polled nine experts, and the consensus forecast was $3 in earnings per share.
Adobe's Digital Subscription Scope
Adobe is well known for its Photoshop image editing program, but it also operates three other cloud computing companies. Creative Cloud is the largest of them, and it contains Photoshop and other tools for creative professionals. In the third quarter, the division brought in $2.37 billion in sales, up 21% from the previous year.
U.s Top General Secretly Called China Over Fears Trump Could Spark War: Just In The News 
Adobe's Experience Cloud, which provides marketing tools and services, brought $985 million in revenue, up 23 percent. Finally, Adobe's Document Cloud, which bundles Acrobat with its e-signature features, grew by 31% year over year to $493 million. 
Glimpses of Q3 Adobe's Digital Subscription Fiscal Reports
According to a third-quarter financial report from Adobe, digital subscription income increased by 29% and currently stands at $864 million. Digital media segment sales grew by 23% year over year for the San Jose, California-based firm, reaching $2.87 billion. The firm made $3.94 billion in revenue in the third quarter, a 22% substantial increase last year. Operating cash flows totaled $1.42 billion, according to the report. Document cloud sales increased by 31% to $493 million, whereas creative revenue increased by 21% to $2.37 billion.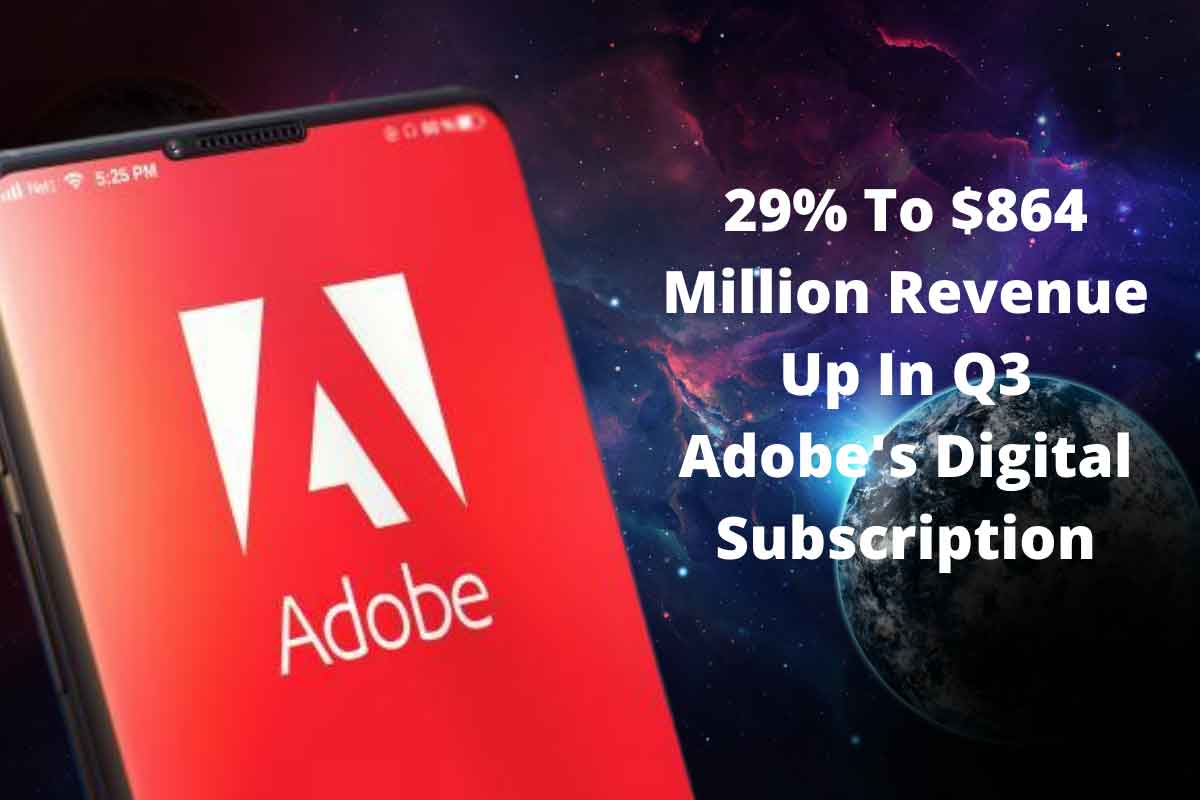 The yearly recurring income from digital media increased by $455 million to $11.67 billion. According to the data, income from digital experiences amounted to $985 million, representing a year-over-year increase of 26 percent. Non-GAAP operating income was $1.81 billion, compared to GAAP operating income of $1.44 billion in the third quarter. Non-GAAP net income totaled $1.50 billion, compared to GAAP net income of $1.21 billion. 
Adobes Financial Results Are Attributable to Return to Office System
According to Ashley Gaare, president of digital consultancy company SoftwareONE, Adobe's excellent results are attributable to an increasing number of companies rethinking their return-to-office strategies in light of COVID-19's Delta variation. According to the study, more efficient digital workplaces are a top need for employers.
"Adobe is gaining from the increasing software spending. As we move into Q4 and 2022, I expect sustained demand for its subscription-based products that enhance productivity, such as Adobe Document Cloud, Sign, and Creative Suite," he added. As a result of Adobe's subscription-based solutions, many businesses have better integrated remote and office operations. 
Adobe's Tremendous Financial Moves
This quarter, Adobe made a few significant business decisions. To enable its merchants to accept credit cards and other payment methods, it just announced last week that it would offer cashless transactions to its e-commerce network. Adobe has announced a partnership with PayPal Holdings Inc. to handle various payment methods, notably credit cards, card payments, and PayPal's services. With the new connection, BNPL functionality, which has grown in popularity and seen an 88% increase in usage between 2019 and the first half of this year, will also be available.
"Making The Taliban Great Again!"- Pres. Joe Biden Revealed, As The Man behind The Billboard
People have lauded it for helping retailers generate more money than they would otherwise.
A video review and collaboration platform provider, Frame.io Inc., was acquired by Adobe in August for a reported $1.275 billion cash price, according to reports. Frame.io's features will be integrated with Creative Cloud in the future. Immediately following the announcement, Adobe announced its fourth quarter and fiscal year 2021 earnings conference call, and a financial analyst meeting would be held online on December 16 at 8 a.m. Pacific Time. Adobe will present an outline of its annual year 2022 management and financial goals at the meeting.
The ADBE Stock Is Termed A "Crown Jewel"
ADBE's stock price fell by 3.8 percent in after-hours trading today, hitting a new low of $621.50. ADBE's shares climbed by 0.7 percent to $645.89 during Tuesday's regular trading session.
Analyst Michael Turrin at Wells Fargo Securities began coverage of ADBE shares on Monday and gave it a buy recommendation. The ADBE stock price objective was set at $770 by the analyst.
Adobe is one of the crown jewels of software in our opinion," Turrin told clients in a note. He attributed the company's success to its position as the "de facto toolbox for creatives" and the positive effects of digital encounters.
Adobe is a "long-term key position in any large-cap tech portfolio," according to Mr. Levitt.