We all suffered when on late Monday, Facebook, Whatsapp and Instagram suffered a massive outage. According to the reports which we received from our sources, it was reported that the personal information of more than 1.5 billion Facebook users is being sold on the dark web.
Facebook Users Date On Dark Web
According to the screenshots found on Twitter, it was reported that the sale of personal data of around 1.5 billion Facebook users is on the dark web. Additionally, this data can only be reached through a particular toon named Tor. Surface web search engines like google do not even index this tool.
A popular screenshot from a popular dark web forum showed that the database holds around 1.5 billion Facebook users information for sale. The post also mentioned that the database was scrapped this year, and phone numbers and emails were included in it as well.
More Posts Came In That Confirm This Dark Digital Issue
Another new post came on social media where there was another screenshot. The screenshot was creepingly showing some domain for facebook is allegedly on sale. When things were investigated, a tool named "Whois", which checks domains, also confirmed that facebook.com was surely put up for sale on the dark web. This comes as a huge shocker for the Facebook company as well.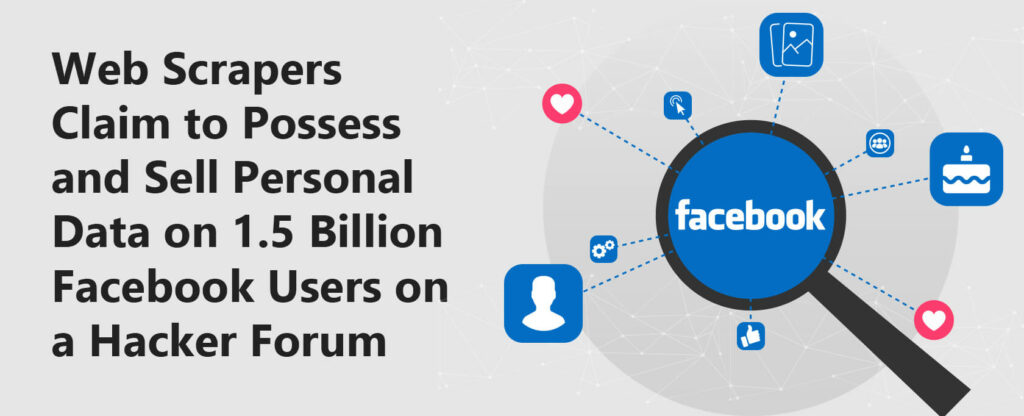 Jason Grosse, the spokesperson of Facebook, also said: "We are currently investigating the claim and have also sent a takedown request to the forum which is advertising the apparent data". This statement was given to Newsweek earlier.
Facebook & Partner Apps Were Down
The company also confirmed this issue by giving out a statement. The statement said: We were aware that some people are having some access to our Facebook app" This might be the reason why the company took apps down so that they get some restoring access time to sort things out. However, the company did not agree to this and didn't give any statement about what caused the outage of all applications. The blackout of Facebook, Instagram, Whatsapp and other partner apps began around 11.25 am ET.
Although it is normal for the apps to suffer such outages, it is pretty rare globally. Many users also reported that they could not access Facebook in Europe, New York, and California.
Major Crisis For Facebook
After this, Facebook is suffering from a major crisis, especially after the Wall Street Journal exposed the company's awareness of internal research into adverse effects through a series of stories. The story went public for over 60 minutes on Sunday.
With that said, if the data scraper acquired the information, we can say that no existing Facebook users accounts have been compromised. So the charges can still be accessed if the correct type of cybercriminals acquire them. It is also possible that different marketing operations can receive the data to use it to push certain advertisements on the affected set of users.