On Wednesday, 10th November, Russia charged the European Union for the ongoing migrant crisis over the border between Belarus and Poland, alleging it of attempting to "strangle" Belarus with intentions to shut a portion of the border and requesting it to have a direct conversation with Minsk.
Since migrants from the Middle East, Afghanistan, and Africa are putting new efforts to enter Poland overnight, with the dispatch of the two strategic bomber planes to patrol Belarusian airspace, Moscow provided an additional sign of support for its ally Belarus.
Two #Russian long-range Tu-22M3 bombers conducted patrols in the skies of #Belarus, said Russian Defense Ministry

What could this mean?🤔 pic.twitter.com/ly3iKZvmkB

— NEXTA (@nexta_tv) November 10, 2021
The Tu-22M3 bombers assisted in the testing of Belarus's joint air defense system, RIA news agency stated the defense ministry as claiming in a statement that it did not have any connection to the migrant crisis but was providing a raise in concerns on NATO's eastern border.
Judge Rejects Trump's Bid to Keep Papers Secret in Jan. 6 Inquiry
What Has Been Claimed by Russian Foreign Minister Sergei Lavrov in a News Conference?
Sergei Lavrov, the Russian Foreign Minister had told in a joint news conference with his Belarusian counterpart Vladimir Makei that he expected sensible Europeans would "not allow themselves to be drawn into a spiral that is fairly dangerous".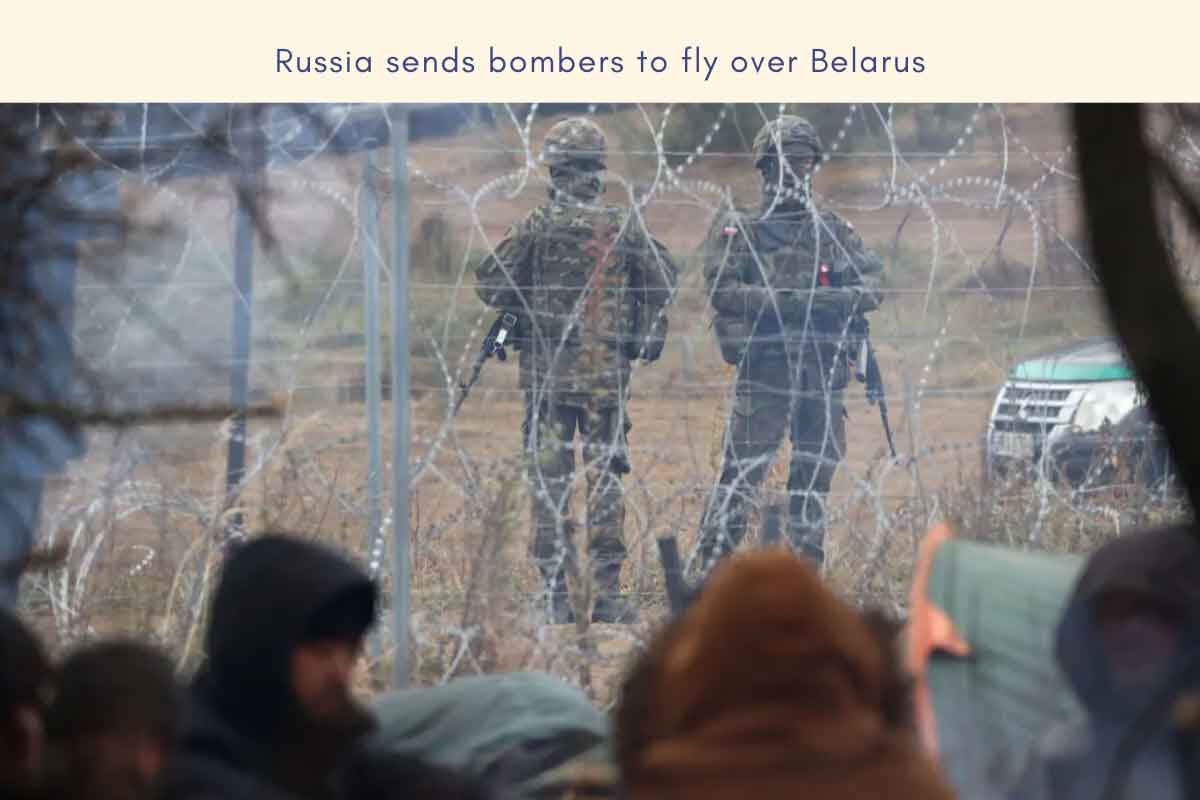 Further, Mr. Makei stated that Russia and Belarus were together backing each other "including in terms of a joint response to unfriendly activity against our countries".
In a phone call with German Chancellor Angela Merkel, President Vladimir Putin said that the EU should hold a discussion directly with Minsk about the crisis, according to the Kremlin.
Chancellor #Merkel spoke on the phone with President #Putin today about the situation on the Belarusian-Polish border. She underlined that the instrumentalization of migrants by the Belarusian regime is inhumane and unacceptable & asked President Putin to exert influence. https://t.co/EtQ5dVOmpA

— GermanForeignOffice (@GermanyDiplo) November 10, 2021
Dmitry Peskov, spokesman of Kremlin told a briefing stating "It is apparent that a humanitarian catastrophe is looming against the background of Europeans' reluctance to demonstrate commitment to their European values."
Mastermind in Moscow
He explained as "absolutely irresponsible and unacceptable" a remark by Polish Prime Minister Mateusz Morawiecki on Tuesday that the crisis "has its mastermind in Moscow".
Russian financial and remaining other supporters helped out Belarusian President Alexander Lukashenko in surviving the massive opposition against his decision earlier this year following a vexed election.
After Break-in, Camila Cabello Is Selling Her Hollywood Hills Villa for $4 Million
Moscow Doubled Down the Support for Belarus
Moscow has increased its support by two times for Belarus and knocked the EU upon the migrant crisis, which, according to the claim by Brussels, has been manufactured by Belarus as retribution for EU approval upon the election and other issues related to human rights.
It was stated by Mr. Peskov that in the past, the EU had allowed in identical groups of migrants and its heads to shut the border now targeted against Minsk.
He said, "This is nothing other than further attempts to strangle Belarus."