Rivian Automotive Inc. has reached another milestone in its uprise as new stock, it is now the largest U.S. corporation by market value without any revenue.
The electric-truck manufacturer, which is sponsored by Amazon.com Inc. and Ford Motor Co., has dethroned Lucid Group Inc., an electric vehicle competitor with no sales.
Rivian An Electric Car Manufacturer
Rivian is an electric vehicle manufacturer and automotive technology firm based in the United States that was created in 2009. Rivian is developing an electric SUV and pickup truck based on a "skateboard" framework that may support future cars and be used by other firms.
These cars are made to be driven both on and off the road. An electric van is also in the works, with all three vehicles set to hit the market in 2021.  In the United States and Canada, the business intends to develop an exclusive charging network.
The Missing 24-year-old Elementary Teacher From Georgia Was Found Dead in Mexico (Reports Say)
CEO Robert Scaringe launched the company in 2009. In 2011, the firm began focusing on autonomous electric vehicles after changing its name from Mainstream Motors to Avera Automotive and then Rivian.
The company obtained a big investment in 2015 and expanded significantly, opening research sites in Michigan and the Bay Area.
Rivian began working entirely on electric autonomous vehicles, specifically establishing an entire ecosystem of associated products, after relocating its headquarters to Livonia, Michigan, to be closer to key suppliers. Their first model was supposed to be a sports vehicle before they switched to trucks and SUVs.
Finance Situation of the Company
On November 10, 2021, the firm went public with an initial public offering on the Nasdaq under the name RIVN. The actual offering price was $78. The initial price targets were in the $58-62 range.
The stock closed at $100.73 per share on its first trading day, with a market capitalization of slightly under $100 billion. It was worth more than GM or Ford at the time, and it was only second to Tesla in terms of automaker market capitalization.
Bloomberg projected the company's worth at approximately $28 billion in 2021. In August 2021, the firm filed paperwork for an initial public offering (IPO), which might result in a valuation of $70 billion, about comparable to GM's.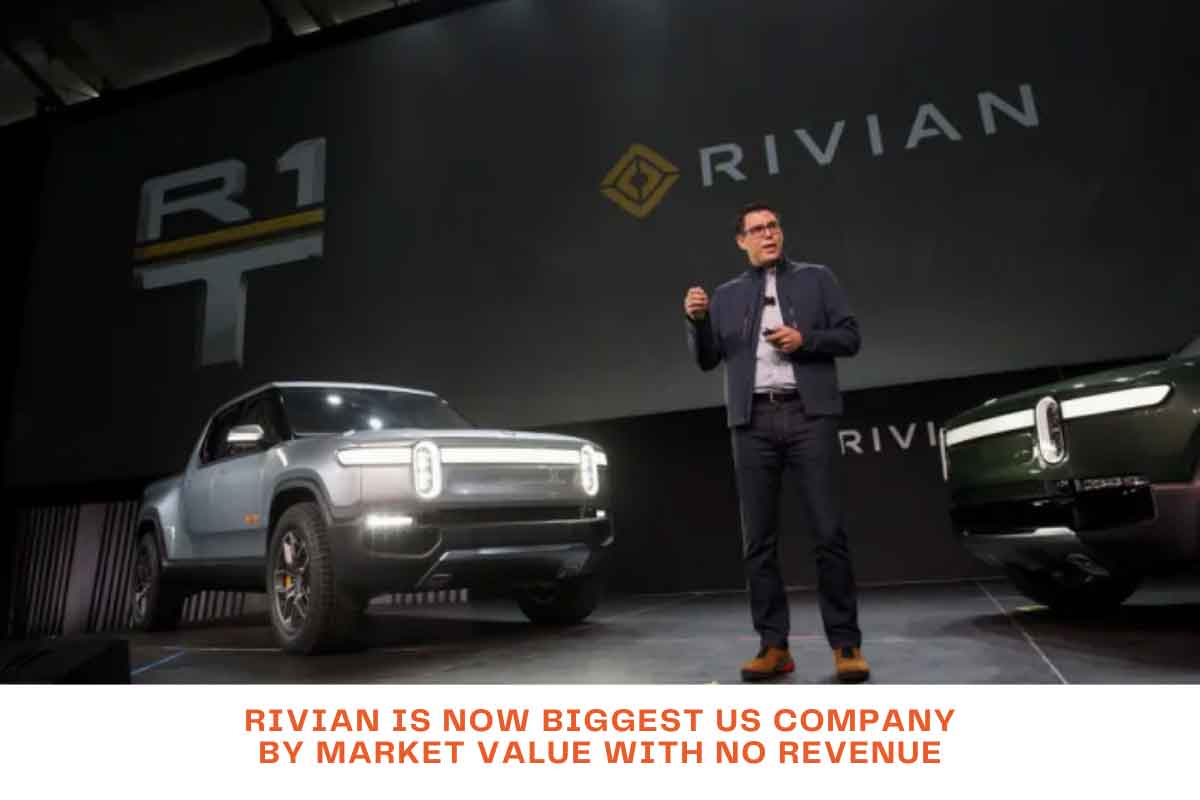 Nvidia Ceo Huang We Could Make Arm Successful in 'All Other Areas of Computing'
Rivian's stock has risen 67 percent from its initial public offering price of $78 on Wednesday. It's just about a quarter of the way to overtaking Volkswagen AG, one of the world's top automakers, in market value. Meanwhile, Lucid's inventory value has increased by 339 percent this year.
In July, it became public after merging with a blank-check firm. What's more amazing is that it hasn't even generated any revenue yet. In early afternoon trading, Rivian stock was up more than 4% to roughly $128, adding on its tremendous gains the day before, when it was up more than 22%.
The electric vehicle manufacturer went public on Wednesday at a $90 billion valuation, making it the largest U.S. IPO since Facebook, with its stock price surging nearly 30% to around $100 on the first day of trading. 
Increasing Demand for Electric Vehicles and Rivian's Stance in It
Since mid-2020, when governments, authorities, and companies declared plans to invest in the industry in response to a growing urgency to address climate change, electric vehicles have attracted investor interest.
All stocks in the field have been stimulated by recent great results from industry leader Tesla Inc. and a huge push into Electric and hybrid vehicles by car-rental business Hertz.
Rivian's rise boosted its market value over Mercedes-Benz maker Daimler AG for the third day in a row on Friday, after speeding past Ford and General Motors Co.'s market values the previous two days.
Apple to Pay $30 Million Over Store Workers' Security Checks
Tesla and Rivian
Rivian's enormous IPO contrasts sharply with Tesla, the original electric vehicle disruptor, which went public in 2010 at a $1.6 billion value. Tesla's initial public offering garnered just over $200 million, whereas Rivian raised nearly $12 billion earlier this week.
Rivian's main test, according to Tesla CEO Elon Musk, will be reaching high output and break-even cash flow.
Despite wishing the competitor electric vehicle maker well, Musk pointed out that while there have been hundreds of automobile start-ups, both electric and combustion, Tesla is the first American carmaker to achieve large volume production and positive cash flow in the last 100 years.
Although Rivian has held a strong foot down the stock market it has yet to face the volume production and cash flow challenges, also it has to tackle the big guns in the game.
Will Rivian prove its worth in the sales too?