This weekend, Twitter saw Elon Musk taking jibes at Bernie Sanders. Bernie Sander's tirade on Saturday was for taxation of the uber-rich. He tweeted, "We must demand that the extremely wealthy pay their fair share. Period." He did not mention any names.
However, just this was enough to provoke Elon Musk, who has become the richest man on the planet during the pandemic. He taunted the 80-year-old Bernie Sanders saying, "I keep forgetting that you're still alive."
Elon Musk
As of November 2021, Elon Musk is a centi-billionaire having over 300 billion dollars to his name. He surpassed Jeff Bezos in January 2021 to become the richest person in the world.
Musk is the founder, Chief Engineer, and CEO of spaceX; product architect and CEO of Tesla Inc; the co-founder of Neurolink & OpenAI; and the founder of The Boring Company ( tunnel construction company).
Tesla's Musk Says Stock Sale Impact 'Closer to Tax Maximization'
Despite his enormous wealth, Musk has tried to save as much from the eyes of the federal taxation body (IRS). He moved to Texas from California to evade income taxes last year and also to focus on the business priorities of Tesla and SpaceX. Elon Musk is against wealth taxes.
Recently, he criticized U.S. Senator Ron Wyden, a Democrat from Oregon and chair of the Senate Finance Committee who had pressed for a wealth tax on billionaires.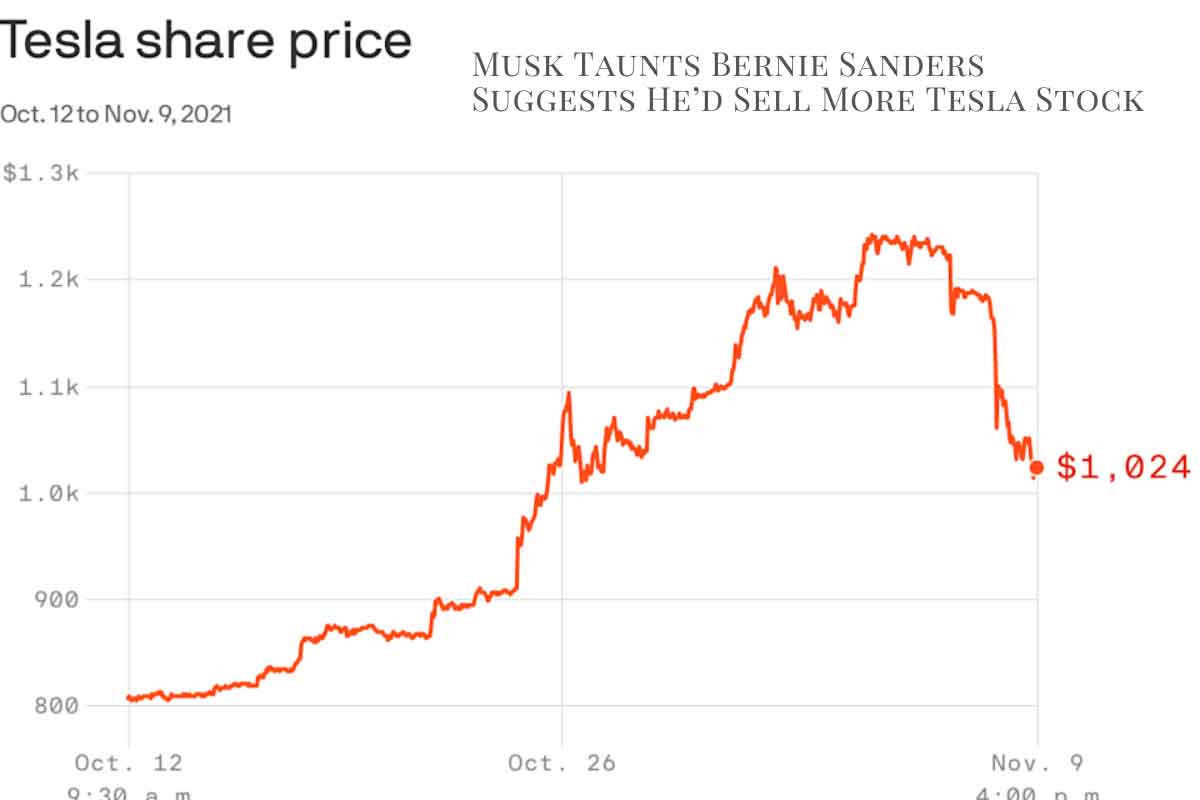 Bernie Sanders
Bernie Sanders is a Vermont representative in the Senate since 2007, currently chairing the Senate Budget Committee.
He has been advocating for a wealth tax to be levied on the large corporations and their multi-millionaire backers. "An economy for all" and not just for the rich is his vision. In March, Sanders tweeted that the amount of wealth Musk and Amazon.com Inc. co-founder Jeff Bezos had accumulated was "immoral."
In the presidential elections of 2020, Bernie Sanders had stepped down from the electoral campaign which lead to Biden contesting the elections on behalf of the Democratic Party. He is considered to be far on the left, a progressive, who was likely to not clash favorably against the Republican nominee Donald Trump. 
What Is Driving Us Inflation to a 31-year High? These Reasons Are Complicated
Elon Sells Stocks
In a tweet on Sunday morning, Elon Musk mocked Bernie Sanders again, while disclosing hints about unrealized gains being considered for taxation by the government. He said, "Want me to sell more stock, Bernie? Just say the word …"
Some Tesla stocks were then sold by Elon Musk, who had first consulted his financial experts in September and completed the required paperwork. He also initiated a Twitter poll, saying, "Much is made lately of unrealized gains being a means of tax avoidance, so I propose selling 10% of my Tesla stock".
About 58% of his social media followers voted in the favour of him selling some stocks out of the 20% he owns at Tesla. 
Consequently, Elon Musk was able to cash nearly $7 billion with the stock sales, according to Securities and Exchange Commission records. Afterward, he continued to spar with Bernie Sanders, writing that "Bernie was a taker and not a maker".
Elon Musk is against the Democrat Taxation Proposal as it could coerce him into paying a $10 Billion sum annually to the US Government. Such a proposal has been a thorn in the flesh for many wealthy people who have tried to avoid paying taxes over their immense wealth.
Calling out the wealth tax measures as socialist policies, it is clear that wealth taxes are never going to get any approval from the business magnates.