Florida has been constantly reporting the lowest counts of daily COVID-19 cases per 100,000 in the country, and the counts have come down even lower over the holiday weekend.
Only 3 Cases of Covid-19 Infection Per 100,000 Were Reported by Florida on Monday
As per New York Times' coronavirus tracker, as of 29th November, only 3 cases of coronavirus infection per capita have been reported by Florida and that is the lowest across the country. The figure is even lower than those reported on Friday which was six cases per 100,000.
A daily average of 681 cases is being reported by the Sunshine State which represents a jaw-dropping decrease of 53 percent over the last 14 days. As per reports, during the same period, the hospitalizations rate has also seen declining in the state by 11 percent.
Even After the Statewide Mask Mandate, Illinois Is Experiencing an Increasing Number of Covid-19 Cases
This is remarkable since the state came under continuous scrutiny from the establishment media and progressive politicians throughout the pandemic, namely for refusing to support the extension of lockdowns or even a mandate for wearing masks.
Twitter Ceo Parag Agrawal: 'Our Role Is Not to Be Bound by the First Amendment
Particularly, not even once the state decided to mandate wearing masks in places across the state. Take for comparison, currently, Illinois is under another mask mandate all over the state, however, the state is still experiencing a daily average of 4,661 cases of coronavirus or 37 per capita, which represents a rise in cases by 45 percent in the last 14 days.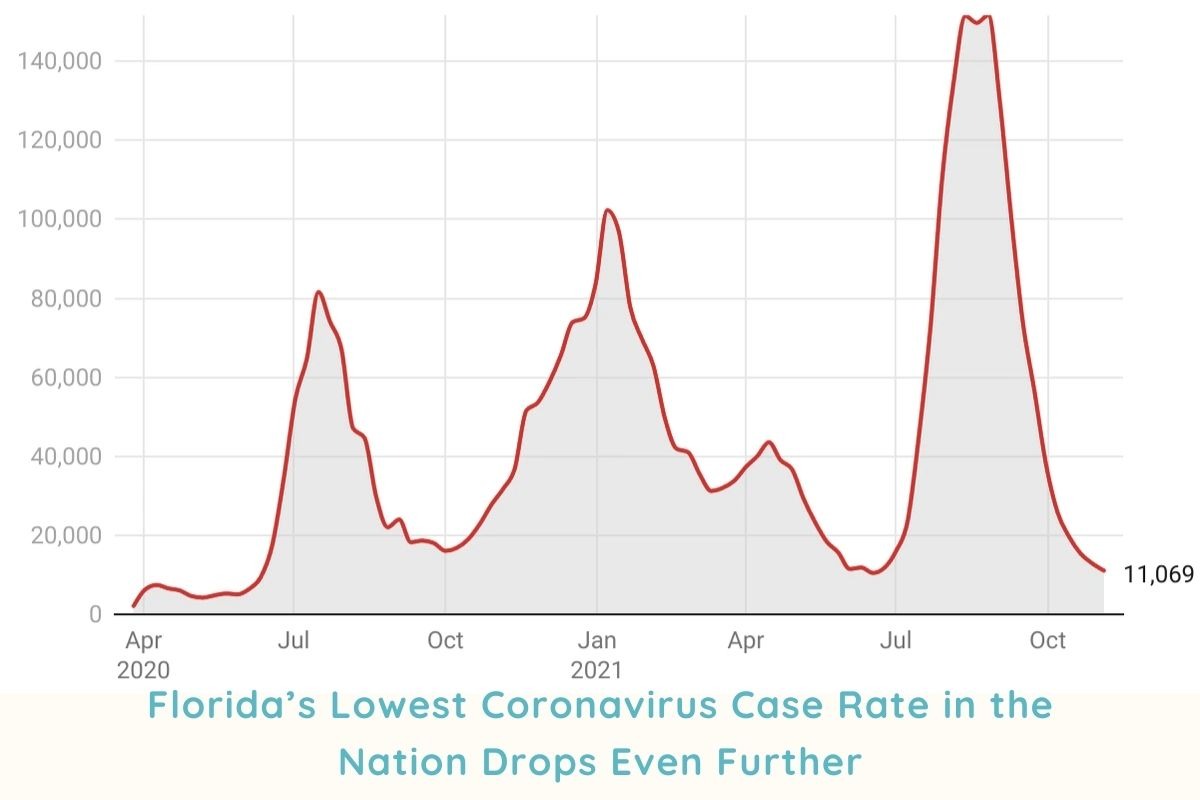 In the meantime, blue states, which were showered with appreciation by the progressives during the period of the pandemic, are dealing with one of the highest rates of infection across the whole nation. 
Michigan Is Reporting the Highest Cases in the Nation
Governor Gretchen Whitmer's (D) Michigan is among the highest as the state has been reporting a daily average of 8,457 cases or 85 per capita and that is representing an increase by 59 percent in the past 14 days itself.
Likewise, Governor Kathy Hochul's (D) New York is also experiencing some of the highest daily case rates in the country with 5,809 cases or 30 per 100,000. On the other hand, Governor Tom Wolf's (D) Pennsylvania is also reporting the highest case rates with 5,676 cases or 44 per 100,000.
China's Use of Refueling Aircraft During Recent Taiwan Sortie Raises Concern
Economy Booms Along With Job Growth
Florida is consistently experiencing a downward curve in COVID-19 cases and also witnessing a booming economy. Earlier this week, Governor Ron DeSantis (R) announced that Florida has seen job growth in the private sector for 18 consecutive months along with a higher labor force growth rate in comparison to the nation.
He accredited the development, in part, to his administration's determination for pressing back against "heavy-handed mandates":
In October, Florida created another 44,000 private sector jobs and unemployment continued to decline. Our state's economy is growing faster than the nation because we keep our businesses open and push back against heavy-handed mandates. pic.twitter.com/eQZIutcDtm

— Ron DeSantis (@GovRonDeSantis) November 19, 2021