On Tuesday, the 31-year-old singer of Papercuts proposed to the 35-year-old actress of Jennifer's Body beneath a particular banyan tree, presenting her with an extra-special ring.
Kelly collaborated with jeweler Stephen Webster to create a "Toi et Moi" style that included the couple's birthstones: a diamond for Kelly and an emerald for his future wife.
On Instagram, Kelly stated that the two pear-shaped stones are set "on two magnetic bands of thorns that draw together as two halves of the same soul forming the obscure heart that is our love."
Webster told Vogue: "He wanted something completely original and meaningful to both Megan and himself. He fed me lots of material in an almost lyrical form.
"I used this to create the two rings which become one. I used magnets embedded in the gold to attract the two rings together when worn as one. Possibly the most romantic story I have had to work with."
Megan Fox and Mgk Break up in 2022 or They Are Still Together?
Two-stone rings have been a significant trend in the last two years, according to gemologist and The Clear Cut creator Olivia Landau. She stated that the stones on Megan Fox's ring appear to be between 2 and 2.5 carats apiece and that an identical ring might cost anywhere from $50,000 to $75,000, depending on its quality.
Brilliant Earth's SVP of merchandising and retail, Kathryn Money, agreed that "Toi et Moi" rings are popular. She estimated that the stones in Fox's ring are closer to 4 or 5 carats each, valuing the jewelry between $300,000 and $400,000.
"A Perfect Match" for the Ring
The twin flames, who started dating in 2020 after meeting on the set of their film Midnight in the Switchgrass, are a perfect match for the double stones.
"Instead of a soul mate, a twin flame is actually where a soul has like ascended into a high enough level that it can be split into two different bodies at the same time," Fox revealed shortly after making a public announcement about their relationship. "So we're two halves of the same soul, I think. And I said that to him almost immediately, because I felt it right away."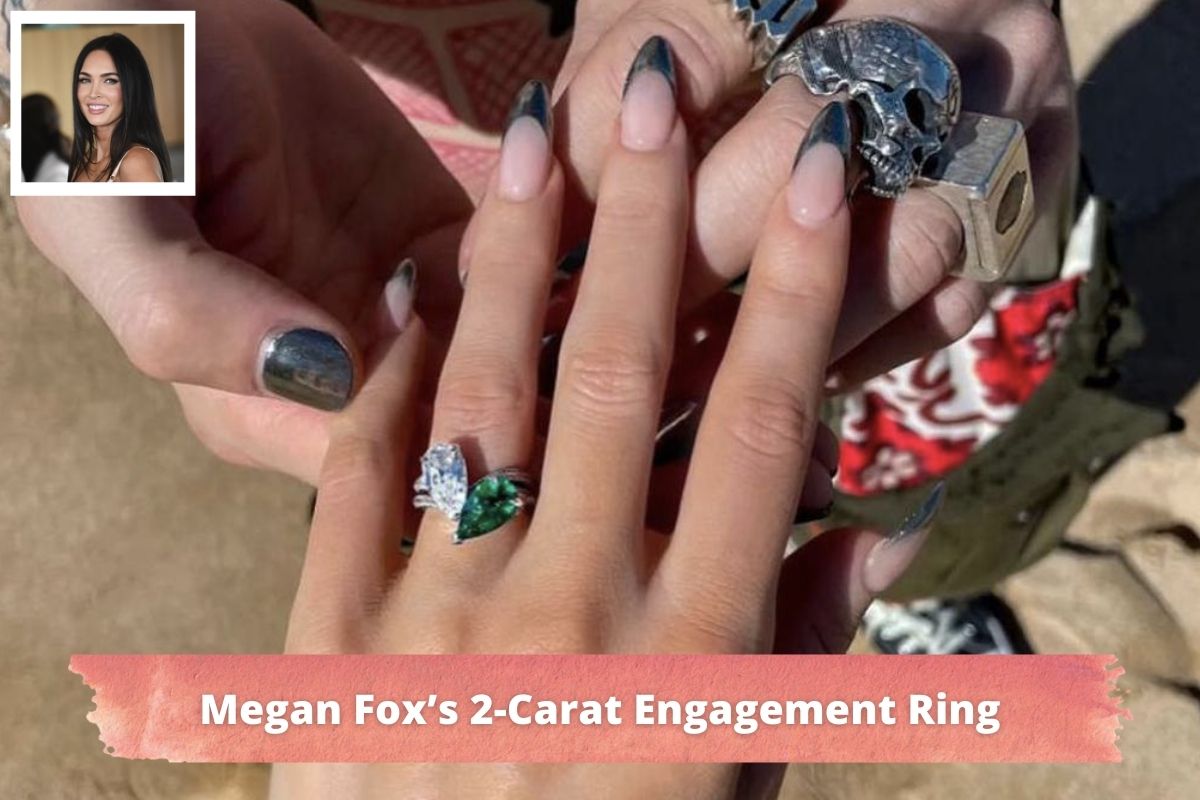 Megan Fox has Been in a Marital Bond Before
Brian Austin Green was Fox's first husband, and the two have three children together: Noah, 9, Bodhi, 7, and Journey, 5. After ten years of marriage, the Beverly Hills, 90210 stars, 48, announced their split in May 2020, though the finalization of their divorce is still pending.
The ex-couple divorced the following year, with Fox and Kelly's friendship blossoming into a love engagement by June 2020. Green, on the other hand, began dating Sharna Burgess in December of 2020.
Machine Gun Kelly (real name: Colson Baker) will marry for the first time, though he does have a 13-year-old daughter, Casie.
Megan Fox: The Machine Gun Kelly Intends to DUMP Megan Fox After What He Did at the AMA 2021
Two Souls That Had Journeyed Together
After less than a year of dating, a source told US Magazine exclusively in February 2021 that the Drunk Face singer would marry Fox "In a heartbeat," but that the Till Death actress was not "in any hurry" to marry again.
The Tennessee native told Who What Wear five months later that she realized instantaneously that Kelly was a soul that she felt she had journeyed with before, that theirs was a soul-mate connection, and that there was a purpose.
She later explained: "In July of 2020 we sat under this banyan tree. We asked for magic. We were oblivious to the pain we would face together in such a short, frenetic period."
The New Girl star revealed that she met her now-fiancé on the set of Midnight in the Switchgrass in March 2020 and that they were unaware of the labor and sacrifices the relationship would need from them but drunk off of the love. "And then there's the karma."
One and a half years after they first stood beneath the mysterious tree, Fox asked her to marry him after trekking through hell together and laughing more than she ever believed possible.