During Monday night's game against the Cincinnati Bengals, 24-year-old safety Damar Hamlin went into cardiac arrest. This is Hamlin's second season with the Buffalo Bills. Hamlin is currently listed in serious condition in a hospital.
As reported by team officials in an early Tuesday statement, Hamlin's heart stopped beating after he was hurt on a play in the first quarter. The Bills announced that Hamlin had been brought to the University of Cincinnati Medical Center, where "further testing and treatment" was being performed while he was sedated. His heartbeat had been restored by the field medical staff.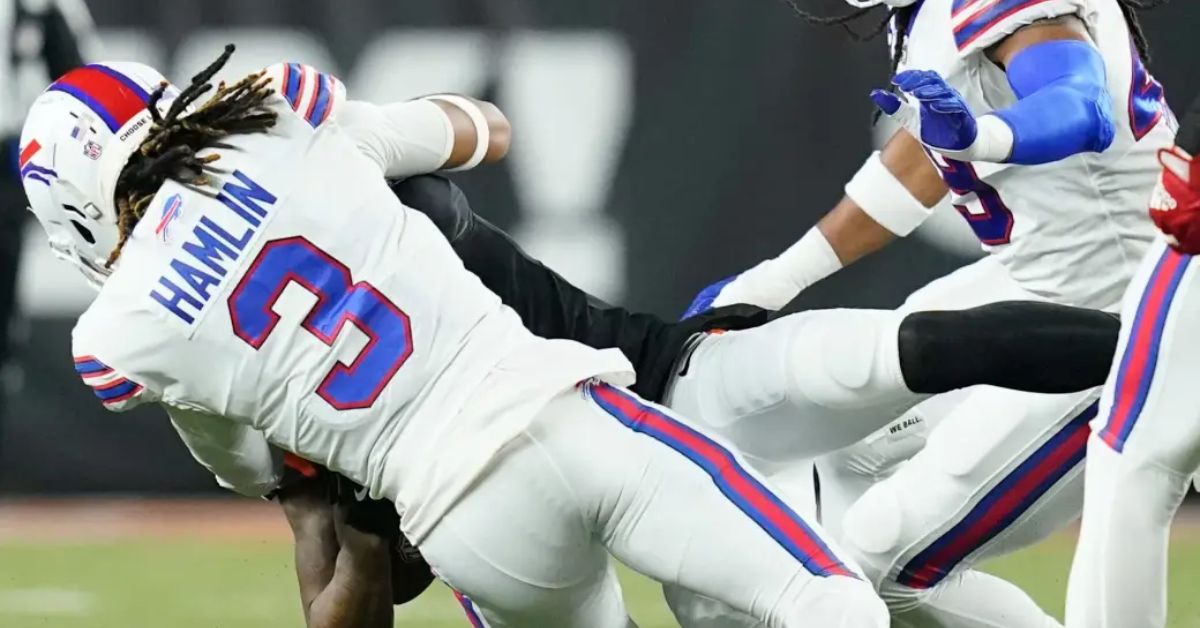 Who Hit Damar on the Field?
On Monday night, around nine minutes into the game, Bengals receiver Tee Higgins was brought down by Hamlin after gaining 13 yards on a reception. Higgins lunged headlong towards Hamlin, seemingly striking him in the head or chest. Hamlin sprang to his feet, shuffled backward for two paces, and then sat back down, limp as a rag.
While the medical staff performed CPR and attended to him for 10 minutes, players from both teams were obviously disturbed, with some players crying on the sidelines and others forming a prayer circle and kneeling to offer their condolences. It seemed like an IV was being given by one of the doctors.
Hamlin was eventually loaded onto a stretcher and sent to the emergency room. The Paycor Stadium crowd, which had remained mainly silent during the event, clapped as the ambulance drove away. Millions of people watched Hamlin go down live on ESPN's "Monday Night Football." Officials from the National Football League said the game was postponed after more than an hour of play being halted.
"Neither coach was talking about restarting play, and the players were not thinking about resuming play," said Troy Vincent, the executive vice president of the NFL's football operations. "How do you resume play after seeing such a traumatic event?" After Hamlin was hurt, an emergency action plan was initiated, according to Vincent. There are doctors and ambulances at every stadium.
Just chatted with Damar Hamlin's family friend @jordonr.

Per Jordon and Damar's family, doctors overnight got promising readings that they had been hoping to see by this morning. Jordon couldn't go into specifics, but progress appears to be made.

— Coley Harvey (@ColeyHarvey) January 4, 2023
Vincent said that he and other league officials talked with the game's referee, Shawn Smith, who then informed both head coaches that they may take as much time as they wanted with their teams. He said that despite Joe Buck's on-air statements about restarting play, there was no such consideration.
Buck stated that the players were informed they would have around five minutes to be ready to resume play after returning to the changing rooms. "That's the word we get from the league and the word we get from down on the field, but nobody's moving," Buck said.
Vincent told reporters on a conference call first thing Tuesday morning, "It wasn't about going with the game." We never considered it in a competitive light. A league spokesperson confirmed Monday night that the Bills and their personnel will be flying back to Buffalo.
You can check out Our Previous Article-
Are There Any Plans to Resume the Game?
Officials from Vincent's league have stated that there are currently no plans to resume the game, which was halted with the Bengals holding a 7-3 lead. The NFLPA issued a statement saying that it has communicated with players from both clubs and the NFL. "At this time, nothing is more important than Damar's health and safety," the statement read.
Due to injuries in the Buffalo secondary, second-year player Hamlin, who was selected from the Pittsburgh area, has been starting since September. A toy drive organized by Hamlin's nonprofit organization quickly raised over $3 million through a crowdfunding platform in the hours following his hospitalization.
Concern was rapidly expressed on social media by NFL players from all throughout the league. As Patrick Mahomes, quarterback for the Kansas City Chiefs, tweeted, "Praying hard… please be okay man," he was clearly concerned. Arizona Cardinals player J.J. Watt stated, "The game is not important," in an online post. The existence of Damar Hamlin is crucial. Have a good day. "Please pray for our brother," Bills quarterback Josh Allen posted.
I hope woke anti-God ESPN doesn't punish Dan Orlovsky for leading the world in a prayer for Damar Hamlin on its broadcast. pic.twitter.com/ltWchG7WY6

— Nick Adams (Alpha Male) (@NickAdamsinUSA) January 4, 2023
Inquiring about Hamlin's health, a crowd of around a hundred football fans gathered outside a hospital in Cincinnati. 62-year-old Janet Kohl and her brother 56-year-old Chuck Kohl claimed they were watching the game on TV when they witnessed Hamlin collapse; the siblings then traveled 20 minutes to the hospital to pray for him. "Immediately, the whole euphoria of being a Bengals fan was put into perspective," Chuck Kohl said.  "Because now we're talking life or death."
When Bills cornerback Taron Johnson went for the tackle on Bengals tight end Hayden Hurst early in the first quarter, he got hit in the head and had to leave the game. The trainers from both teams attended to Johnson for what seemed like forever before he finally walked off the field.
This season's string of high-profile injuries, including Hamlin's, has renewed concerns about player safety, leading to new criticism of the NFL. On Sunday, Nick Foles, quarterback for the Indianapolis Colts, departed the game after taking a sack from Giants linebacker Kayvon Thibodeaux, who celebrated the hit as Foles looked to convulse on the field. Foles was taken away in a stretcher and was said to have suffered a rib injury.
After hitting his head on the ground during a game against the Bengals on September 29, quarterback Tua Tagovailoa of the Miami Dolphins had to be taken to the hospital. Tagovailoa's "fencing reaction," in which his hands are lifted and his fingers are spread apart, may indicate brain damage.
Although Tagovailoa was eventually diagnosed with a concussion and returned with the team, the incident brought further focus to the league and NFLPA's inquiry into the Dolphins' handling of his apparent injury in the club's game against the Bills four days earlier.
You can check out Our Previous Article-
According to the results of the investigation, the team had followed the league's concussion protocol. However, the National Football League and the players' union have agreed to change the protocols so that a player cannot return to play if he exhibits ataxia, which is a loss of balance or coordination due to brain or nerve damage.
In the past, athletes who had "gross motor instability" (such as difficulties standing or walking) might continue to play provided physicians determined that their unsteadiness was due to an orthopedic issue. Tagovailoa had another concussion on December 25 after being sacked while playing the Green Bay Packers.
Last Lines
Safety Damar Hamlin, 24, had a heart attack during Monday night's game against the Cincinnati Bengals. Hamlin has been a member of the Buffalo Bills for two seasons now. As of right now, Hamlin is at a hospital and is in critical condition.
Maintain Your Current Awareness by Reading the Most Recent News on Our Website leedaily.com.