The events up to the demise of Einar's mother and sister are the main subject of "Vinland Saga" season 2's opening episode, "Slave." Despite his survival, he was kidnapped and sold into slavery. Despite his best efforts, Einar was always found and harshly punished for misdeeds.
His encounter with a man in the slave market seeking Thorfinn, a short man with blonde hair who had been rejected, was fascinating. While Einar didn't give that encounter much thought at the time, it soon gained a lot of importance.
Here is all the information you require regarding the conclusion of "Vinland Saga" season 2 episode 1. Spoilers follow!
Vinland Saga Season 2 Episode 1 Recap
Unaware of the approaching foes, Einar was preoccupied with leading a tranquil life as a farmer in Northern England. After working hard in the field, he sat down for dinner with his mother and sister. Einar had a negative perspective on the past, but his mother did not quite see things that way.
She chose to enjoy the moment rather than be unhappy over losing her husband because she knew it was what Einar's father had given his life for. This gave Einar a fresh perspective on the situation as well. Sadly, their tranquil existence was abruptly overturned one night when their community was raided and destroyed.
Einar and his family watched the drama play out in the shadows of the bushes. They quickly fled into the dense forest, but an arrow hit Einar's mother in the back. She pleaded with her kids to escape in her final moments. Unfortunately, it was too late because several adversaries had already attacked them before they had time to react.
Do check out more articles here:
When Einar attempted to defend his sister while she was forcibly taken away, he was struck in the face that he could not see. His sister was k*lled right there, leaving Einar to fight for himself after she stabbed one of the captors to free her brother.
Vinland Saga Season 2 Ending Explained
Einar lost the ability to defend himself after seeing the horrific de@ths of his mother and sister in front of him. It was only natural that the event had left him with a severe psychological scar, and he appeared to have accepted his fate. His kidnappers discussed selling him for beer money as they pulled him away.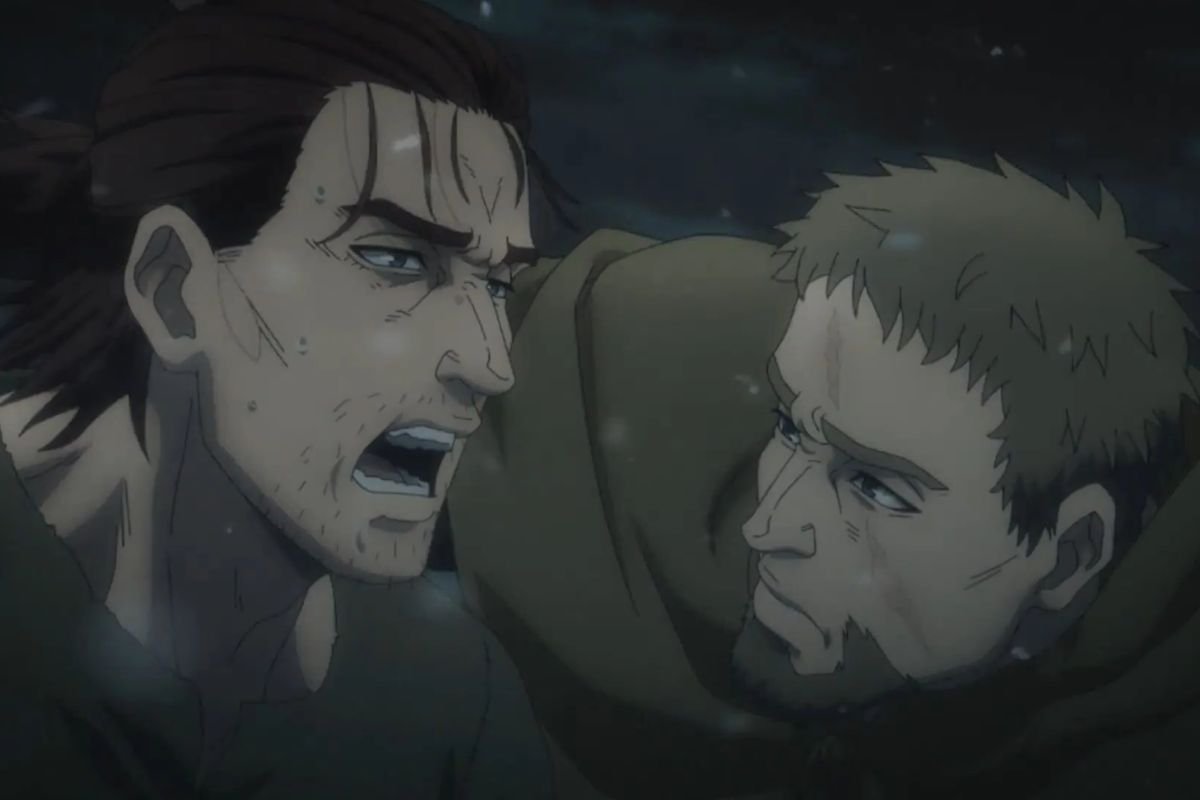 Then, Einar was placed on a ship bound for a distant country with others like him. A woman who became a little ill was just thrown into the water. Einar became a bit angry over this and protested; as a result, he received a blow to the gut to remind him that he did not have that authority.
The incident on the boat served as more or less a metaphor for how Einar would live moving forward, telling him to put his principles aside if he wanted to live in peace. The captives were fed properly after they reached shore, and cosmetics were applied to their faces to make them appear more appealing to potential slave owners.
Still seeking his freedom, Einar sprinted away whenever he had the chance. Sadly, his captors quickly apprehended him and savagely beat him up.
How Did Thorfinn and Einar, First Meet?
Einar appeared to give up on reclaiming freedom after being apprehended and punished for escaping. He reminded himself that he was alone now and that even if he had someone to turn to, not knowing where he was or completely comprehending his circumstances would only worsen things.
Interestingly, a curious man watched him intently that day at the slave market before becoming enraged. Einar was not the person he was seeking. He informed his captor. He continued by saying that the person he sought was a short-statured, blond-haired man named Thorfinn.
Sadly, he has turned away without anything. It did not appear that Einar would remember this episode in the future, but events took an unusual turn. He was shortly contacted by another man named Ketil who, after examining his physique, asked him what he used to do.
The man asked Einar if he would want to work on his farm after learning that he was a farmer in Northern England. As soon as the purchase was completed, Kentil bought Einar and took him to his lovely property. Kentil introduced Einar to a man with blond hair while he was settling into his new surroundings.
When he discovered that the man with the beard was Thorfinn, whose relative had been searching for him at the slave market, he was pretty taken aback. They first met each other in this manner.
Why Did Askeladd K*ll Bjorn?
Bjorn understood that the wound he received during the battle with Atli would prevent him from fully recovering after his failed attempt to smuggle Canute away. As a result, his only option at that time was to approach Askeladd and request a duel.
Askeladd was terrified that he couldn't k*ll Bjorn cleanly with his first strike during the combat because it meant that his ally would have to endure the pain of that attack. But when Bjorn informed him that the only thing he wanted in life was to be his buddy, he finally k*lled him. To accomplish this, Askeladd told Bjorn he was the only friend he had in the world.
Bjorn wanted to hear this before his friend k*lled him. But why did Askeladd k*ll Bjorn if he was his friend? Despite their relationship, Askeladd murdered Bjorn because the Vikings thought there was an afterlife where the Norse gods lived in Valhalla. After dying a brave de@th, heroic Viking warriors are sent to Valhalla.
The goal of the Vikings is to get to Valhalla, where they can spend all of the eternity feasting and drinking with other noble warriors and gods.
Is There A Trailer For Vinland Saga Season 2?
Check out the Vinland Saga Season 2 trailer below.
Closing
What do you anticipate seeing as the series continues? What has the Vinland Saga's most memorable scene been so far? Tell us in the comments section below. Must follow us on Lee Daily.