According to body-cam evidence and his family's story, a cousin of Black Lives Matter co-founder Patrisse Cullors was slain by Los Angeles police after he was involved in a traffic accident and the cops who responded repeatedly Tased and detained him in the middle of the street.
On Wednesday footage of an incident that occurred on January 3 was made public. In it Keenan Anderson a high school teacher and father of two can be heard pleading for help while being held down by multiple officers. While Anderson was face down, one cop put his elbow on his neck before another Tased him for 30 seconds straight, resting for 5 seconds, and then doing it again.
"My cousin was asking for help, and he didn't receive it. He was killed," Cullors told the Guardian after watching the LAPD footage. "Nobody deserves to die in fear, panicking and scared for their life. My cousin was scared for his life. He spent the last 10 years witnessing a movement challenging the killing of Black people. He knew what was at stake and he was trying to protect himself. Nobody was willing to protect him."
Anderson was spotted in the middle of the road pleading for assistance by a police officer who arrived at the scene of the car accident at 3.30 p.m. on Venice and Lincoln boulevards. He was sent to the sidewalk and told to "Get up against the wall" by the police officer. Anderson put up his hands and apologized, saying, "I didn't intend to." I apologize. Anderson did as the police officer said and sat down on the curb. After waiting for a while, he expressed anxiety over the officer's actions, stating things like "I want others to see me" and "You're putting a thing on me."
You can also check recent news we covered:
After Anderson attempted to run, the police officer pursued him on his motorcycle while yelling at him to "Get down on the ground, immediately" and "Turn over on your stomach." As officers arrived and restrained Anderson, he cried out "Please help me" and "They're trying to kill me." Anderson was lying on his back when one of them put his elbow into his neck and pressed down with his entire body. A police officer overhead then said, "Turn over or I'm going to Tase you."
Anderson pleaded for assistance by saying, "Help me" over and over again as the cop Tased him and urged him to stop struggling. The LAPD claims that after being taken to the hospital by paramedics, the man went into cardiac arrest and died four and a half hours later.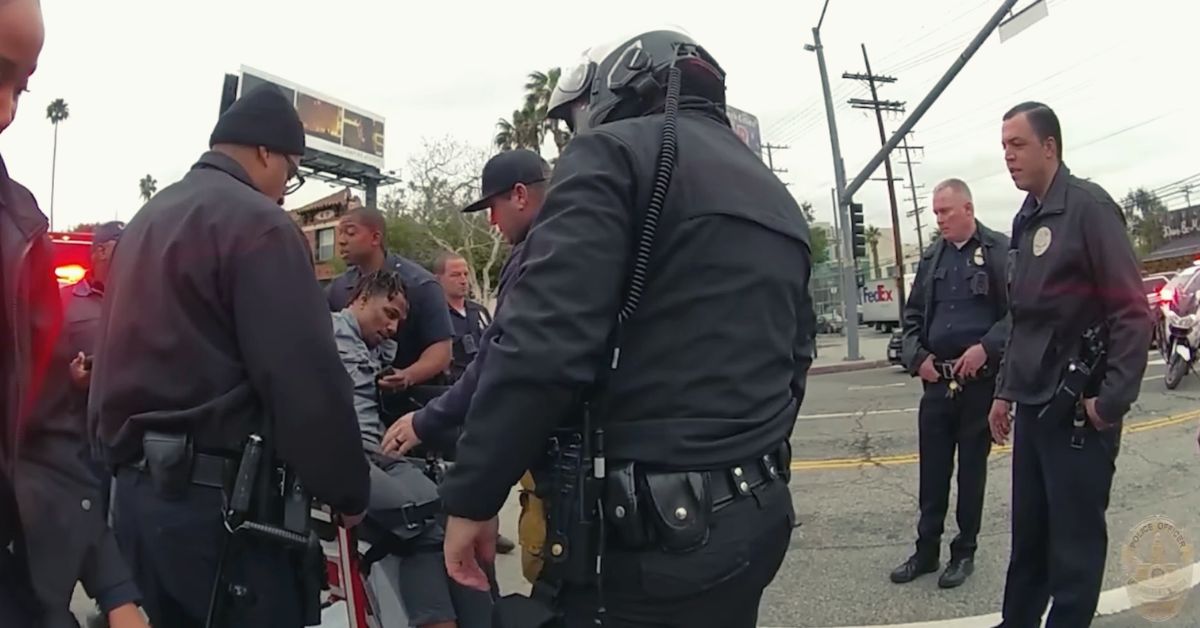 Advocates like Cullors are Baffled by the Presence of Armed Cops at an Accident
There was a car crash. Cullors said that the police should have summoned an ambulance instead of treating the man as a possible criminal. My cousin's death may have been avoided if there was a procedure in place whereby law enforcement personnel conducting traffic stops were met by unarmed professionals who came to the site to aid with whatever issue had arisen. And that would have saved countless lives.
Until "courageous public officials step forth and criticize not just the police, but also the policy," she said, "these types of killings and this type of brutality will not be paused."
"Ten percent of police killings annually include a traffic interaction, and one-third of those slain were fleeing when deadly force was employed", according to national data. A new study found that 2016 was the bloodiest year in relation to police violence since analysts began keeping track of homicides across the country in 2013. Los Angeles police have already fatally shot two people this year, and in 2020, they were responsible for the untimely death of Daniel Hernandez, who was a passenger in a car that crashed.
Experts and racial justice groups have voiced concerns about the widespread use of stun guns, despite claims by certain law enforcement officials and reform proponents that Tasers are a "less lethal" weapon and an important instrument to prevent police violence. A Reuters study found over a thousand examples of people dying after being Tasered between 2000 and 2018.
The claim that Tasers are a useful alternative to firearms has been called into question by studies as well. For example, studies conducted in San Francisco and Chicago found that the widespread adoption of stun guns did not reduce fatalities and that police were using Tasers in situations where they would have used no weapon before. Over a dozen cases, including the murders of Oscar Grant and Daunte Wright, have involved police killings where the officers involved said they meant to use a Taser instead.
Who was Anderson? 
According to Cullors Anderson was an English teacher at the Digital Pioneers Academy a majority-Black school in Washington, DC and was in Los Angeles with his young child at the time of his death. A charter school in Watts, Los Angeles, was one of the several schools he had previously worked at.
Cullors claimed she and Anderson were part of a large family that left Louisiana "to get away from racism, to get away from the terrorizing of white supremacists and the structures that harm our neighborhoods."
Cullors is one of three women credited with launching the Black Lives Matter movement in 2013 after George Zimmerman was acquitted of murdering Trayvon Martin in Florida. Cullors is a veteran organizer who has spoken out about her brother's maltreatment in a LA jail.
You can lose check the recent news we covered:
"I think about the migration of Black people and what we do to try to keep our families safe, and coming to California and Los Angeles as this 'western haven'. Given the impact law enforcement has had on so many of my family members and now the killing of my cousin, it's painful, because he was so committed to family."
Cullors continued: "He was so committed to his students. He was so present for them and was an educator who believed in education." She recalled how Anderson at a young age was driven to "be a better human being, to make a difference and to impact people's lives"
Keep following Leedaily.com for more latest news updates. If you want to know other recent news related to death and accident you can also bookmark our site.