A "most formidable love" has been found by Alexandra Daddario. The White Lotus, Baywatch, and San Andreas starlet tied the knot with Baywatch and San Andreas producer Andrew Form in June of 2022. It was in New York City during the COVID-19 epidemic that Daddario and Form, producers of such horror classics as A Quiet Place and The Texas Chainsaw Massacre, first crossed paths.
"He was also on a walk, and we passed each other downtown. He turned back and said 'hi' just as I was turning around to glance back at him. I laughed and said 'hi,' and then we both laughed about how we were the only two people on what is normally an incredibly busy street, and he asked if he could take me to dinner," Daddario recalled to Vogue.
Daddario revealed their romance on Instagram with a black and white portrait on May 13, 2021. A source told PEOPLE later that year that Daddario and Form were engaged. They have their wedding in June of 2022 in New Orleans. He has two boys from his marriage to American-Brazilian actress Jordana Brewster before he started dating Daddario.
What about Alexandra Daddario's personal life? Everything you need to know about Andrew Form and the actress, from their first Instagram kiss to their wedding in New Orleans.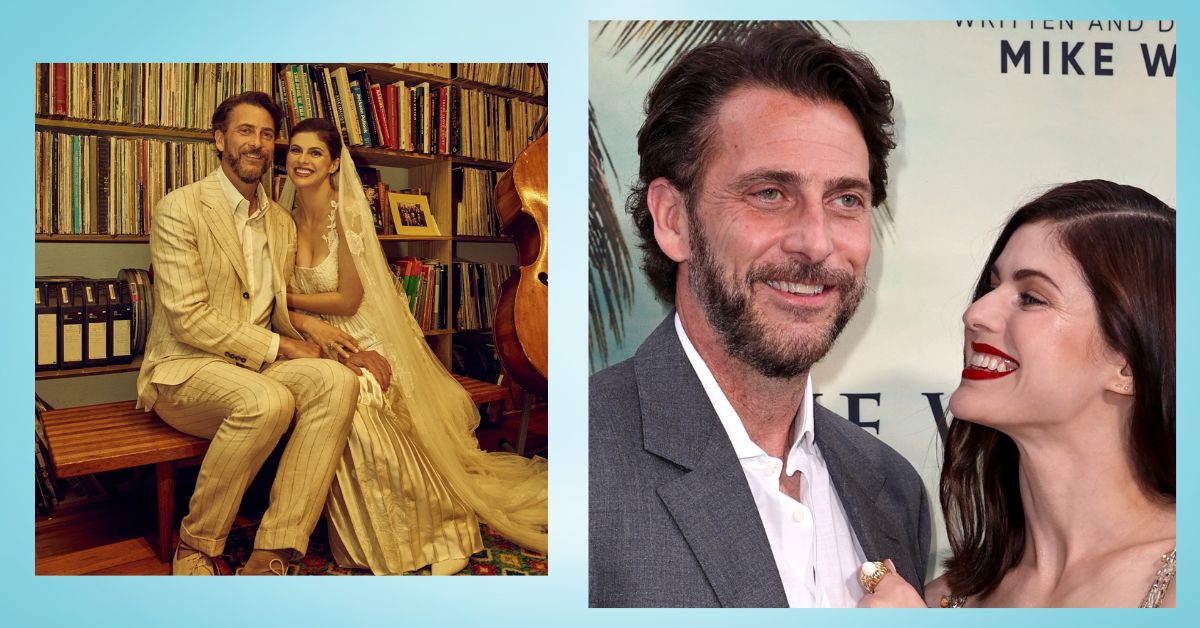 Alexandra Daddario's Husband Andrew Form is a F
ilm Producer
Form is also involved in the entertainment business, but unlike Daddario, he does it behind the scenes. His most notable works include Tom Clancy's Jack Ryan series on Amazon Prime and the films A Quiet Place and A Quiet Place 2 as well as The Purge and The Texas Chainsaw Massacre. Form co-founded the horror film studio Platinum Dunes with Michael Bay and Brad Fuller.
Daddario told PEOPLE in February 2022 that Form would be too busy with business to accompany her to the SAG Awards. "He produces a show called Jack Ryan. So he is working. If he can get away — yeah, of course. He was my first invite. He's [a] very hard-working man," she said.
Andrew and Daddario Confirmed Their Relationship With a Sweet Instagram Photo
On May 13, 2021, the actress and Model made their Instagram relationship public by posting a sweet black-and-white snapshot of themselves together. "It was dark and cold and rainy today, a terrible combination, and it didn't make it warmer to wrap him up in my arms but it did make it all seem lovely and nice and joyful," she captioned the post.
View this post on Instagram
You can check out Our Previous Article-
Andrew  Shares a Multimillion-Dollar Home With Daddario
In September of 2021, Form and Daddario accomplished a major milestone in their relationship when they bought a house in the Hancock Park area of Los Angeles for $7.3 million. According to Dirt, John Wells, the brains behind series like "Shameless" and "ER," formerly lived in the four-bedroom, five-bathroom home. It was advertised as having a "French Mediterranean" design with grounds that were "reminiscent of the French countryside."
View this post on Instagram
It's little wonder the couple enjoys hosting romantic evenings in their beautiful home. "It's our version of a night out at the club," Daddario told Women's Health in September 2022. Her next words were, "We're gonna get a little wild, open a bottle of wine, and fight over chess." Daddario listed her Chelsea, New York, apartment for sale after she and Form bought a home in Los Angeles.
You can check out Our Previous Article-
Andrew Married Daddario in New Orleans in June 2022
About six months after their engagement, Form, and Daddario wed in New Orleans. Vogue claims the event took place at Preservation Hall and that the groom, Form, was joined by his two sons who acted as best men and ring bearers. In order to get to the reception at Bar Marilou, guests followed a "second line" procession through the streets.
View this post on Instagram
The actress donned a gown by Danielle Frankel, and Form opted for a pinstriped suit by Brunello Cuccinelli. Daddario reflected on her romance with Form and subsequent marriage in a September 2022 interview with Women's Health.  "When I met Andrew, we just both knew," she said. "The wedding was wonderful; it felt a bit like an inevitable conclusion. So I feel really at peace."
Terminal Words
Alexandra Daddario has met a "most formidable love." During a June 2022 ceremony, the White Lotus, Baywatch, and San Andreas actress married the show's producer, Andrew Form.
Please forward this information to your friends and family and continue to check leedaily.com.