Captain Sandy Yawn Fires Below Deck Season 10 Crew Member: For Camille Lamb, the star of "Below Deck," the voyage is done. On the "Below Deck" episode from January 16 where chief stew Fraser Olender found Lamb drinking at work, Captain Sandy Yawn discharged Lamb.
Yawn had earlier warned Lamb to avoid problems when he got into a physical altercation with crew member Alissa Humber on board St. David. Olender had believed he might give Lamb one more chance even though the crew was angry with her.
As everyone was preparing for the next chapter, Olender bumped into Lamb while she was holding a wine glass filled with champagne. "You don't drink on the job, Camille," he said during the episode. "Come on, babe, it's not a holiday… Ridiculous."
Lamb asserted that she had completed her job and was "just human."
"Seeing Camille come out with a pint-size glass of champagne just shows there's truly no care or willingness to do the job," Olender told the Bravo camera.
Want Some Related Articles? We have covered some top articles. You can check the…
It's not the first time Lamb's worth ethic was questioned. Lamb and Humber's fight — in front of guests — started because Humber accused Lamb of slacking off. "Below Deck" fans on Reddit also accused Lamb of being "lazy."
Olender reprimanded Lamb for taking a break while her cabins were out of order and she sipped the guest's champagne.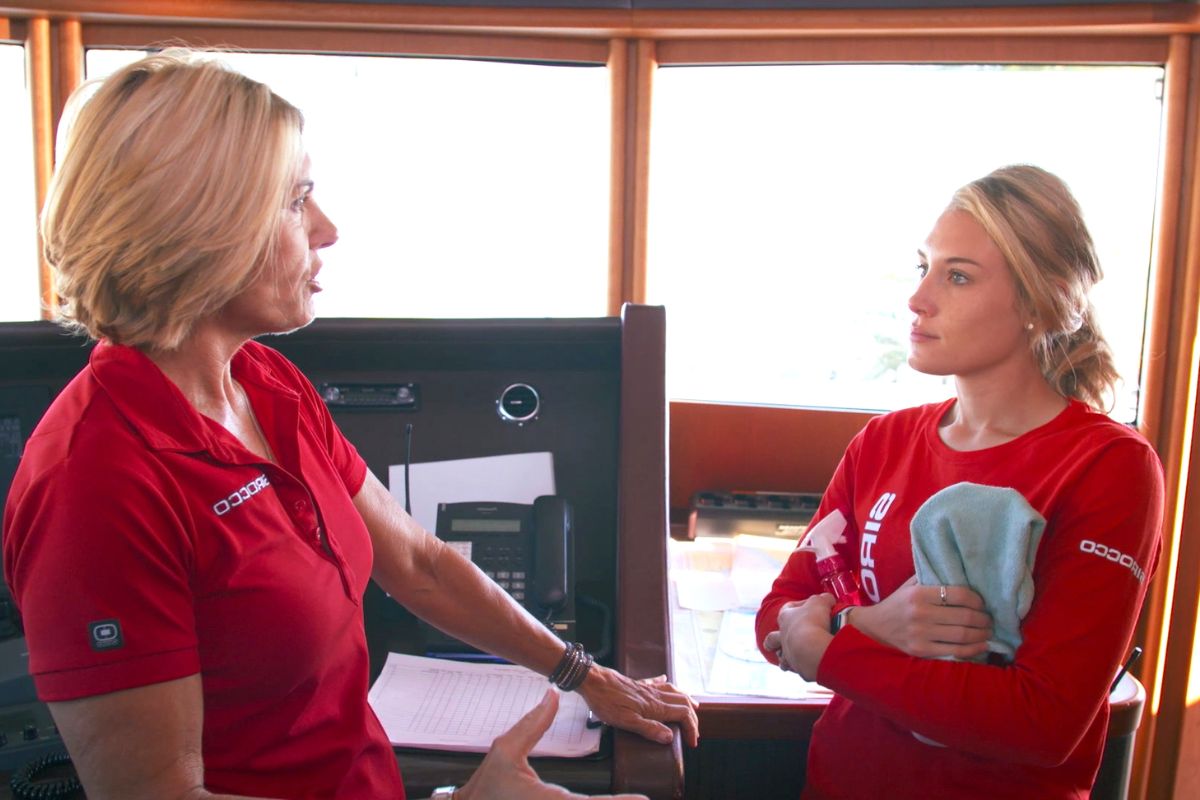 "I love the girl; I think she's fantastic… but she's not doing the job, and what do you do with that?" Olender said during a confessional.
Olender decides to go to Yawn, who is standing in for Captain Lee Rosbach that night after Lamb continues to party, and informs her that he is still having issues with Lamb.
"As much as I adore Camille, last night was the final straw for me," he said. It was time to let Lamb go, Yawn concurred.

"I'm tired of hearing about Camille," she said. "She's the common denominator in all of this. Great girl, great personality, but at the same time, we have to do what's best for the boat."

Olender approached the captain with his issue as well. Lamb was astonished to learn that she had been dismissed when Yawn brought the news to her. Lamb "Needed" to Be Fired, according to Olender. Andy Cohen asked Olender to provide his honest opinion of Yawn as a captain during his visit to "Watch What Happens Life" by Cohen.
When Cohen asked Olender if Yawn made the right decision by firing Lamb, Olender said "it needed to be done" and "I needed that support."
Olender — the first male chief stew on "Below Deck" — told Cohen that Yawn was "right" to say he was mismanaging Lamb before her firing. "I think all of these things were a learning curve and I needed her to kick me up the booty," he said.
During the charter, Olender and Yawn engaged in a conflict, with Olender receiving a reprimand from Yawn for interrupting their conversation.
Big Announcement! My Book "Be The Calm Or Be The Storm" is available for Pre-Order Now! Release Date is Jan 10, 2023!
Thank you for all of your support and interest. It's Happening! #BelowDeckMed#Book #Leadership
Amazon: https://t.co/WenfuIZOEy
B&N: https://t.co/ulIPdiBBC4 pic.twitter.com/cG78uH15B6

— Captain Sandy Yawn ⚓ (@CaptSandyYawn) October 5, 2022
Olender told Cohen "it wasn't the time" to have that conversation. "We were mid-charter. We need to work," he said.
Olender concurred that Lamb tried to "suck up" to Yawn but was exposed after just "10 minutes" by the captain.
Olender struggled when asked to list "three things" Lamb was good at by a viewer. He merely said, "She looked amazing," as his sole comment.
Tony Award-winning actress Kristin Chenoweth — who appeared on the "WWHL" episode with Olender, praised the chief stew. "He's showing that you can be a boss and you don't have to be a jerk," she said.
Lamb Said She Came Off Lazy
Lamb didn't reply right away when she was told to leave. Lamb addressed some of the abuse she was getting from followers in a December Instagram Story.
"I'm not a bad person because I come off lazy… I have a bit of an attitude," she said, according to a screen recording obtained by 90 Day Fiance_Stories. "I'm working on it. I'm getting better about it. Growing. But at the end of the day… I'm proud of myself. I'm not a mean girl, not a bad person, have morals, ethics, values all those things."
Lamb pleaded for "mercy" and grace from the audience as she concluded the video. According to 90 Day Fiance Stories, she said, "It's a bit much."
Final Lines
After multiple warnings about her work ethic and an explosive fight with fellow stew Alissa Humber, season 10 stew Camille Lamb was fired by interim Captain Sandy Yawn on the Bravo series' Jan. 16 episode. To keep up with the latest events, check out Leedaily.com and forward this article to your friends and family.