Rosalia performs during a Louis Vuitton show that feels like it was made for social media, while Victoria Beckham compliments Owens' fantasy collection. Fashion businesses know that the goal of an attention economy is to get as many people to look at their clothes as possible. They did that on Thursday during Paris Fashion Week by utilizing an age-old strategy: fame and hype.
Usher, David, and Victoria Beckham sat front row for Rick Owens, a company noted for its somewhat experimental look, which includes sky-high Perspex stiletto boots for men and a goth's love of black.
BTS member J-Hope attended the Louis Vuitton show, Rosalia performed there, and Colm Dillane, the creator of the Neymar and Dua Lipa-endorsed brand KidSuper, served as a guest designer. The film directors Michel and Olivier Gondry created the set, a collection of residential areas that ranged from a teenage bedroom to a mid-century modern living room.
The attendance of famous people had an impact. Victoria Beckham wrote: "Congratulations Rick Owens! Kisses VB." after posting a video of the show's conclusion on her Instagram stories. Crushes to VB. Before the performance, J-Hope shared selfies of himself wearing Louis Vuitton. The crowds of spectators outside the site for the performance added to the excitement.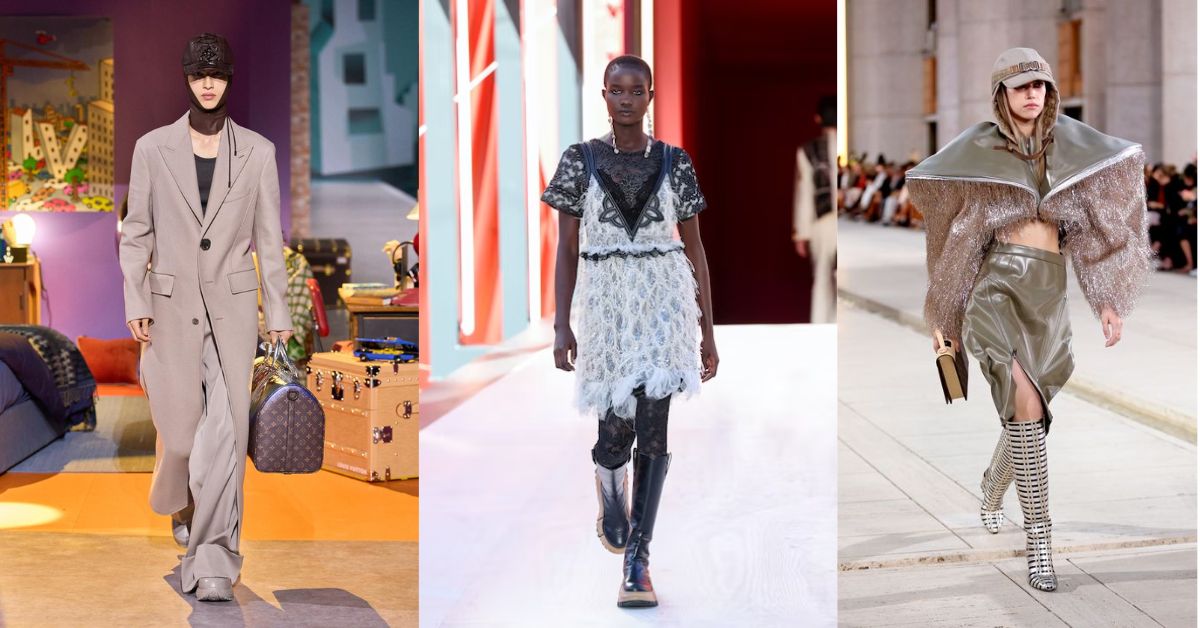 After the Rick Owens show, Usher said he had long been a fan, describing the designer as "phenomenal." "He doesn't deviate; he's consistent," the singer added. "These are clothes you will have in your wardrobe forever."
The clothing on the catwalk on Thursday was a tad more fanciful, despite Owens' growing reputation for presenting opulent classics with a gothic twist. They included coats with useless inflatable parts, flared leather thigh-length leg warmers, and jackets with horned shoulders. There were many of the skirts for men that Owens has long promoted as a growingly popular trend. David Beckham might have returned to his sarong moment from 25 years ago.
The Louis Vuitton display seemed to be created for a generation that frequently switches between social media apps. The stimulation level increased. Models interacted with the set by drawing on the walls, throwing darts at a dartboard, rummaging through a dresser full of clothing, and walking on a catwalk and among the crowd. Rosalia bounced on a bed and performed on a modified yellow automobile.
A movie was also on, as cameras zipped by to record the event for a Livestream. The garments toyed with logos and various activities, with outfits evoking motocross, skiing, and hiking when they attracted anyone's notice. There was no room for boredom.
#jhope will attend the next #LouisVuitton Men's Fall-Winter 2023 Fashion Show in Paris on January 19th at 2:30 pm (CET). #LVMenFW23 #BTS pic.twitter.com/3ewwyf9dFS

— Louis Vuitton (@LouisVuitton) January 16, 2023
The previous artistic director of Louis Vuitton, Virgil Abloh, who passed away in November 2021 at 41, still influences the brand's menswear. Dillane benefited from Abloh's backing; in 2021, when Abloh served on the board, LVMH gave the Karl Lagerfeld prize to the KidSuper designer.
Dillane's creative approach to streetwear aligns with Abloh's Louis Vuitton work. It also shows how important his legacy is still today. Before Abloh, it would have been unusual for a streetwear company to collaborate with one of the most prestigious luxury houses in the world. The excitement is just getting louder now.
The identity of the incoming creative director is still a subject of rumors. Dillane is a guest designer, not assuming the post, according to Louis Vuitton. Candidates have included the British fashion designers Martine Rose and Grace Wales Bonner.
Speaking after her show in Paris on Tuesday, Wales Bonner denied she would take over. "I'm just focused on Wales Bonner," she told the Guardian. "For me, there's still a long journey to go with that."
Meanwhile, Rose's reputation has recently gotten better. Her most recent show at Pitti in Florence received a lot of praise for its blend of, as one magazine put it, "seriousness and silliness" after she created stage clothing for Kendrick Lamar.
Final Lines
Paris Fashion Week Fall/Winter 2023 is just getting started. The week started with the long-awaited Gucci show after Alessandro Michele left and performances by Prada and Fendi, both of which are major Maisons. Top celebrities and influential people worldwide came to these shows and showed how much they loved their favorite brands.
Please share your opinions about the couple in the comments section below. Please keep checking back with us for the most recent information from the entertainment industry. Follow us on Leedaily.com.