I'm used to the fact that games primarily function as stories. As a fan of visual novels, I've come to like seeing how the main character changes throughout a series of events, which usually involve a group of friends or a mystery.
Season: A Letter to the Future is not a visual novel in the traditional sense. Instead, the main character tells the stories of other people. As the world's end gets closer, it's up to you to ensure their stories will be told for years to come.
Season: A Letter to the Future is based on the idea that memories stay with us and can help us through hard times or influence our decisions. Most memories are full of intense feelings; sometimes, we need to talk about them with others.
This story takes place somewhere between the present and the future in a world that has been through many hard times or "seasons." But people are at peace right now, even though you won't see many of them going far from home.
If you're interested, you can also read our reviews of various other topics:
You play the part of a young woman trying to record the world as it is right now before the season changes, which will be wrong. So it's a sad farewell as you talk to your mom about your friends and family before going into the world.
The rules for playing a game are easy to understand and rarely require real puzzle-solving or intuition. You have a journal where you can write about important places. The journal will ask you to add specific landmarks or sounds in some areas.
A camera and a sound recorder are your tools. With filters and macro adjustments, you can get creative with the camera, and most pictures end with a short comment from the main character.
This is also in the recorder, which you can use in different ways throughout the game. Whenever you hear something new, you can pull out the writer to listen to a track of animal sounds, rain, or a fleeting memory trapped in magical flowers.
This is just as much your story as it is theirs. She and the player are both getting to know this world. Any feeling of being alone, being scared, or being interested is a shared experience that makes the experience better.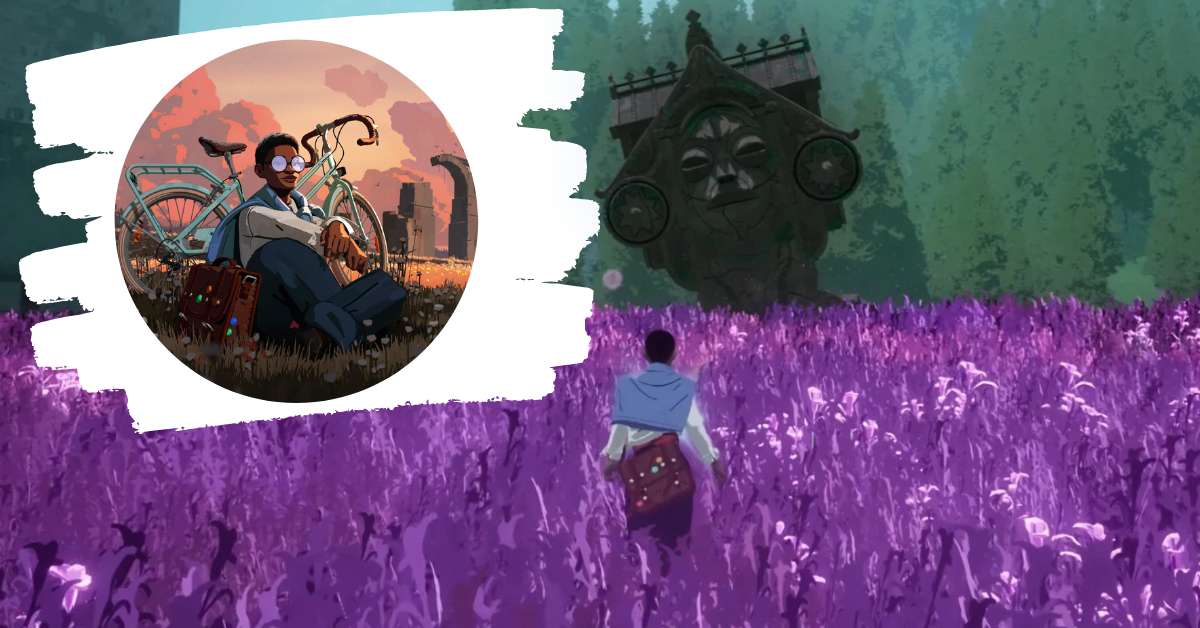 Interacting with the other people you meet along the way is another part of the game. Even though there is nothing special about these conversations, they are intense. Instead, these are just regular people telling the story of their lives and how they deal with the world or what brought them here.
This gives a strange sense of immersion that you wouldn't think would work, but I found each character charming and wanted to know more about their stories.
But for this to work, you also need the right kind of player. The whole thing happens slowly enough that if you rush through it, it won't mean much. As you walk around your town and learn about its creator, you'll probably know within the first 30 minutes if it's right for you. It builds slowly and feels like a cross between an art piece and an adventure game.
I was ready for an adventure like this, but there were times in the game when I would have instead sat on a bench and listened to the wind than moved the story forward or listened to long dialogue scenes. The good thing is that you don't have to do anything at a specific time.
The best parts of the game happen as you move from one place to another. The developers at Scavengers Studio went above and beyond to make a haunted landscape that looks like the end of the world.
It's so real that you can almost feel the sun's warmth on your skin as you ride your bike across an old bridge. The game can be finished in 8 hours, but I don't think that's enough time to see and do everything in this world.
Some details of Season: A Letter to the Future have been tweeted alongside the show's trailer:
Today, begin your journey in SEASON: A letter to the future on @Playstation #PS5 & #PS4, and on PC @steam & @EpicGames! #PlaySeason 🚲

This has been an incredibly exciting and humbling journey for us, and we thank everyone who has been along for the ride. Enjoy! #TrailerTuesday pic.twitter.com/oxrRYOYD17

— SEASON: A letter to the future (@SeasonTheGame) January 31, 2023
Now that you have your tools, you can start to set the scene and take on the responsibility of telling the story of this world before it ends. It becomes more than a game, and even though I can be cynical about games that try too hard to be artsy, I took the discovery mechanic seriously, which surprised me.
With a bigger budget, the Loading Screens might have been the only problem that could have been fixed. Even though this is used in many games, I would have enjoyed this one more if it had taken advantage of more powerful hardware, removed this part, and connected the world so I never had to leave it.
Season: A Letter to the Future makes me feel many different things. You will experience many emotions, from joy to loneliness to fear. It takes advantage of the player's natural curiosity and rewards those who take the time to look around.
If you don't have that time, I'm afraid the experience won't be as good as it could be. It's a game that makes ordinary things interesting by focusing on memories and how quickly we can lose everything.