Life is too short to argue and fight. Count your blessings and appreciate the people who love you most every day. I am sorry to say that Paco Rabanne, a Spanish fashion and perfume designer, has died at the age of 88, according to his former brand with the same name.
Rabanne died on February 3 in Portshall, Britain. His real name was Francisco Rabaneda y Cuervo. In the 1960s, the artist was known for his space-age designs, making him one of French fashion's most famous names.
Because of the unusual ways he used metal and plastic in textiles, he was called the "enfant terrible" of the French fashion movement of the 1960s. This is a name often given to rebellious and unusual "geniuses" in art. His perfumes are also known all over the world. Since he left the company 20 years ago, the Spanish company Puig has been in charge of his Paco Rabanne brand.
The fashion house said in an Instagram post,
"The House of Paco Rabanne wishes to honour our visionary designer and founder who passed away today at the age of 88. Among the most seminal fashion figures of the 20th century, his legacy will remain a constant source of inspiration.

"We are grateful to Monsieur Rabanne for establishing our avant-garde heritage and defining a future of limitless possibilities."
View this post on Instagram
Walk through these articles:
Who was Paco Rabanne? A Look into the Life of a Fashion Icon
Francisco Rabaneda y Cuervo, who became Paco Rabanne, was born on February 18, 1934. He was born in the city of Pasaia, which is in Spain.
His mother was the head seamstress at Balenciaga, so fashion was in his blood. In 1937, the family moved to Paris, partly because of the Spanish Civil War and partly because that was where the first Balenciaga store opened.
In his early years, he often made fashion sketches for Dior and Givenchy, two of the most well-known fashion houses in the world. Later, he made jewelry for Dior, Givenchy, and Balenciaga, which set the stage for his later, more experimental metal designs.
He started his own fashion house, Paco Rabanne, in 1966. He became well-known in the French fashion world very quickly. In 1966, for his first couture collection, he showed "12 unwearable dresses made of modern materials." One of these was a minidress made of aluminum plates that looked like chain mail.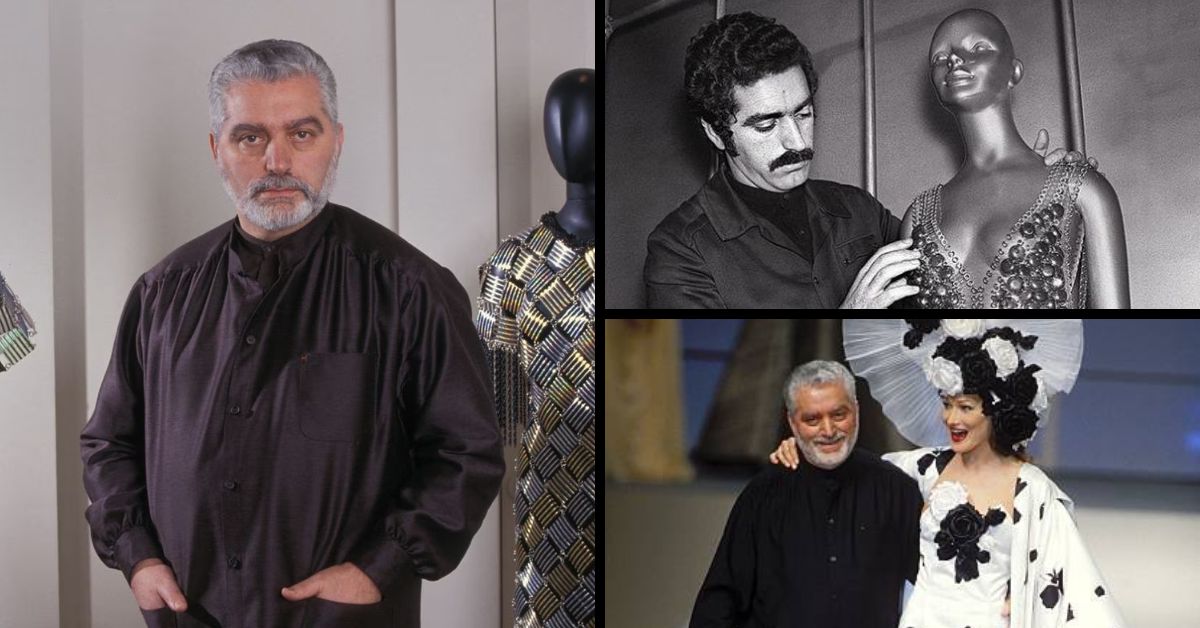 His space-age, avant-garde designs were groundbreaking, and Jane Fonda wore one of them in the 1968 movie Barbarella. Rabanne's designs are still well-known in the fashion world. Celebrities like Dua Lipa and Bella Hadid have worn his clothes at different events.
His perfumes also did well for business, and his first fragrance, Calandre, is still available today. Lady Million, which comes in a bottle with an eye-catching gold cap, is still a best-seller. He also made some of the most popular aftershaves for men.
Rabanne was known both for his designs and how he was as a person. Many people called him strange, and he made big claims in interviews and public appearances.
This included saying he had lived before, including a life where he knew Jesus Christ and killed the Egyptian pharaoh, Tutankhamun. He also said he had paranormal experiences and could predict the future. In 1999, he told thousands of people would die in Paris and the Gers region of France because the Mir space station would crash to earth during the 1999 solar eclipse.
Keep in touch with leedaily.com for more Celebrity News, and don't forget to offer your thoughts and prayers for Paco Rabanne in the comments section.