At least 23 people have died so far in the dozens of wildfires that have broken out across Chile, prompting the government to issue an emergency order for a new region on Saturday. Officials briefed reporters later on Saturday, saying that 979 people had been hurt and more than 1,100 had taken refuge in shelters as a result of the blazes.
In addition to the previously proclaimed Biobio and Nuble districts along the middle of South America's lengthy Pacific coastline, the newest emergency order encompasses the southern region of Araucania. Interior Minister Carolina Toha told reporters in the Chilean capital of Santiago, "Weather circumstances have made it exceedingly difficult to put out the flames that are spreading and the emergency is growing worse."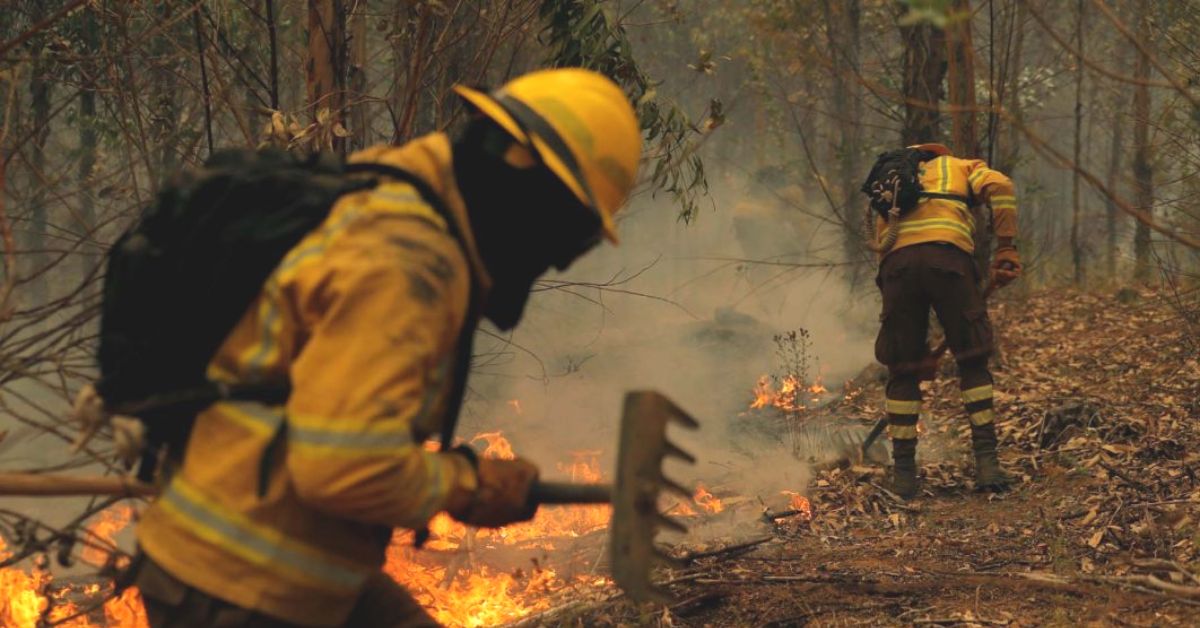 She continued, "We need to reverse that curve," after reporting that 76 additional fires had broken out on Friday. Officials report that on Saturday, as temperatures in the Southern Hemisphere summer soared beyond 104 degrees Fahrenheit, 16 new flames broke out (40 Celsius).
There are many farms where export crops including grapes, apples, and berries are cultivated in the three thinly populated districts covered by the emergency measures. Spanish, American, Argentine, Ecuadorian, Brazilian, and Venezuelan officials informed reporters on Saturday that their respective countries had given assistance, including aircraft and firefighters.
Authorities in La Araucania report that on Friday, an accident involving an emergency support helicopter resulted in the deaths of both the pilot and the mechanic. More than half of the fatalities documented thus far occurred in the hamlet of Santa Juana in Biobio, which is around 500 kilometers (310 miles) south of Santiago, according to official reports.
As thick clouds of smoke have blocked roads since late last week, firefighters have been using helicopters to drop fire retardant on the blazes. Residents and firefighters alike are working under an orange haze to extinguish the blaze.
Huge heat wave in Chile has sparked dozens of wildfires. At least four people have died.https://t.co/M7wfoInyw3

— Dave Levitan (@davelevitan) February 3, 2023
The instructions will allow more soldiers and supplies to be sent to the area to help with the natural disaster. According to official data provided late on Friday, the flames had burned a total area of almost 40,000 hectares (99,000 acres), which is larger than the city of Philadelphia in the United States.
A total of 231 wildfires were recorded around the country on Saturday, with CONAF reporting that 80 are now being actively battled and 151 are under control. Authorities said that more than 90% of the fires were contained before they reached an area of 12 acres or more (5 hectares).
Chile widens state of emergency as raging wildfires leave at least 13 dead.Sorry to see over hundred fires raging as heatwaves intensify. Climate action is lagging behind climate calamity by a huge margin. Countries on the edge of the frontline now burn. https://t.co/8xPt3i0snd

— SenatorSherryRehman (@sherryrehman) February 4, 2023
Those unfortunate enough to be in the path of one of the uncontained wildfires had no choice but to leave immediately. Carolina Torres, who was in the city of Puren in the Araucania region, stated, "I left with what I had on" as she escaped an oncoming fire.
When the winds changed, everyone here had to act quickly to secure their belongings. The President of Nuble and Biobio, Gabriel Boric, canceled his summer vacation on Friday to personally oversee the delivery of aid to the afflicted areas.
For the most up-to-date information and breaking news, follow Leedaily on Twitter.
People are also reading…