Fans are excited by the performances of Sam Smith and Kim Petras. We'll do the best we can and put the pieces together for you. Continue reading the article We have some exclusive details for you.
Sam Smith just beat their last "Saturday Night Live" performance with "Unholy" collaborator Kim Petras in a performance of the smash hit that was inspired by a horror movie. Smith started the song in red leather, surrounded by a group of dancers who reminded people of Samara from "The Ring."
Then, the scene switched to Petras dancing in a cage, surrounded by dominatrices wearing satanic masks. Smith also wore a satanic top hat, and the stage was filled with huge flames. Smith and Petras won the Grammy earlier in the night for best pop duo or group performance, and Petras gave an emotional speech.
"Sam graciously wanted me to accept this award because I'm the first transgender woman to win this award," she said, to cheers and many of the musicians in the crowd giving her a standing ovation. "I just want to thank all of the incredible transgender legends before me who kicked these doors open before me so I could be here tonight. Sophie, my friend who passed away two years ago, told me this would happen and always believed in me. Thank you so much for your inspiration, Sophie. I adore you, and your inspiration will forever be in my music."
When asked backstage about his fiery performance, Petras said he did it because he didn't feel like he was accepted by religion.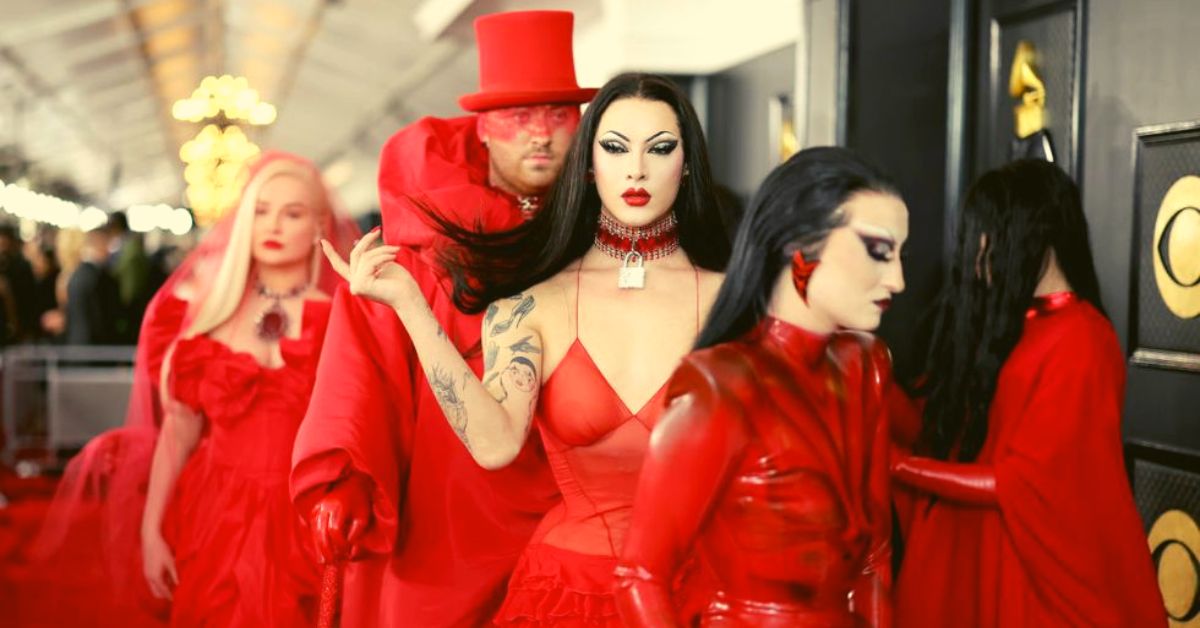 "I think a lot of people, honestly, have kind of labeled what I stand for and what Sam stands for as religiously not cool, and I personally grew up wondering about religion and wanting to be a part of it but slowly realizing it didn't want me to be a part of it," she said. "So it's a take on not being able to choose religion. And not being able to live the way that people might want you to live, because as a trans person I'm already not kind of wanted in religion. So we were doing a take on that and I was kind of hellkeeper Kim."
We might have some big updates for you all, check it out:
Smith won four Grammys in 2015, including best new artist, a pop vocal album for "In the Lonely Hour," record of the year, and both song of the year and record of the year for "Stay With Me."
Petras hid under Smith's pink puffy dress for part of the duo's "SNL" performance two weeks ago. When it was time to perform their huge hit, the two of them came out on stage together. As two gay musicians, the duo set a precedent for the LGBTQ community when their collaboration reached No. 1 on the Hot 100 chart.
How well Smith did Their first performance was at the 2015 ceremony, where they sang "Stay With Me," which won a Grammy and was on their first album, "In the Lonely Hour." They will perform again on Sunday night.
Grammys: Sam Smith, Kim Petras Deliver Fiery Performance of "Unholy" With BDSM Themes https://t.co/ooSdYIld1v

— The Hollywood Reporter (@THR) February 6, 2023
This is Smith's seventh nomination, but this is Petras's first. She has put out two studio albums and four EPs, the most recent of which is "Slut Pop." For best pop duo/group performance, they were up against ABBA's "Don't Shut Me Down," Camila Cabello and Ed Sheeran's "Bam Bam," Coldplay and BTS's "My Universe," and Post Malone and Doja Cat's "I Like You (A Happier Song)."
It's a great look at what this delicious performance should be like, Let us know your thoughts in the comments below! For updates on more forthcoming shows, check out our regularly updated content. And Keep smiling because life is wonderful and there are so many reasons to smile.