Hope you are doing well, In this post, we will tell you about Are Sandoval and Ariana Still Together? Did Tom and Aria's Love Story End? or is it just a rumor?
Tom Sandoval and Ariana Madix have been dating since 2014 when they confirmed it at the season 2 reunion of their show Vanderpump Rules. Some couples seemed to have grown apart because of the COVID-19 pandemic lockdowns, but that wasn't the case for Tom and Ariana. Tom told Us Weekly in August 2020 that they became close by trying new things together.
The reality star said at the time,
"We've been, like, cooking dinner and stuff more, having hangouts, putting together puzzles and Legos, and doing some creative stuff."  "I know it can be rough being locked down with somebody all the time, but it's been nice. We have our own things going on, but we've been doing stuff together."
Continue reading to find out more about Tom and Ariana's relationship.
These Articles Have Made a Lot of Noise Recently:
Are Tom Sandoval & Ariana Madix Getting Married?
Ariana told the Daily Dish in a 2016 interview that she and her boyfriend aren't planning to get married. The Attack of the 50-Foot Cheerleader actress said,
"I want to be with him and we have a lot of future plans together," the Attack of the 50 Foot Cheerleader actress explained. "They don't necessarily involve walking down an aisle and saying vows, but we really want to buy a house together. That's something that we've been really saving our money for, and we really want to travel the world together and that's something that's really important to both of us. And hopefully, it all happens."
Ariana also talked about how she feels about having children, in addition to what she thinks about marriage.
"I don't want kids or marriage," the reality star said. However, she insisted, "I actually really love kids, and I'm a big sister, and I have a lot of small children in my family."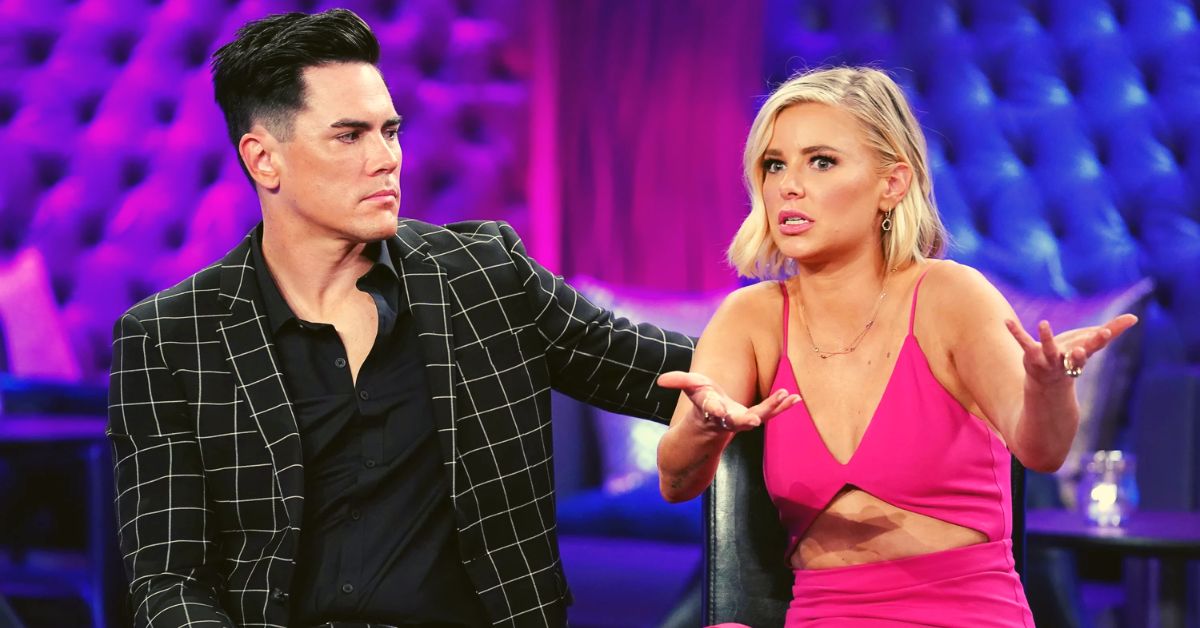 Tom and Ariana's Journey So Far
These two Pump Rules cast members to seem to celebrate their anniversaries together, as any happy couple would do. In 2019, Ariana posted a sweet tribute to her boyfriend on Instagram. It was full of pictures of the two of them together.
"5 years together!" Ariana captioned the post at the time. "We celebrated by staying in bed all New Year's day and eating pizza while watching old returns of Chappell's Show. This post is a look at some of my favorite moments, but I'm looking ahead to our beautiful future together!"
By 2023, the two of them will have been together for nine years. Tom and Ariana's favorite thing to do together is spent the holidays together. In December 2021, they took some cute pictures together to celebrate Christmas.
"If the past two years have taught me anything, it's that the holidays are about spending time with the ones you love around the tree versus what's wrapped underneath it,"
Ariana wrote on Instagram that month, along with a photo of her and Tom posing in front of a Christmas tree. Tom and Ariana told their fans how they started off 2022 after spending the holidays together.
"I think I could get comfortable here," Ariana captioned a playful Instagram post in January 2022, in honor of a new Vanderpump Rules episode. "Pic from the super fun @homebodyapp shoot!"
Not only that, but a week later, Tom shared a sweet photo of the two of them together before the season finale of the show. When season 10 starts on February 8, 2023, we hope to see more sweet moments from these two, as well as some drama.
Did Tom and Aria's Love Story End?
Ariana and Tom were said to have broken up on September 10, 2022, according to an anonymous internet poster in September 2022. In January 2023, Ariana also put an end to rumors that she and Tom are in an open relationship.
"We don't have an open relationship," Ariana tweeted after the season 10 trailer dropped. "I'm really not that cool. Thought that was obvious. #pumprules."

"Y'all. I think what people say is true. Someone on Twitter wrote the next day, "Boots are on the ground, and @ariana2525 is NOT at Sandoval's show," to which Ariana replied.

"I just got back to L.A. from [Florida] last night after a very devastating family emergency. I am taking it easy and practicing self-care," Ariana tweeted at the time. "We are very much together and in love. You never know what someone is going through so this stuff is honestly quite rude given the REAL situation."
That's everything we know about Sandoval and Ariana's Relationship. For updates on more celebrity gossips, check out our regularly updated website leedaily.com.