Here is the date on which BMF season 2 episode 6 will be available for viewing. It's fantastic that new episodes air each week. But when the flow finally stops, that's not as enjoyable. However, there will occasionally need to be a break in the show.
The fact that the most recent episode of BMF hadn't premiered on Starz when fans had anticipated means they will have to cope with it.
Randy Huggins created the American crime drama series about the Black Mafia Family, which premiered in 2021 and grabbed popularity right away.
Fans of the group will be disappointed to learn that the release date for BMF season 2 episode 6 has been postponed.
Have a look at some of the latest trending articles:
BMF SEASON 2 EPISODE 6 The Wait is Over – New Release Date Announced
Despite a postponement, BMF season 2 episode 6 will air on February 17, 2023. This means that the release of the installment, which has already been given the title Homecoming, will only be delayed by one week.
In terms of what to anticipate, we'll accompany Meech and Terry as they travel from Atlanta to Detroit with a product and prepare to rock the streets with it. Meech meets Sterling and the PA Boys in the meantime, determined to eliminate Lamar.
Although Starz hasn't stated a reason for the delay, it's probable that it was planned to avoid clashing with the Super Bowl, which is guaranteed to take precedence over a number of shows in the hearts of sports enthusiasts. Fortunately, you can view a quick trailer for BMF season 2 episode 6:
BMF Season 2 Episode 6 Preview
What occurs next won't be revealed to you for a short while. There won't be a crime program on the network on February 10. The title of a new episode is "Homecoming." Meech and Terry return to Detroit from Atlanta with a brand-new product and an intelligent scheme to oversaturate the market with BMF goods.
There will be a lot of dangers in their path. The going is getting tougher. Meech will choose to work with Sterling and the PA Boys in order to get rid of Lamar and continue living his life as normal.
Them Detroit boys taking on the ATL. Watch the latest #BMF episode now on the @Starz app. #BlackMafiaFridays pic.twitter.com/lGf0YlNkOj

— BMF (@bmfstarz) February 6, 2023
BMF Season 2 Episode 6 Cast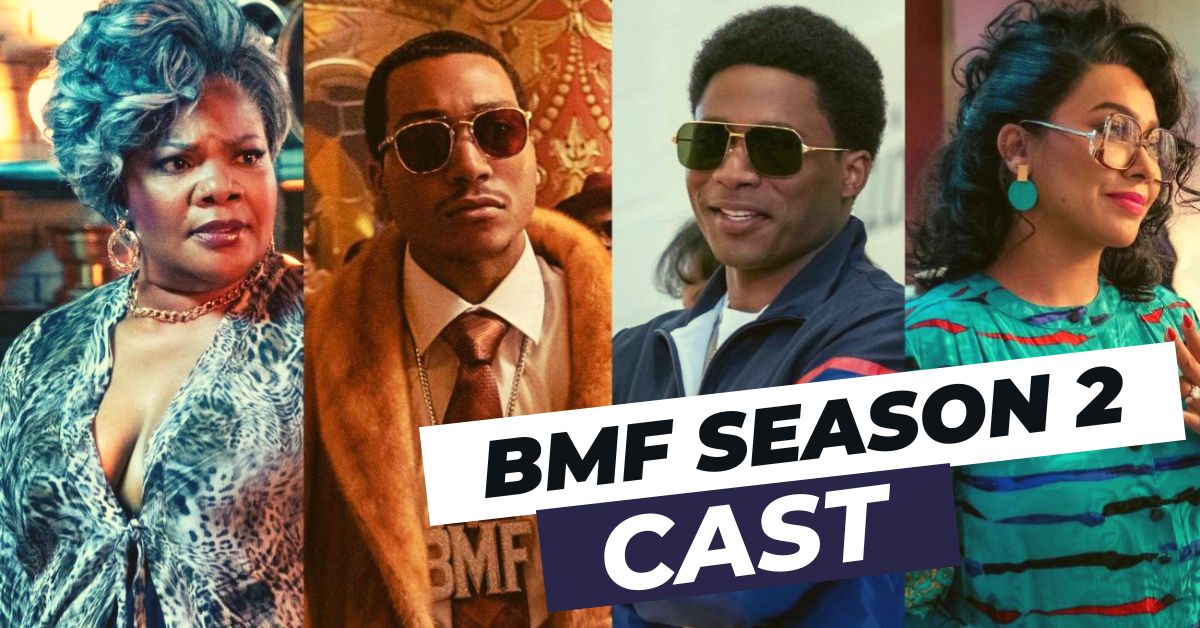 All these actors will return in BMF season 2.
Demetrius's nickname is 'Lil Meech.' Demetrius 'Big Da' Flenory Terry 'Southwest T' Flenory is played by Vinchi.
Michole Lucille Flenory is played by Briana White.
Red is played by Tye Alexander.
Donnie Noel is played by Tyler Antonius.
Lamont is played by Dominic Kingston Bell.
Rafael Castillo plays Nedo.
Mr. Ryan is played by Michael H. Cole.
Sarah Cool as a Hospital Staff Physician
Forte, Robert Shannon III is the first Rival Street member.
Tyshon Freeman in the role of Hoop
Mustafa Harris in the Role of an Elder Flenory, Terry
Désirée is played by DeGayle Jackson.
Rayan Lawrence in the role of K-9
Filmel is played by Markice Moore.
Tiny is played by Christian Robinson.
Katana is played by Takesha L. Walker.
Teddy Van Gough in the role of Ticket Master
What are your thoughts on BMF Season 2, write in the comment box down below. Moreover don't forget to follow our Twitter page for the Latest Updates.