George Edward Lopez is an American stand-up comedian and actor. He is best recognized for his work as an actor, stand-up comedian, and late-night talk show presenter.
George appeared in "The George Lopez Show" from 2002 to 2007, in addition to co-creating and executive producing it.
The show is still popular in syndication despite having 120 episodes over six seasons. Along with many other endeavors, he also produced the highly regarded movie "Real Women Have Curves."
George Lopez Net Worth: How Much Money Does He Make Per Year?
As of 2023, George Lopez's estimated net worth is $45 million. Lopez received a salary of $12 million every season for the five years that the sitcom ran.
When the program was put into syndication in the fall of 2007, Lopez was qualified to receive 6.5% of royalties as a first-time co-creator/executive producer.
Lopez received a rumored $20 million through Syndication. In addition, he does stand-up comedy for sold-out audiences and makes an additional $8.5 million annually.
| | |
| --- | --- |
| Name  | George Edward Lopez |
| Nick Name | George Lopez |
| Net Worth | $45 million |
| Salary | $12 Million |
| Birth Place | Mission Hills |
| Date Of Birth | Apr 23, 1961 |
| Age | 61 years old |
| Height | 5 feet 10 inches  |
| Gender | Male |
| Profession | Comedian, Actor, Screenwriter, Television producer, Voice Actor, Radio personality, Talk show host, Film Producer, and Television director |
George Lopez Real Estate Investment
A house in LA's Toluca Lake neighborhood cost $1.349 million to buy in 2001 for George and his then-wife Ann. The asking price of this house was $1.85 million in 2004.
They paid $2.495 million in the same year for a brand-new house in Toluca Lake. After their divorce in 2011, George gave Ann the deed to the house. In December 2022, Ann sold the house to actress Jean Smart for $5.25 million.
Lopez purchased a $2.67 million home in Los Feliz, California, in September 2014. On a gardened lot that is roughly a third of an acre, the 4,100 square foot Mediterranean-style home features four bedrooms, and 3.5 bathrooms, and is furnished.
The house offers a private master suite with a balcony, a pool and patio area in the backyard, city views from two-story windows, a wine room, and all of these amenities.
The Early Years of George Lopez
On April 23, 1961, George Edward Lopez was born in Los Angeles. He was raised by his parents, Frieda and Anatasio Lopez, in the Mission Hills neighborhood of Los Angeles.
When George was only two months old, his migrant worker father left Frieda and George behind. When he was ten years old, his mother left.
Benita and Refugio Gutierrez, the maternal grandmother and stepgrandfather, raised him. Lopez is of Mexican Mestizo ancestry. In 1979, he received his high school diploma.
George Lopez's Comedy Albums and Television Success
Before he initially gained notoriety in Los Angeles thanks to a significant morning radio show he hosted on 92.3 FM in Los Angeles in the 1990s, Lopez performed standup comedy all around Los Angeles (and the United States) for years.
In Los Angeles, he was the first Latino to host the morning drive time slot on an English-language station. Beginning with "Alien Nation" in 1996, he put out several comedic CDs.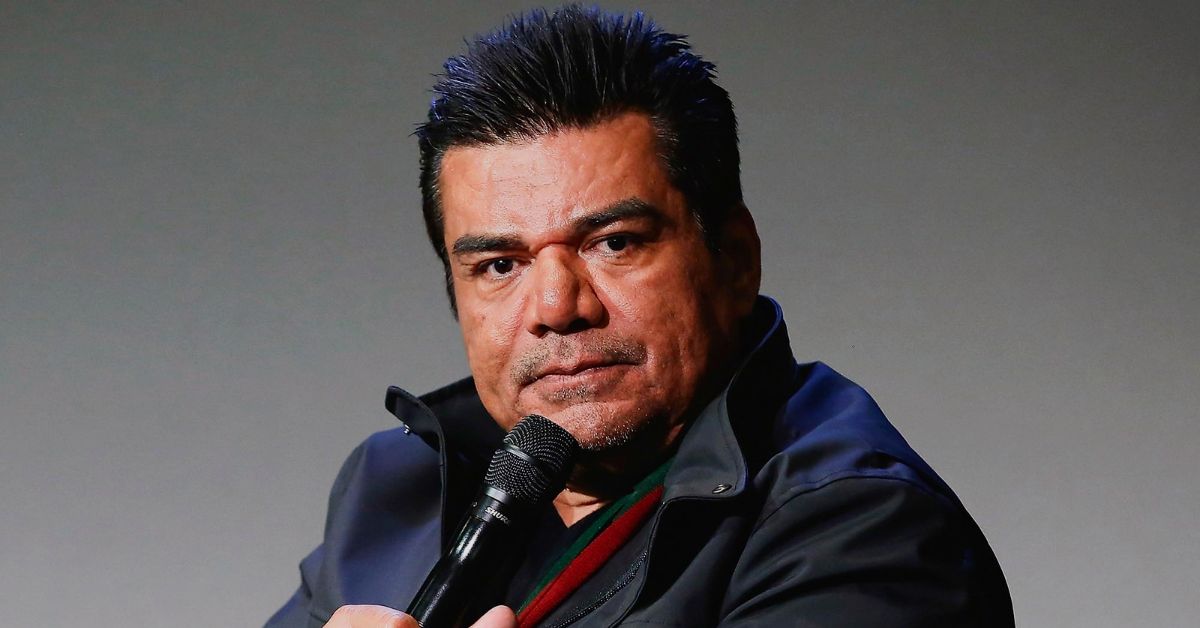 Sandra Bullock approached Lopez in 2000 about producing and starring in a sitcom. Bullock was disappointed that there weren't more sitcoms featuring Latinos.
He was one of the few Latinos to star in a television sitcom when ABC took up "George Lopez" in 2002. From 2002 through 2007, "George Lopez" was broadcast. Nick at Night showed "George Lopez" for the 2007–2008 season.
After the sixth season, the show was canceled. Real Women Have Curves, an HBO Films drama that premiered at Sundance and won the 2002 Audience Award, was produced by Lopez.
Lopez took part in HBO's well-known program "Inside the NFL" during the 2003–04 football season. In 2005, Lopez's debut stand-up special aired on Showtime.
"George Lopez: Why You Crying" was the title. Following were several television specials, such as "America's Mexican" and "Tall, Dark, and Chicano."
Lopez made an appearance in "The Spy Next Door" in 2010. Lopez has also acted in several other movies, including "Rio," "Rio 2," the Smurf movies, "Beverly Hills Chihuahua," and "Beverly Hills Chihuahua."
In season five of Reno 911! in 2008, he played the mayor of Reno, Nevada. He has also appeared in guest roles on "The Zoo," "Real Rob," and "Harley Quinn."
George's late-night talk show "Lopez Tonight" began on TBS in November 2009. The second season of the show ended in August 2011 with its cancellation. On FX, "Saint George" debuted in March 2014.
In June of the same year, the show was canceled. The sitcom "Lopez" had its TV Land debut in March 2016. After two seasons, the show was discontinued in the fall of 2017.
A division of Simon & Schuster released Lopez's autobiography, "Why You Crying," which was a New York Times bestseller.
He has received a great deal of recognition from the Latino community and was included in Time magazine's list of the Top 25 Hispanics in America.
Lopez presided over the Emmy Awards once and the Latin Grammy Awards twice. In 2006, Lopez received a star for television on the Hollywood Walk of Fame at 6801 Hollywood Boulevard.
He received an ALMA Award in 2011 for Lopez Tonight. "We'll Do It For Half," his Netflix comedy special, was released in 2020.
In the show, Lopez makes fun of the idea of electing Carlos Slim Helu, the richest man in Mexico, as the first Latino president of the United States.
"You know, if Slim needed a birth certificate, I know some individuals not very far from here, in McArthur Park, where you can acquire the necessary documents," he remarked, referencing how conservatives didn't think Barack Obama was born in the United States.
You can also check out other popular articles here:
George Lopez's Personal Life
1993 saw the union of George Lopez and Ann Serrano. In 1996, their daughter Mayan was born. In November 2010, Lopez announced that he and his wife had separated. In July 2011, the divorce was finalized.
Lopez said that he formerly had a net worth of more than $50 million, but that he lost half of it in his divorce during an appearance on Howard Stern at the beginning of 2014.
Due to a genetic problem, Lopez that has caused his kidneys to degenerate, he was informed in April 2004 that he required a kidney transplant. His wife Ann gave Lopez one of her kidneys in 2005.
On July 1, 2020, Lopez recalled the day Secret Service officials came to his house because they thought one of his jokes would pose a threat to the president.
A substantial bounty on President Trump was allegedly placed by an Iranian official earlier in 2020, following the American-led assassination of Iranian General Qassem Soleimani.
We'll do it for half, Lopez jokingly said. The Secret Service came over as a result of that. Lopez claimed that they had printed up every comment he ever made regarding Trump on social media.
Frequently Asked Questions
Why was Carmen removed from George Lopez?
According to a writer who worked on the show in a 2005 interview, Carmen, aka Masiela Lusha, was sacked. because only Mexican/Spanish persons should work in front of and behind the camera, according to George Lopez, who is very insistent on this. She turned out to be Albanian.
Is George Lopez dyslexic?
Max's pencil keeps moving in shots as he begins speaking to his father after coming downstairs to complete his homework. We discover that both George and Max have dyslexia in this episode.
What is George Lopez doing now?
Lopez has continued to work in the television industry even after the George Lopez programme ended more than 15 years ago. He is currently the showrunner of the NBC sitcom Lopez versus.