The ninth season of The Masked Singer started on Wednesday night, and it was great.  The format of this season is the same as last season: every night, all but one of the contestants go home. This episode showed us the first three costumes of this busy season: Mustang, Gnome, and Medusa.
Mustang and Medusa chose songs that showed off how strong their voices were. Mustang chose "Here I Go Again" by Whitesnake, and Medusa chose "Happier Than Ever" by Billie Eilish.
Gnome, on the other hand, got the crowd going with "When You're Smiling" by Billie Holiday. The "Ding Dong Keep It On Bell," a big new way to get rid of people, was also introduced in this episode.
Even the host, Nick Cannon, couldn't say that name without making a funny face. Nicole Scherzinger made a great dig at Nick Cannon by saying, "Someone needed to tell you that, Nick."
Cannon then explained how the bell works. "In the first three rounds, you can only ring the bell three times. On a special episode, the three singers who were saved will fight it out to get back into the competition "he said.
The new twist didn't come up in the first episode, so we'll have to wait and see how it all goes. This was sad because it meant giving up two masks.
As usual, the panelists' guesses about Gnome were all over the place. Scherzinger and Robin Thicke were sure it was Dustin Hoffman, but Ken Jeong argued that it was Robert De Niro.
On the other hand, Jenny McCarthy-Wahlberg went with Tony Bennett. Fox had been advertising that the first episode would have "the most legendary, decorated, and loved unmasking in history," and they kept their word.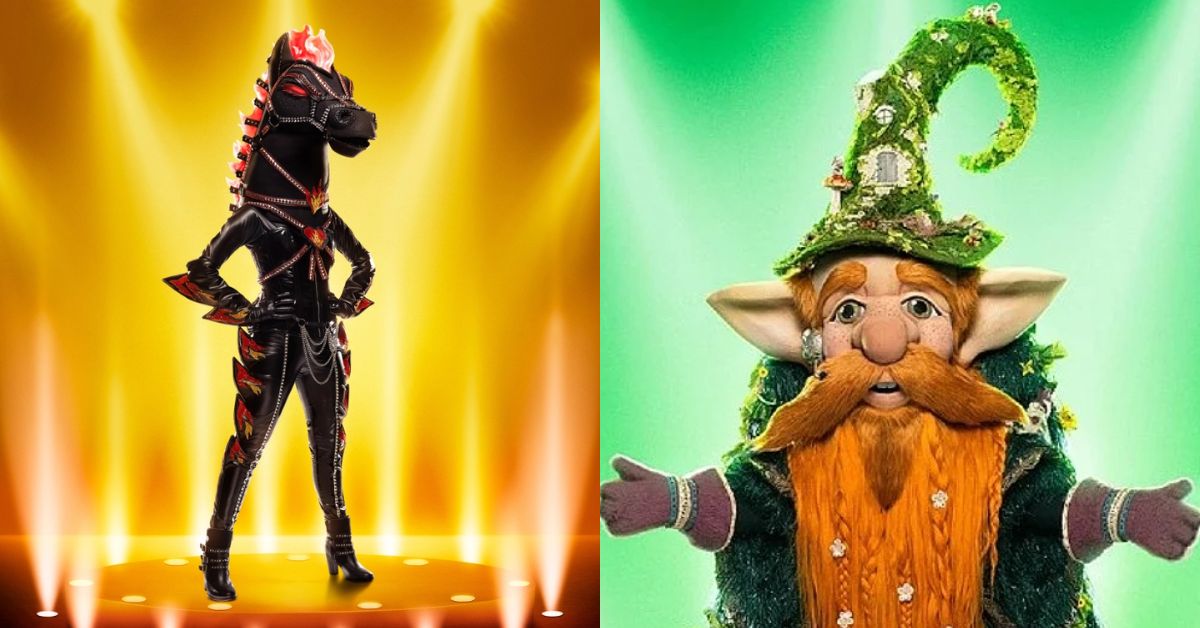 When Gnome took off his mask, it was Grammy, Emmy, and Tony winner Dick Van Dyke standing in front of him. The judges were shocked, especially Scherzinger, who couldn't hold back her tears when she saw the 97-year-old legend.
"I just love you so much. So many people love you. It's an honor to have you here. I'm shocked you're here, "she let him know. "You remind us of our youth. The best show ever, "Jeong added.
Van Dyke ended his appearance on the show by singing "Supercalifragilisticexpialidocious" from Mary Poppins, which made Scherzinger cry even more.
After he left the stage, the first Battle Royale performance of the season was against two great singers. Mustang and Medusa had to do their own version of "Diamonds" by Rihanna, but in the end, it was Medusa who won. Next week, she will face two new masks.
When it was time for the final reveal, the judges still didn't know who was hiding behind the mask. The names Joan Jett (McCarthy-Wahlberg), Pink (Jeong), Suzanne Somers (Thicke), and Wynonna Judd (Debates With Ashley) were all suggested (Scherzinger).
The dark horse turned out to be Sara Evans, a country music singer who has won many awards. On Wednesday, EW talked to Evans about sharing the stage with the famous Van Dyke and the unexpected change she had to make at the last minute on the show, which she thinks was a factor in her leaving early.
Why Her Last-Minute Switch a Costly Mistake?
I said "yes" right away because any time you get to be on TV, it's great for everyone, great for your career, and a lot of fun, and I love doing things that are different from what I usually do.
We spend most of the year touring, playing concerts, making records, and writing, so I was so excited to do something different that would give me a fun boost for the start of the year.
So I was supposed to be there on the second night, which was "ABBA Night," but someone had to back out. So they asked me to take that person's place.
So, I had to learn the Whitesnake song and then "Diamonds" the night before we started filming the Battle Royale.
Which was fine because, I mean, everyone has heard the Whitesnake song or at least everyone over 30 or something. So I didn't pick that song, but it ended up being perfect for me.
I also wouldn't have done a country song because I think it would have been too easy for people to recognize. And I love showing people that I'm not just a country singer.
I can sing any kind of music, and a few years ago I put out a covers album called Copy That. On it, we did crazy songs like "My Sharona" and "Come on Eileen."
So, even though I sing country music, I still like to show people the different colors and sizes of my voice. Being able to sing that song and "Diamonds" was awesome. They tried to figure out who I was, but they couldn't.
Check out some of the most recent trending articles:
Did you have any idea that you were up there with Dick Van Dyke?
No. And when I found out, I cried so hard I couldn't stop. Like, sobbed. Because I love The Dick Van Dyke Show so much.
I've watched every episode at least 20 times. I'm the biggest fan in the world, so it's just weird that that happened.
So I started sobbing, sobbing. I didn't think it was true. I have always used the name Laura Petrie, which was played by Mary Tyler Moore on The Dick Van Dyke Show, as my codename when we check into a hotel. So, that's crazy, right?
Were you sad to leave the show so soon?
I was sad. At first, I was very upset because I thought, "Well, that's not fair." Because, you know, if it had been ABBA night and everyone was doing ABBA, I probably could have stayed on longer.
But at the same time, I missed my kids and had a lot going on in my work. So I thought, You know, God knew exactly what to do and how long I needed to be a part of it. So I really appreciate it.
What's next for you?
I'll probably start a new album in the studio around April. It's so good that it's going to win a Grammy. The songs are great, too. It's country music.
I'm very happy about it. So that will take up a lot of our time this year, with all the advertising, photo shoots, and video shoots. We also go on tour, and we usually play between 70 and 80 shows a year. So everything is busy, busy, busy.
For more information, please stay connected with us on our site Leedaily.com.