Rebel Wilson and Ramona Agruma got engaged on Sunday, the actress said. Wilson shared images of the couple in front of Sleeping Beauty Castle at Disneyland on Instagram and wrote: "We said YES!"
Wilson stated when the pair went public in June of last year "I thought I was searching for a Disney Prince… but maybe what I really needed all this time was a Disney Princess," alongside the hashtag #loveislove."
Agruma and Wilson are depicted in identical sweaters in Sunday's post, surrounded by pink rose petals and bouquets that coordinate with the clothes.
Wilson also expressed her gratitude to Disney CEO Bob Iger and the "amazing team at Disneyland for pulling off this magical surprise," as well as Tiffany & Co. for the rings.
Wishes for the pair poured in right away, with Paris Hilton (Net Worth) commenting on the page. "Love you, girls! So happy for you two! Such a magical way to get engaged."
Wilson's "Pitch Perfect" co-star Brittney Snow commented, "Rebs!!!! Magical…congrats you two," and Alison Brie, who starred alongside Wilson in the 2016 film "How To Be Single," also congratulated the couple.
Agruma herself commented on her fiancé's post, writing, "I love you." Late last year, Wilson gave birth to Royce Lillian, a baby girl, through surrogacy. Wilson at the time commented, "I can't really convey the love I have for her, she's a beautiful miracle.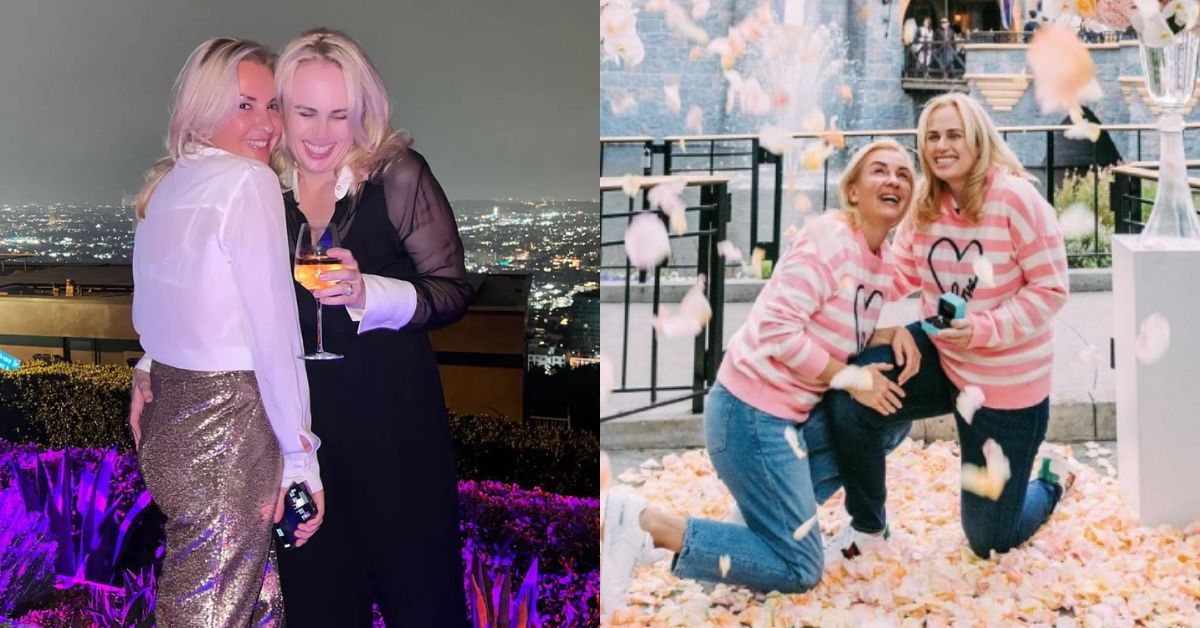 Rebel Wilson debuted Ramona Agruma's relationship during Pride Month
Eight months after the actress first revealed her relationship with the founder of the apparel company in a selfie posted on Instagram during Pride Month, she announced that she was engaged.
Wilson started off her post in June with, "I thought I was looking for a Disney Prince." So perhaps a Disney Princess was all I actually wanted all this time. The actress also used the emojis of heart and rainbow as well as the slogan "#loveislove."
Wilson had been implying her friendship with Agruma in subtle ways. The "Senior Year" star revealed to People in May that a friend they shared introduced them.
Before the meeting, "we talked over the phone for weeks," she said, according to the outlet. That was quite romantic and a little retro in that regard.
Have a look at some of the latest trending articles:
Rebel Wilson Welcomed a 'miracle' Baby Girl in 2022
Wilson has recently been revealing a lot of pleasant surprises. She revealed in November that her first kid, a daughter named Royce Lillian, was conceived through surrogacy. The actress has previously been candid about her struggles with infertility and her road to better health.
The baby was wearing a light pink onesie and unicorn socks in the Instagram photo, which Wilson, 42, commented, "I can't even convey the love I have for her, she's a wonderful miracle."
This has been years in the making, and I will always be grateful to everyone who has been involved (you know who you are).
"I wanted to thank my stunning surrogate in particular for carrying and giving birth to my daughter with such dignity and care. I appreciate you assisting me in beginning my own family; it's a wonderful gift. The Greatest present!"
Get your daily dose of celebrity news with leedaily.com.