Acclaimed John le Carré adaptation's second season Tom Hiddleston is slated to reprise his role as protagonist Jonathan Pine in The Night Manager, which is currently being produced by the BBC and available on Amazon Prime Video.
Deadline has learned that Season 2 will begin filming under the codename Steelworks later this year in South America and London. We have heard that it will receive a two-season order, even though Amazon and the BBC have not yet given it their official approval. Season 2 will be written by David Farr, who also wrote the first season.
Since the first season's conclusion in late 2016, there have been numerous rumors of a second, with the second season of The Ink Factory's adaption reportedly taking place in the present.
Related posts on Seasons which are also more interesting:
Hugh Laurie's character, British arms trader Richard Roper, was taken hostage by the Syrians after Season 1, and now Hiddleston's character Pine must contend with a new, even deadlier threat.
The first season's remarkable cast also included Olivia Colman, Tom Hollander, Elizabeth Debicki, and David Harewood. It was written by Farr and directed by Susanne Bier.
The Statement Stated by @FilmUpdates in its Tweet that "THE NIGHT MANAGER season 2 is officially in the works with Tom Hiddleston set to return":
'THE NIGHT MANAGER' season 2 is officially in the works with Tom Hiddleston set to return. pic.twitter.com/q5x0xvgXAm

— Film Updates (@FilmUpdates) February 27, 2023
It featured Pine, a former British soldier and night manager of a five-star hotel in Cairo, who is hired by the head of a Foreign Office team to infiltrate Roper's inner circle. Pine won two Emmys and three Golden Globes for the show.
One of the most popular UK dramas of that year, the first season broadcast on AMC in the United States and gave rise to several more le Carré adaptations from The Ink Factory, run by le Carré's sons Simon and Stephen Cornwell, including Little Drummer Girl with Florence Pugh.
Aditya Roy Kapur plays Pine, and Anil Kapoor plays Roper in the Hindi rendition of The Night Manager, which debuted earlier this month on Disney+ Hotstar. Simon Cornwell just told Deadline he's open to a second season for this adaptation. The Night Manager is distributed by Fifth Season (previously Endeavor Content), which also owns a small investment in The Ink Factory.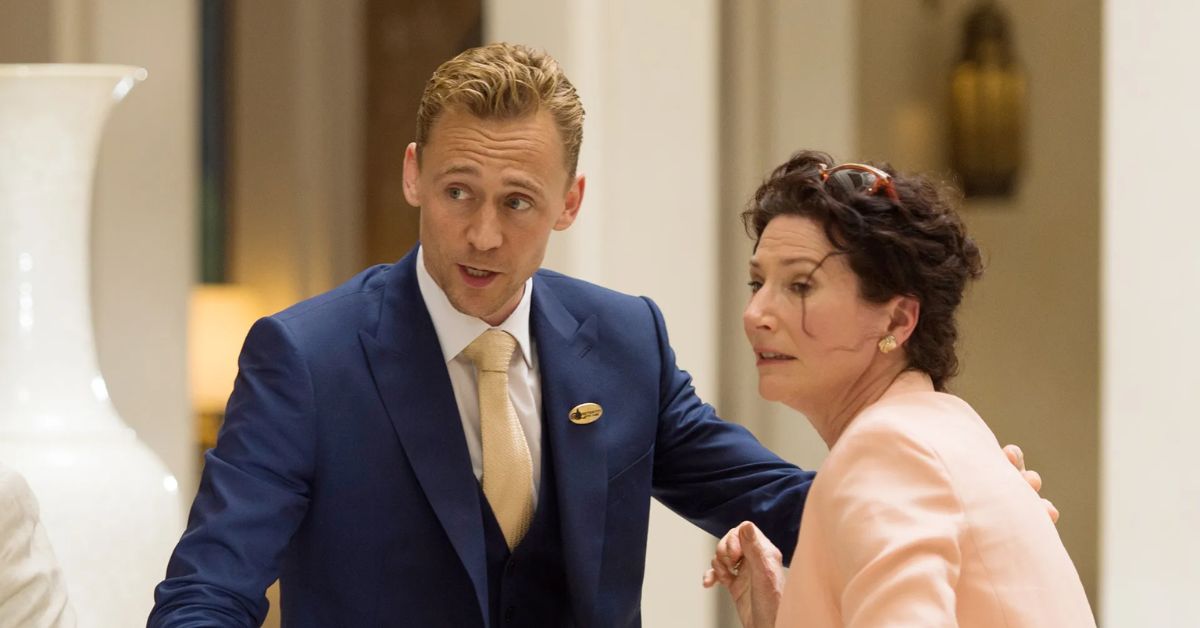 Recap of The Night Manager Season 1
As sexy as television drama gets, The Night Manager is. It boasts genuine international stars in Tom Hiddleston and Hugh Laurie, and it has an unbreakable pedigree in John Le Carre's source material. The color scheme is as opulent as one of the luxurious hotels owned by our hero Jonathan Pine.
The credits are the last. Daniel Craig's refusal to stalk into view in a tuxedo and take a potshot at the camera can only have been because someone decided he wasn't sharp enough. A nuclear explosion changes into a champagne glass, and missiles transform into a pearl necklace.
Money For Old Roper
Once the stench of cash has subsided, Laurie's vulpine performance is what gives The Night Manager its power. But for the first 40 minutes, we hardly see him—a delayed gratification technique that has always worked like magic on me, ever since we waited breathlessly for Josiah Bartlett for the entire first episode of The West Wing.
Roper indeed uses a YouTube movie to introduce the program, in which he kindly discusses his humanitarian work. (Any residual doubts that he might genuinely be a sincere philanthropist are all but eliminated when you note the name of his company, IRONLAST, which might as well be renamed EVILBASTARD for all the cover it affords him). He then disappears from view for the remainder of our time in Cairo, reappearing four years after Samira's passing.
Hot Pine Bling
Without his partner, Tom Hiddleston's Pine isn't quite as alluring. Although Hiddleston is certainly as endearing and handsome as ever, the blankness that Samira perceives as attractive multiplicity to the observer simply comes across as premeditated apathy.
He's strangely at ease with the business of international espionage for a hospitality worker who spends the majority of his day making arrangements for mints to be placed on pillows. I kept wishing Hiddleston would show a little more fear beneath that cool exterior.
You can also read about the series of Disney Plus on which it released:
Know Your Enemy
As the episode comes to a close, Pine is preparing himself for the impending battle with a supervillain while giving a lot of discarded phone sims to Olivia Colman's intelligence agent Angela Burr. Without removing that tiny tie pin, I want to see him disrupt the worldwide armaments trade.
But, many other things draw us back. Will Pine appreciate Roper's supermodel girlfriend, who is there in front of him, and is she a collaborator or a dupe? Does Roper want that to happen? Will the Hamid family reappear and lead us to Egypt once more, or were they just Roper's greater evilness engine?
Who was it that alerted the Roper-Hamid organization to the stock list leak? I'm wondering if goody-two-shoes Angela isn't also a contender. Sir Humphreys depicted by Douglas Hodge and a gloriously plump Russell Tovey look like the leading suspects. That wouldn't be the least bit of a turn-up, even though I don't see any narrative logic in it.
Visit Leedaily's Twitter account for the latest news and share this article with your loved ones.