Jungkook, the newest member of BTS, gave ARMY a brief Weverse Live performance where he talked about the condition of his dog Bam and performed a few songs for the audience. Jimin and J-Hope appeared during their life and spammed Jungkook with their inside jokes in the comments section.
The doorbell repeatedly interrupted Jungkook, which at first appeared to supporters to be a stalker's threat given that there have been rumors of someone filming Jungkook during his boxing training. The singer quickly said farewell to fans because the second time it was someone he recognized.
Fans were nonetheless shocked when the vocalist abruptly deleted Instagram, which sparked a flurry of different speculations. Many believed the musician was taking preventative action against the saesang (stalker in Korean), who was allegedly distributing his images and videos without his permission.
Here you can also check our recent articles:
He informed his worried followers that Instagram had not been hacked by declaring,
"I quit Instagram. I got rid of it because I rarely use it. Do not fret. It's okay, I'd prefer to do Weverse Lives, he wrote in his subsequent Weverse post. I instantly removed the app, and he continued. If I come back, I'll let you know in advance.
With the rest of his band, Jungkook made his Instagram debut in December 2021. Since then, he has traveled quite a distance. The singer made good use of Instagram, posting videos of himself practicing boxing and using a username that contained every letter of the alphabet. Before fully ignoring the platform and turning to Weverse alone, he quickly removed his images and shared them in the grid style.
"I've left/quit Instagram. it's not hacked 🙂 I didn't use it so I just deleted it.. don't worry!!!" he said, as translated by BTS fan @BTStranslation_ on Twitter. "Heheheheheheheh kekekekeke well I just don't use it so what else could I have done !!? (written cutely) I'd rather do weverse lives from time to time," he added.
BTS WEVERSE POST JUNGKOOK 230228

JK: I've left/quit instagram.. it's not hacked 🙂
I didn't use it so I just deleted it.. don't worry!!! [cutely] pic.twitter.com/h190DnNTK2

— Sel⁷ (@BTStranslation_) February 28, 2023
As Jin left for military duty, he took some time off before returning in the first few days of February with a three-hour Weverse Live. The singer clarified that, contrary to rumors, he hasn't been working on his record and is instead simply "taking a break."
While J-Hope would share his farewell song "On the Street" before leaving for the military, Jimin is anticipated to release his new album in March. In Milan, RM recently attended his first-ever fashion exhibition, and Suga will go on a global tour in April.
Jungkook Explains, Why He Deleted His Instagram Account?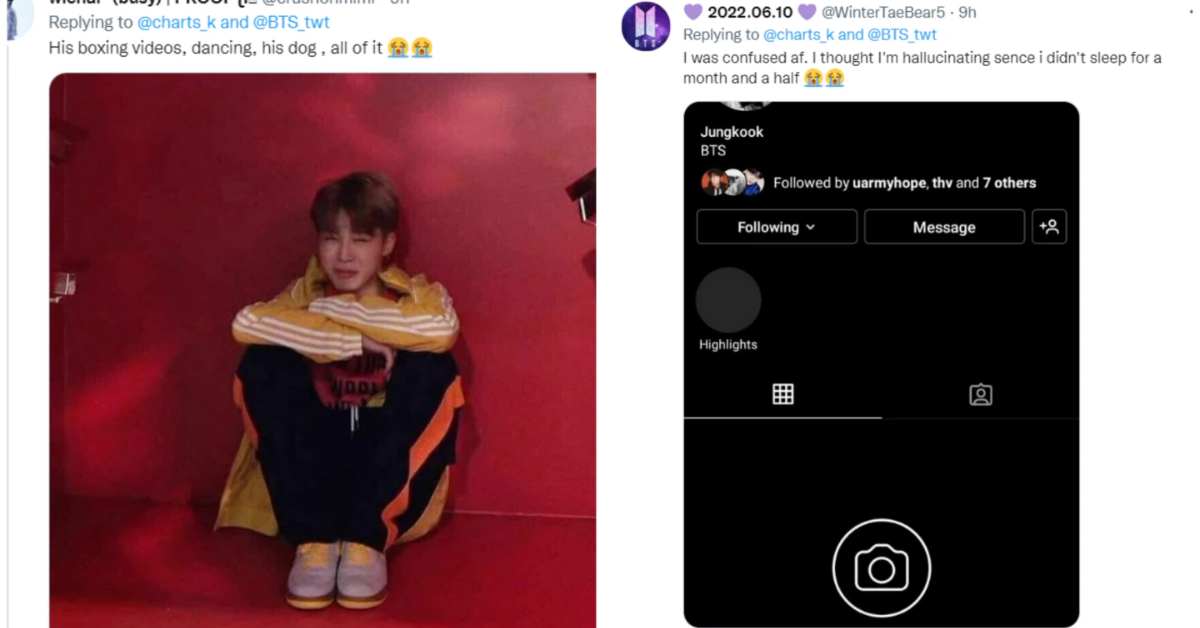 Jungkook, a member of BTS, has explained why he erased all the images from his personal Instagram account. The musician deleted all of his Instagram posts and story highlights last week. Some followers were able to record the K-pop idol as he deleted his Instagram feed, and others have speculated that the deletion may have been caused by a problem on the social media site.
Nevertheless, Jungkook informed supporters that he had just had a "change of thought" when he deleted all of his social media posts in a Vlive show that was held yesterday (June 7). Jungkook verified that he had indeed done so.
A reason [behind deleting my Instagram posts]? Absolutely no justification. Not because something took place. Simply put, I didn't like the way it looked," he said. "I have it all in my heart and it is truly precious and lovely to communicate with you on Instagram through pictures."
Moreover stating that he was unaware that posts may be archived, Jungkook later expressed regret for his choice. The hero continued, "I do think that it's really bad that I just erased it all.
"I just wanted to make it appear prettier," the user said, "I didn't aware you could 'Archive' photographs."
He jokedly begged viewers for their support as he started anew on Instagram, saying that he would be publishing things in a different way. He laughed and said, "I can do that, right?" "I didn't get your okay to delete them, but I did obtain your okay to try again."
The first preview for BTS's forthcoming song, "Still To Come (The Most Beautiful Moment In Life)," has been released. The song is going to be on the group's next anthology album "Proof," which comes out on Friday (June 10).