Produced and developed by Tracy Oliver, Harlem is an American sitcom. On December 3, 2021, it debuted on Amazon Prime Video. The show's second season was renewed in February 2022 and debuted on February 3, 2023.
Four women who became friends while attending New York University and are now in their thirties and living in Harlem are the focus of this 10-part series on women juggling adult responsibilities.
'Harlem' Season 2 Recap
Season 2 of Harlem got better. Unbeknownst to his fiancee, Camille kissed ex-boyfriend Ian the day before his wedding; Angie began dating a co-star from Get Out: The Musical; Quinn developed a love for Isabela; and Tye's ex-husband returned to town seemingly out for revenge.
They seemed delighted to be back together, but then Camille said she didn't want children, and Ian revealed he always wanted to be a parent. As a result, the couple broke up once again so that she could devote her time to her Black Joy exhibit and pursue a career in academia.
Tye eventually left Brandon, and after a lengthy divorce in which he ultimately received half of her assets, Brandon revealed that he had only put her through it to hurt her. They reconciled, and he assisted the app developer's girlfriend with the injections necessary to freeze her eggs permanently.
🗣️ THE FANS HAVE SPOKEN! No one does it better than the ladies of #HarlemOnPrime! All episodes available now on @PrimeVideo! pic.twitter.com/4yHApTXKJc

— Harlem (@HarlemOnPrime) February 25, 2023
She began having one-night stands with Zoe, a casual acquaintance, before falling for Aimee, a local "plant woman." Although Angie and Eric's relationship didn't endure, they remained friends, and she even moved into his apartment when he was out on tour.
Mike, whom Quinn's mom had introduced to her as the real estate tycoon Michael, became Quinn's new love interest. Quinn helped him propose to her after she had dumped him abruptly because she didn't want their unique relationship to come between her and her best friend.
It all started when Isabela dumped Quinn at the beginning of the season, sending her on a downward spiral that culminated in her admitting she needed antidepressants. She became closer to her mom and friends and realized she needed to find love within before finding someone else to love.
The final scene involves a group of friends visiting an urgent care facility, where they receive the shocking news that one of them is pregnant. Who's there? All the clues point to Quinn.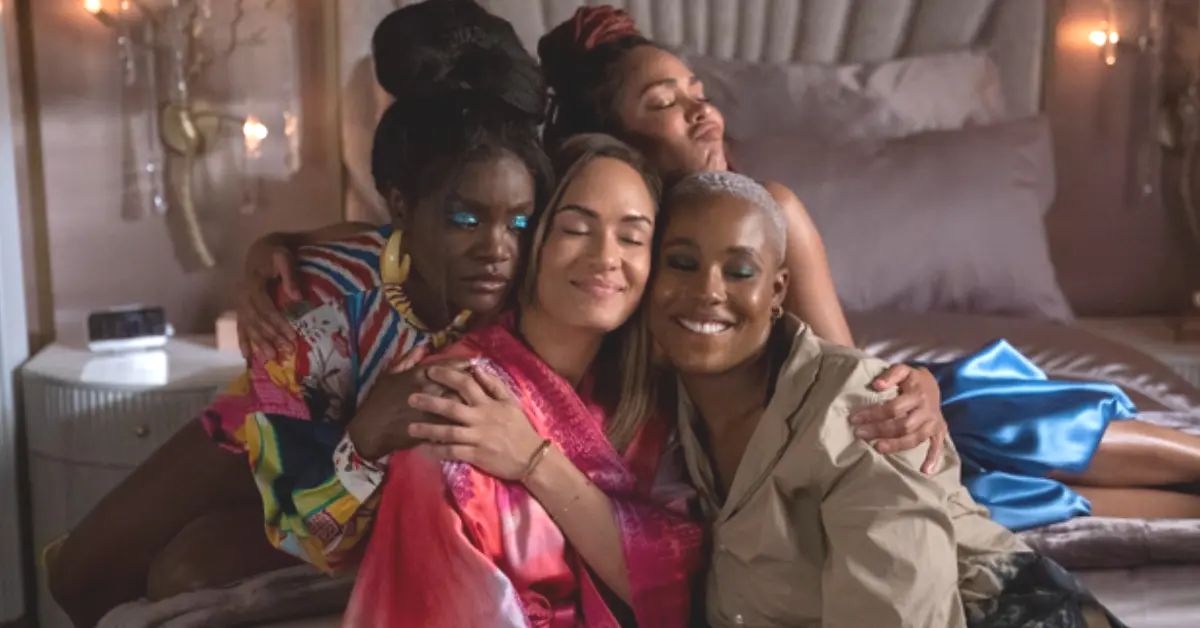 Quinn is Most Likely Pregnant in 'Harlem'
On their trip to Puerto Rico, Camille and Angie stumbled upon a community of women taking care of their young children together, which was the first clue. She would interview them for her project until she decided that parenthood wasn't the tale she wanted to tell.
Camille, though, was taken with the concept of the community, and she suggested that the girls take part in the commune's ocean cleansing rite at midnight. Tye's decision to freeze her eggs alludes to the likelihood that the four of them will end up in a similar scenario, raising a child or children together.
In addition, if Quinn is expecting a child, the father is probably Keith, an ex-lover she saw while on this trip. In the Black Joy episode, Quinn said "loving fully" means falling in love with herself first. She realized how much she meant to Angie along the way by witnessing the ambitious starlet leave Mike for her.
The ladies had an EPICCCC girls trip! 🏖️ What was your favorite moment from their Puerto Rican getaway? #HarlemOnPrime pic.twitter.com/KoKez2otWz

— Harlem (@HarlemOnPrime) February 26, 2023
Angie informs her that she already loves three men—Quinn, Mike, and another man—and can't possibly love anymore. The dressmaker, concerned about losing their friendship, may take this as a sign that Angie may stay married to Mike and yet assist in raising their child.
After hearing the news of their pregnancy, the women's reactions are very telling. Camille, for one, can be seen staring at the doctor with utter bewilderment. Given that she had assumed she wouldn't become pregnant and hence wouldn't have to have that conversation with Ian, her expression would likely be one of surprise or dread.
But, as the doctor delivered the news, Angie and Tye stared at Quinn almost instantly. The fashion designer froze, seemingly unable to make eye contact with her companions. Also, Grace Byers, who plays Quinn, is expecting a child. The group's dynamic will unavoidably shift with the addition of a baby; hence, Season 3 will presumably focus on them.
You can find out which actresses are rumored to be pregnant in the year 2023 by clicking on the link below: