Evil Dead, the comedy-horror franchise beloved by fans, is coming back with a brand new, bloody plot. In October 2019, a new film based on Sam Raimi's iconic franchise, Evil Dead Rising, would reportedly be released to the theatres with plenty of gore.
Fans of the original films are anticipating the return of the franchise's signature brand of hysterical, offbeat horror under the direction of Lee Cronin (A Hole in the Ground), with Raimi serving as executive producer once again.
Yet, what will it be about in the upcoming movie? Will the story still center on Ash Williams, the rough-and-tumble antihero? If you're brave enough to read on, you'll find the answers to all of these questions and more.
When Will Evil Dead Rise Be Released?
Although Evil Dead Rise was originally scheduled for an HBO Max debut in 2022, the picture will now open in theatres on April 21, 2023, thanks to a revised distribution strategy and successful test screenings. In addition to Evil Dead Rise, several other upcoming films were also planned as HBO Max exclusives, including House Party, Magic Mike: Final Dance, and Blue Beetle.
This is a strategy not unlike the one Paramount used with their horror blockbuster Smile from last year, which was originally intended to be a Paramount+ original movie before positive test screenings convinced the studio to release the film in theatres instead.
On March 15, 2023, the film will have its global premiere at the SXSW Film Festival.
How Long Ago Did They Shoot Evil Dead Rise
The new series's filming began in June 2021 and finished in New Zealand in late October of the same year. Lee Cronin tweeted that he "cut this beast together" after the shoot wrapped.
8 months, 1 Covid Lockdown, 6,500 litres of blood, and more memories than my brain can even process. That is a wrap on #EvilDeadRise. Thank you New Zealand, it's been a blast. Time to head home and cut this beast together. pic.twitter.com/iyah4vEEqL

— Lee Cronin (@curleecronin) October 26, 2021
Cronin has posted a sneak peek of the film by way of photos on his Twitter page. You can get a sense of the tone of this new chapter in the demonic possession saga from the photographs, which range from his bleeding sneakers to… well, puddles of blood and chunks of bloody artificial flesh.
Gladdening to those who saw the first two films is the news that the third is staying true to its bloody beginnings. The Evil Dead, the original film in the series, and its remake from 2013 were banned in many countries due to their extreme violence.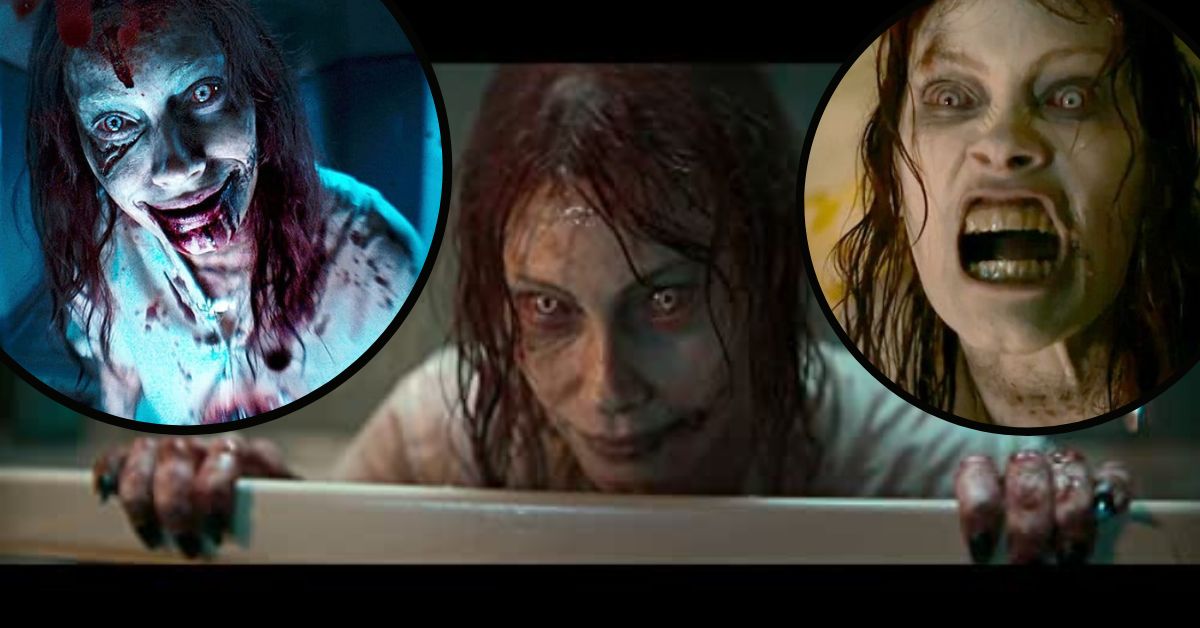 Although it's disappointing that some people weren't able to watch the movies, the fact that they didn't make them all the more awesome. As Cronin revealed in a social media post that the cast and crew utilized almost 6,500 liters of artificial blood while filming Evil Dead Rise, it remains to be seen whether or not the movie will be banned in the same way.
We have posted about upcoming horror movies if you like them. Must Visit the links:
Does Evil Dead Rising Have a Trailer?
On January 4, 2023, a red-rated trailer for Evil Dead Rise appeared on the Internet. The trailer proves that Cronin wasn't exaggerating when he said there would be plenty of gore in the film; the two-and-a-half-minute clip shows just that. Fans of the series will probably enjoy this latest entry, which features plenty of blood, scalps, frightening music, haunting woodlands, and victims who are possessed.
What Will the Next Evil Dead Narrative Be About If Ash Is Gone?
The official plot synopsis for Evil Dead Rise via Warner Bros reads:
Moving the action out of the woods and into the city, "Evil Dead Rise" tells a twisted tale of two estranged sisters, played by Sutherland and Sullivan, whose reunion is cut short by the rise of flesh-possessing demons, thrusting them into a primal battle for survival as they face the most nightmarish version of family imaginable.
In Cronin's Twitter posts, he sarcastically that the movie is a "heartwarming and tender family drama" and includes a picture of a bloodstained tabletop with the text "Damn kids never clean up the kitchen." This clue, combined with the fact that Cronin's first film dealt with wicked kids, makes one question which member of the LA family will be possessed in Evil Dead Rise.
Incorporating fresh, horrifying ideas into the series is one of the many benefits of starting again with a new plot. Lee Cronin, who wrote and directed his first picture, A Hole in the Ground, is back for more, and fans can expect more of the same gloomy creepiness.
Cronin's film, which he also wrote and directed, opened to rave reviews in 2019. There's a mother in the narrative whose son comes home from the woods behind their house acting quite peculiar.
Damn kids never clean up the kitchen. #EvilDeadRise. pic.twitter.com/eaTn87aj3h

— Lee Cronin (@curleecronin) July 21, 2021
The mother begins to suspect that her son is not her biological offspring but rather a Changeling, a mythical creature claimed in the European tradition to be the substitute for a kid abducted by fairies.
The film is set in a desolate rural place and features fascinating sights and an odd creepiness in the context of a narrative of parental anxiety. There is no humor in the picture, so it's anyone's guess whether the next, potentially scarier Evil Dead film will follow the same goofy, humorous tone as the first trilogy.
Who Will the New Cast Be?
Lily Sullivan (Mental) will play Ellie, the LA-based mother, while Alyssa Sutherland (Vikings) will play Beth, Ellie's sister. In addition, Mia Challis (User Not Found) is credited as the actress who plays Jessica, while Morgan Davies, Gabrielle Echols, and Nell Fisher are credited as the actors who play characters whose identities have not been revealed.
Where Can You Watch the Earlier Films?
You can buy or rent the first four Evil Dead movies whenever you want, and you can even get them on some streaming platforms. Starz and Netflix both have the spinoff series Ash vs. Evil Dead accessible to stream.
If you're a lover of comics and the third film in the series, Army of Darkness, released in 1992, you're in luck: Dark Horse Comics adapted it. The first three comic books are direct adaptations of the film and retain the original conclusion, but after being picked up by Dynamite Entertainment and Space Goat Productions, the series began to feature new, non-canon events for Ash, including appearances by Freddy Krueger, Dracula, and others.
To appease those who can't get enough of this demonic slaughter, the comics feature a tale that, while not canon, is nevertheless a lot of fun.
If you're a fan of horror movies and would like to learn more about what's to come, then you'll like reading the posts we've prepared for you:
Horror fans and cult film enthusiasts alike eagerly anticipate the return of The Evil Dead flicks so they can once again enjoy the buckets of blood and slapstick humor that made them so beloved. After 40 years, the franchise's fan base has remained steady, and this next, potentially darker edition may attract even more viewers.
We'll keep an eye out for updates on the macabre manufacturing, but we'll stay well away from the mysterious appendages. For more updates on upcoming series, you can follow us on Twitter.