The Morning Show is a television drama series that won an Emmy for its portrayal of the competitive world of television news. The series stars Jennifer Aniston and Reese Witherspoon as two anchors who find themselves in the thick of the drama that is happening on and off-screen at the fictional network UBA.
Apple TV+ renewed the show for a third season after its second season, which was full of twists and dealt with the ongoing health scare and social unrest that began with the coronavirus pandemic.
Fans can't wait to see what happens to Alex (Aniston) and Bradley (Witherspoon) next on the streaming platform, so the show has been busy filming in New York City and adding even bigger names like Jon Hamm to its already star-studded cast. Before the new season of The Morning Show starts, here's everything you need to know about it, including who's joining, where things are going, and when it will start.
You Can't Miss These Hidden Gem Shows:
The Morning Show Season 3 Premiere Date
Apple TV+ hasn't announced a release date for The Morning Show Season 3. The last day of filming was February 9, 2023, so you can probably expect season 3 to come out in the middle or end of 2023.
The first season debuted on November 1, 2019. Before moving to a weekly drop, Apple TV+ put out the first three episodes. With season 2, there was only one new episode per week. The streaming service hasn't said how season 3 will be released yet.
A Recap of What Happened in The Morning Show Season 2
The second season of The Morning Show was crazy from start to finish. Steve Carell's character, Mitch Kessler, a controversial morning show host, drove his car off a cliff and killed himself. That was only the seventh episode of the second season. Even though Mitch is dead, Paola's documentary about him is still out there, and Cory may have convinced her to air it.
Season 2 ended with a lot of unanswered questions about the COVID-19 pandemic. During the pandemic, Daniel quit his job to be with an elderly family member. Alex got COVID-19 in the last episode of Season 2, and she wrote about it on the new streaming service UBA+. After a rough year, this could be the start of her big comeback.
Meanwhile, Cory finally told everyone that he loves Bradley, who started dating Laura in season 2. Bradley couldn't answer Cory's declaration of love because she got a call that her brother had been found in a hospital. Cory and Bradley ran to the hospital and walked into an emergency room that was full of COVIDs without any PPE.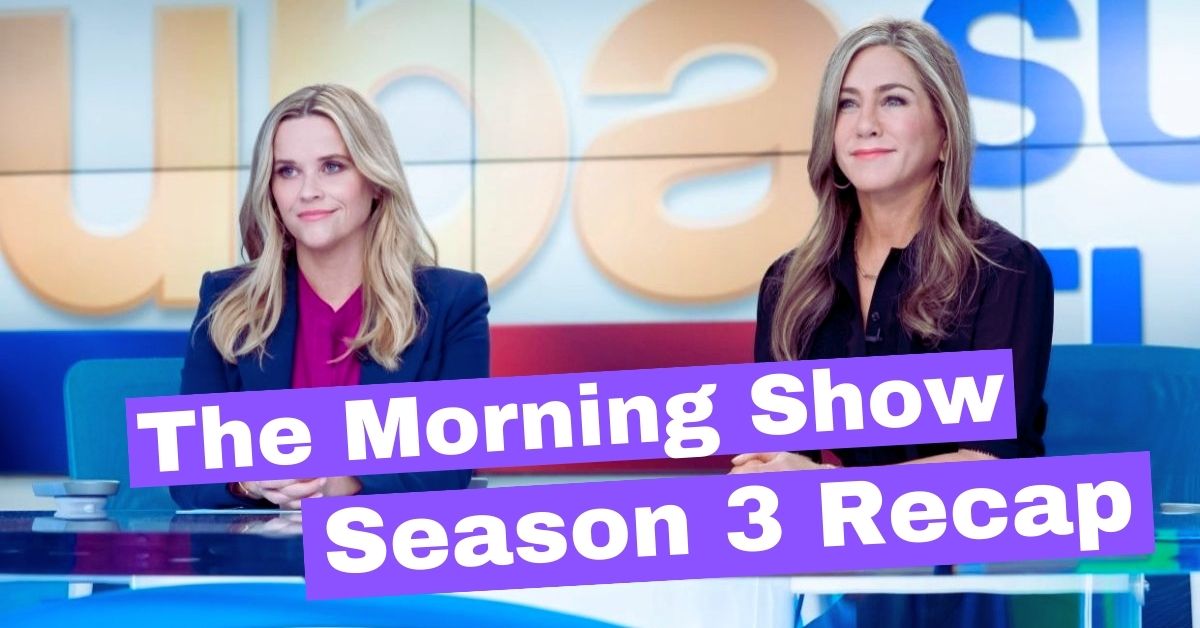 The Morning Show 3 Plot Breakdown
The "The Morning Show" Season 2 finale shows a number of the key characters in various mental states and up against difficult challenges. Cory (Billy Crudup) suffers a serious professional setback as a result of the UAB+ streaming network's disastrous launch.
Another illustration of his weakness is Bradley (Reese Witherspoon), who is unable to comprehend his feelings, much less share them. Bradley needs to stop being "hard on herself," says actress Reese Witherspoon, and get over "a really tough upbringing that she still hasn't completely addressed."
Alex, a character played by Jennifer Aniston, receives COVID-19 after spending a season determining her part in the Mitch Kessler UAB incident. After delving into her role in the Mitch Kessler UAB scandal for a season, Alex (Jennifer Aniston) signs a COVID-19 deal and, with the help of producer Chip Black (Mark Duplass), films a solo at-home special in which she dismantles the glitzy "Morning Show" facade.
She had an on-air tantrum similar of a "Network" episode, which made it clear that she was enraged and had had enough. I've always imagined Alex as having separate, unique selves for his public and private selves. According to Ethirin, her tale is about combining the two ideas.
The Morning Show Season 3 Cast
No official announcement has been made about who will be back for the third season of The Morning Show. Billy Crudup, Jennifer Aniston, and Reese Witherspoon talked about their futures and the futures of their characters on the show. In Season 2, Alex Levy, who plays Aniston, got COVID-19 near the end of the season. When asked if she'd come back for Season 3, the actress said, "It's hard to even think about it right now."
Witherspoon plays co-host of "The Morning Show" Bradley Jackson, who seems more focused. She said that they are talking about Season 3 and are "definitely planning" another season. Crudup also seems willing to play Cory Ellison, the CEO of the made-up UAB network, again.
Variety said that Julianna Margulies will join the cast of Season 2 in December 2020. She will play Laura Peterson, Bradley's love interest and a reporter for the news. Laura moves to Montana, but Cory's passionate confession of love for Bradley in the season finale makes for a fascinating love triangle, even though Laura left New York City. Margulies says that she would like to go back in time and look at how Bradley changed because of his relationship with Laura.