Kanye West is complex, brilliant, and innovative. It's also likely that he suffers from a mental illness, which has caused him a great deal of distress in his personal and professional life.
After West made a series of antisemitic comments and "White Lives Matter" pranks in the fall of 2022, both Adidas and Gap severed their profitable partnerships with him for his Yeezy collections.
Before this, West's finances were unclear due to his tendency to exaggerate both his fortune and his debt. After losing $53 million in 2016, West tweeted a plea for help from Mark Zuckerberg, asking for $1 billion to fund "Kanye West ideas." Even if Facebook's creator said no, West went ahead and joined anyway.
Though West, or Ye as he has legally changed his name, is one of the greatest rappers and producers of his generation, he has become almost as well-known for his at-times erratic behavior, which is often complicated by his struggles with bipolar disorder. His romantic life has also kept him in the public eye, and the upcoming divorce process with his estranged wife Kim Kardashian might bring his life and money under closer scrutiny than ever before.
Here's all we know about Kanye West's wealth and how Ye made his money, from the $5,000 he made producing a beat for Jermaine Dupri to the millions he made from his tours to the unimaginable sums he made through his Yeezy apparel brand.
What is Kanye West's Net Worth in 2023?
Ye's former value was projected at $2 billion, so brace yourself. And that's a capital B yes! After the German company canceled the agreement for his Yeezy brand, his net worth dropped to an estimated $400 million, according to Forbes.
Here, you'll find links to articles that will fill you in on the latest buzz surrounding Kanye West:
How Much Does Kanye West Make From Adidas?
West earned upwards of $220 million in 2016 alone thanks to his Yeezy collaboration with Adidas. As of October 25, 2022, what is his annual salary from Adidas? Due to his overt anti-Semitism, not much more.
Adidas said in a statement, "Adidas does not tolerate antisemitism and any other sort of hate speech. Ye's recent comments and actions have been unacceptable, hateful, and dangerous, and they violate the company's values of diversity and inclusion, mutual respect, and fairness.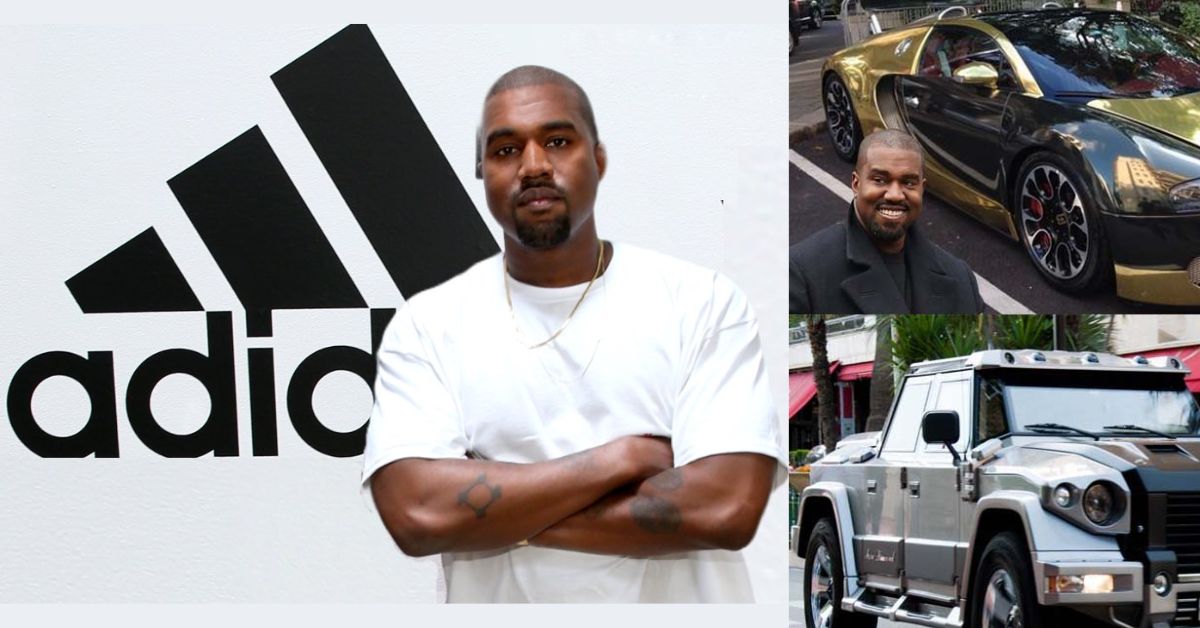 After a thorough review, the company has decided to terminate the partnership with Ye immediately, end production of Yeezy-branded products, and stop all payments to Ye and his companies. Adidas will stop the Adidas Yeezy business with immediate effect."
How Much Royalty Does Kanye Get From Adidas?
With Adidas booting him to the curb as of October 2022, it's possible that West's income would plummet sharply, as estimated that $1.5 billion of his net worth comes from Yeezy and Adidas. The publication compared his earnings from Adidas to those of established musicians like Bruce Springsteen and Bob Dylan who benefit from royalties on their back catalogs.
How Much Money Does Kanye West Make From Yeezy?
Forbes, which was given access to Ye's financial records, claims that the rapper's wealth is driven primarily by sales of his Yeezy brand apparel. The company made $1.3 billion in sales in 2020; it is unknown how much West personally made from the line, although he likely made at least $143 million in the most recent financial year.
The multi-year Yeezy collaboration between West and Gap was revealed in 2020. It was believed that West's collection was worth around $970 million. In its first full year of operation, 2022, the collection was expected to "break $150 million in sales in its first full year in 2022," as reported by Bloomberg. We'll never know the deal's full potential because Gap will cancel it in 2022.
How Much Money Does Kanye West Make From Albums?
A cool $90 million is the estimated value of West's music archive, which includes his albums, those he has produced for others (including masterpieces like The Blueprint), and his G.O.O.D. Music label.
With earnings of $170 million in 2019, he surpassed all other hip-hop artists to become the highest-paid artist in the world. While the money he made from the sales of his albums is unknown, he almost certainly fared well based on the numbers.
Kanye West's net worth has increased to $2 billion, making him the world's fifth-best-paid artist, according to Forbes. Here's a tweet that confirms the news-
According to Forbes, Kanye West's net worth has increased to $2 billion, making him the fifth highest paid entertainer in the world. pic.twitter.com/kUkN0YlefA

— Pop Base (@PopBase) April 5, 2022
How Much Does Kanye West Make From Spotify?
Most artists make less than half a penny ($0.00437) each stream on Spotify, with some artists and labels negotiating higher rates at $0.0084, which is still less than a cent. Nonetheless, West still has enough listeners for him to profit handsomely from Spotify: With the conservative projection of $0.00437 per stream for his top 10 most popular songs as of October 2021, West will still make close to $3,747,643.
In 2021, West set a new record by having 10 studio albums each receive 1 billion streams on the streaming service. Even though his album The Life of Pablo was released exclusively on Tidal in 2016, it was reportedly streamed 250 million times in the first 10 days.
How Much Does Kanye West Make From Touring?
West, like the majority of musicians, makes the majority of his money from concerts. His tours consistently earn more money than a Yeezy model, and his gigs are practically sure to sell out.
The Glow in the Dark tour by West earned $30.8 million, while the Watch the Throne tour by West and Jay-Z earned $75.4 million. Around $31 million was made on the Yeezus Tour.
After his then-wife Kim Kardashian was robbed at gunpoint in Paris, he was hospitalized for a mental health crisis and had to cancel many performances on the Saint Pablo tour, costing him $52.8 million.
How Much Does Kanye West Charge for a Feature?
Let's presume West is asking for more than the usual rapper, as features often earn between $250,000 and $500,000 for Nicki Minaj in her peak, $250,000 for Kendrick Lamar (if he chooses to do it), and six figures for 21 Savage.
What Homes Does Kanye West Own?
Two of West's Wyoming ranches are valued at $14 million. On his 4,500-acre Monster Lake Ranch, which also features two freshwater lakes, an event center, a restaurant, and meeting spaces, as well as barns, stables, and other animal facilities, he can house all of his children and his workers comfortably.
Bighorn Mountain Ranch is the second, and it has a main house with five bedrooms and four bathrooms, a wraparound deck, a professional kitchen, saunas, and a wet bar, as well as several cottages spread out around the property and not one but two heated helicopter pads.
Until their divorce in 2021, he and Kardashian also shared a house in Hidden Hills, California. The mansion, which has been featured in Architectural Magazine, features works of art, high-end furniture, and a specialized plaster that requires a European cleaning crew.
They paid $20 million to buy it from Lisa Marie Presley in 2014, and then spent another $20 million on improvements, bringing the total to $40 million. In 2018, he and Kardashian spent $2.975 million on land next to the house and $6.5 million on a mansion in Calabasas, California. Explore the house by clicking here:
To continue living in the mansion full-time with their four children, Kardashian reportedly settled on a price of $23 million to buy out her ex-part. husband's
They made $17.8 million upon the sale of a Bel Air property in 2017. According to tabloids, he dropped $14 million on a Florida mansion for Kim Kardashian two years later, however, it's not clear who owns the home now.
How Much Are Kanye West's Cars Worth?
It's no wonder that West's $3.8 million automobile collection is so valuable, given that he credits Lamborghini as an inspiration for his Yeezy clothing line.
You can learn more about the wealth of celebrities and other high-profile persons by reading the articles provided below:
What Investments Does Kanye West Have?
As of April 2020, West had $35 million in stocks and $17 million in cash, according to documents. Those are certainly not little amounts of money, but in the context of his entire investment portfolio, they are pocket changes.
In March 2021, however, it was reported that West had far more money: over $122. Among West's $1.7 billion in assets are shared in SKIMS shapewear, which is owned by his estranged wife, Kim Kardashian. It's unknown how the breakup affected his brand's business.
How Much Does Kanye Make a Year?
West's annual earnings are in flux due to his unpredictable work schedule and extensive touring. After losing his lucrative brand ties in late 2022, West is expected to see a significant drop in his earnings, which were approximately $150 million in 2019.
How Much Does Kanye Make a Day?
'Ye's estimated annual income of $150,000,000 translates to $410,958.90 each day. Again, this is likely to reduce dramatically as his outbursts lose him branding chances, however, the extent of the financial impact on his career is unknown.
How Much Does Kanye West Make Per Show?
West claims that he can earn $8 million from a single show. Of course, there are a lot of variables to consider, and West has a history of being dishonest about his financial success. His revenue per performance, according to prior estimates by experts, was in the million-dollar range.