It was first reported in 2021 that Ryan Seacrest was dating Aubrey Paige Petcosky. In May of that year, the American Idol presenter and the model, who goes by the name Aubrey Paige, were seen celebrating Memorial Day together in the Hamptons.
Since then, the couple's connection has been kept under wraps. Since getting together, they've only walked the red carpet together once and haven't been spotted at many public events.
Fans have only seen snippets of the couple's romance so far. Seacrest and Paige made their red carpet debut in July 2022 and were soon sighted on vacation in Ibiza, Spain. Aubrey then shared a photo of the couple kissing during her 25th birthday party on November 8, 2022.
"I'm happy. I'm happy in the present moment," During an episode of Live with Kelly and Ryan in August 2022, the TV presenter mentioned his feelings for Paige.
Thankfully, it appears that Seacrest's love bliss has been more than fleeting. The American Idol star revealed that he would be kissing Paige on New Year's Eve, 2022, suggesting that the two were still very much together. About the kiss, he quipped, "I'll get in trouble if I don't [do it]".
Since Seacrest revealed on February 23, 2023, that he would be leaving Live with Kelly and Ryan after six years, and coming back to the west coast, where Paige is based in Los Angeles, the couple will likely have more opportunities to spend quality time together. Seacrest has been replaced by Mark Consuelos, Kelly Ripa's husband.
Who is Ryan Seacrest Dating? Learn about Aubrey Paige, the model, right here.
Aubrey Paige's a Model
Paige has been in the modeling industry for quite some time. She is presently represented by DNA Model Management, as stated in her Instagram account.
Dick's Sporting Goods was her first major modeling gig. Paige shared campaign photographs on Facebook in August 2021, along with the caption, "It means so much to have been able to work for a company that originated in my hometown Binghamton, NY. Check it out online, in stores, and in the DSG catalog."
She is an avid Instagram user and frequently shares photographs from her photo shoots.
In 2021, Aubrey Paige and Ryan Seacrest Meet
In May of 2021, Seacrest and Paige were seen together for the first time at a Memorial Day party in the Hamptons in New York.
Paige shared an extremely rare snapshot of the two of them on Instagram in December 2021 with the caption, "Safe to say the best part of 2021 was meeting the most incredible man 😍🙌🏼 Wishing everyone love, happiness, safety & health in 2022."
View this post on Instagram
Aubrey Grew Up in New York Before Moving to Texas
The model was born in Binghamton, New York, and raised there until she moved to Austin, Texas. According to her LinkedIn page, Paige graduated from Austin Community College with an A.A. in fashion marketing in 2019.
You can also read the articles below to find out what's going on in the personal life of other celebrities:
Aubrey Paige Now Lives in Los Angeles
Paige transferred to California shortly after finishing at Austin Community College. In May of 2021, she announced her return to Los Angeles on Facebook, writing, "Cheers to a new chapter in my favorite city It wasn't easy getting back out here post Covid, but after a year of reflecting and resetting I finally got my butt back out to LA! I could not have done it without my incredible parents."
Aubrey's Family is Quite Large
Paige has a large family, as evidenced by the fact that she is one of five siblings: two sisters (Riley and Halley) and two brothers (Elliot and Ethan).
Paige said in an Instagram post dated May 2022, which featured multiple pictures of her children, "Happy Mother's Day to this icon who raised us 5 kids like the ultimate boss with an abundance of love, laughter, and support 💗🙏💁🏽‍♀️ Blessed to be your daughter mama."
View this post on Instagram
Aubrey Has Kelly Ripa's Seal of Approval
Some of Seacrest's acquaintances, including his Live with Kelly and Ryan co-host Kelly Ripa, appear to approve of Paige.
Ripa and Seacrest discussed the time when Ripa first met Paige at Mark Consuelo's birthday celebration. Paige was deemed "the most exciting guest that came," according to Ripa.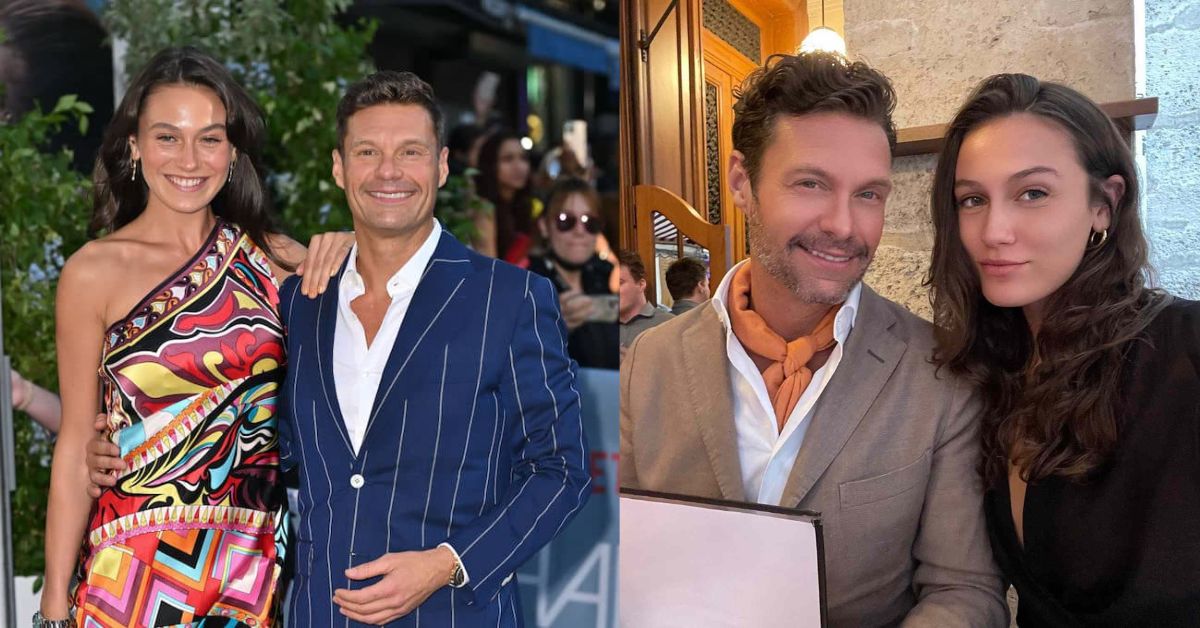 "Kelly said, 'We're all happy you're here and that you exist because we weren't sure there was somebody,'" Seacrest remembered. Ripa said, "We were starting to be like, 'Maybe he doesn't have a special person and maybe we should check in on him more often?' "
Then, Aubrey quipped that if Seacrest ends things with Paige, she "will go into seclusion."
"That's exactly what she said to her," Seacrest said. "I said, 'That's a compliment.'" Ripa added, "I am so fond of her."
Seacrest Hinted That He and Aubrey Might Consider Having Children
Seacrest revealed his desire for a family in a December 2021 interview with WSJ. Magazine. He explained that he has been planning more carefully ever since he met Paige.
Seacrest said in the interview, "I begin to consider setting aside specific moments each month, year, and week for self-care."
Yet, the American Idol host stated he is not in a hurry to tie the knot in August of 2022. "I'm happy. I'm happy in the present moment," Seacrest said on an episode of Live with Kelly and Ryan. "I don't think about anything else. Why push it?" He then added, "I think having kids at the right time would be great."
The Fitness-obsessed Aubrey
Paige's dedication to health and exercise is evident from a quick perusal of her social media profiles. The model's "health" is the subject of a whole Story Highlight, which features several accounts of her engaging in physical activity and consuming nutritious fare. She has a TikTok channel where she has uploaded several exercise videos and how-to guides.
The model is fond of working out with the radio host. They were seen holding hands as they walked home from a New York City gym in August of 2022.
Aubrey's a Screenwriter
Paige's aspirations extend beyond the world of modeling to that of screenwriting. She posted a picture of a script in March of 2022, with the title obscured by a pen but the words "Written by Aubrey Paige Petcosky, Based on Actual Events" were visible.
You can also read the articles below for the latest news about the dating life of other celebrities:
Aubrey Made Her Red Carpet Debut With Seacrest in 2022
The first time Seacrest and Paige were photographed together in public was at the opening of Jennifer Lopez's documentary Halftime.
The model accompanied Seacrest, who was dressed in a striped navy suit jacket and gray pants, in a patterned one-shoulder gown. The two avoided having their picture taken together at the LACMA 2022 Collectors Committee Gala in April.
Follow us on our Twitter account to find out what's going on in the personal life of other celebrities.