Leonard  Kravitz is an American singer-songwriter and actor. He is a multi-talented performer who has established a reputation for himself both in the acting and music industries. Lenny has received various honors and distinctions over the course of his career thanks to his extraordinary talent.
In addition to his personal achievements, Lenny Kravitz is a proud father to a stunning daughter who has also distinguished herself in the entertainment field. This article will examine the daughter of Lenny Kravitz's life and career.
Who is Lenny Kravitz Daughter?
Zoë  Isabella Kravitz is an American actress, singer, and model best known for her roles in the movies No Reservations and X:Men: First Class. Her family's influence helped her break into the profession at the young age of 18 when she starred in a supporting part in her debut movie No Reservations.
She was born in Los Angeles, California, to a family of musicians. Since then, she has made numerous notable film appearances, including Yelling to the Sky, in which she played the lead, and The Divergent Series, a collection of well-liked science fiction movies.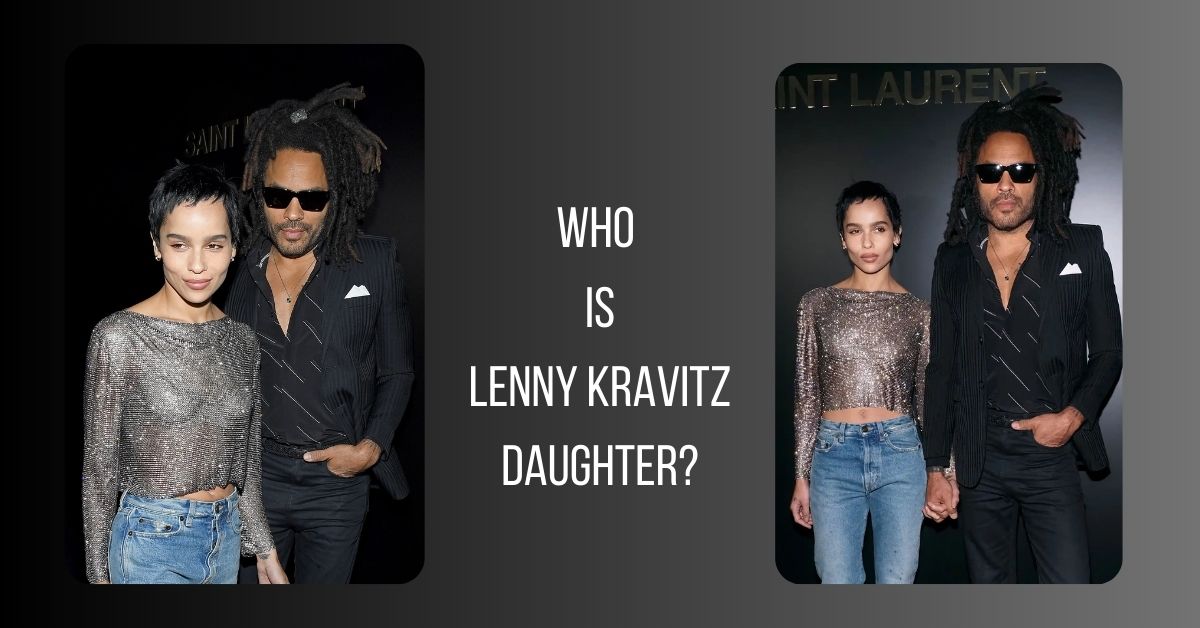 Model Zo Kravitz has been featured in several prestigious publications, including French Jalouse, Venus Zine, and Elle. She opted to pursue modeling, acting, and singing at the same time because she is the daughter of a famous musician.
She started a band called Lolawolf, and their debut record, Calm Down, was released in October 2014. She has also made several major TV appearances.
One of the tops shows at the moment, Californication, an American comedy-drama, included her in its fourth season in 2011. Since she first entered the industry, Zo Kravitz has managed to stay popular because of her attractiveness and acting prowess.
Lenny Kravitz Proudly Praises Daughter Zoë's Graceful Rise in Hollywood
Lenny Kravitz is singing a unique "American Woman" praises in his song. The 58-year-old took a brief diversion from his hosting duties for the 2023 iHeartRadio Music Awards on March 27 to gush over his gifted daughter Zo Kravitz.
"When you watch your child become who they are—not who you necessarily want them to be—but who they were created to be, she's done it her way," Lenny told E! News Francesca Amiker. "She's done it very gracefully and she's doing well and she knows who she is and that's the main thing that I'm proud of."
The 34-year-old has proven she belongs in Hollywood, whether it is through her work in shows like Big Little Lies or singing in front of packed houses. Her dad is also reminded of another family member as she continues to develop her profession on the stage and in films.
The 58-year-old ex-husband of Lisa Bonet complimented his daughter and said, "I see so much of my mother in her." "It's really sweet, and of course she has her mom and me in there of course, but I think about my mother a lot and just how proud she would be because she passed when Zo was just a tiny child," I said.
"She's watching," Lenny continued, "and I'm very proud of the individual that Zoë has become." Proud and impressed!
Lenny, who is presently finishing up the details for his new album Strut, which will be released on September 23, said he would be open to working with Zo in the future.
"I'm sure one day we'll do something together," he said. "It's something we've always talked about. It will be the right thing at the right time as it always is."
Lenny is holding off on deciding then. As the 2023 iHeartRadio Music Awards' host, Lenny will see performers like Kelly Clarkson, Pink, Keith Urban, Muni Long, Cody Johnson, and others perform, perhaps sparking the next improbable team-up.
"I can make music with anybody," he said. "Jay-Z has been on my records. There have been people on my records, but I haven't done an actual duet. I'm just finishing my new album now and I'm trying to figure out who I want to sing with me on a couple of tracks. I might meet that person at the awards."
BANG Showbiz share a tweet:
Lenny Kravitz feels 'proud' of daughter Zoe Kravitz#LennyKravitz #ZoeKravitz pic.twitter.com/w6CMzNL6s8

— BANG Showbiz (@BANGShowbiz) March 29, 2023
Check out some of our trending articles here:
Who is Lenny Kravitz Daughter Dating Now?
Kravitz resides in Brooklyn's Williamsburg. While Fear the Gonzo was being filmed, she briefly dated Ezra Miller, and from 2011 to 2013, she was romantically linked to actor Penn Badgley. Kravitz and actor Karl Glusman started dating in 2016.
They were engaged in February 2018, and on June 29, 2019, they wed in Paris, at Kravitz's father's residence. Kravitz filed for divorce in December 2020, and it was finally granted in August 2021. In November 2022, it was claimed that she was dating Channing Tatum.