Get your lightsabers ready, because the Star Wars universe is growing and Ahsoka Tano will soon have her own series on Disney+.
The female-focused Star Wars series was confirmed after the character made her live-action debut in the second season of The Mandalorian. She first gained popularity with viewers in the Clone Wars cartoon.
So where does the former Jedi padawan go from here, and what role does her old master, Anakin Skywalker, play in this new chapter?
Everything you need to know is listed here.
When Will Ahsoka Be Released?
There is currently no confirmed release date for Ahsoka, although it is expected to arrive sometime in the fall of 2023.
A recent statement by Rosario Dawson indicated that she shared this opinion: "Ahsoka, yeah, that's probably gonna come out in the fall." Despite rumors that production on Ahsoka would start in March or April 2022, the show actually began filming that year on May 9.
The tweet announcing the show's production launch read, "Ahsoka, an Original series, starts production today #DisneyPlus." The photo depicted a director's chair on set.
Ahsoka, an Original series, starts production today. #DisneyPlus pic.twitter.com/EzUwDIGqK6

— Disney+ (@DisneyPlus) May 9, 2022
In August 2022, creator Dave Filoni gave an update on the show's progress to Comicbook.com, saying,  "Oh, it's fantastic. I mean, it's everything I could hope for. I never dreamed of [running a live-action series] as I was learning over the years."
"But to have a character that's just come up over the years with a lot of fans as they've grown up and now she's at the point where we can do this, it's wonderful to be this same person guiding it across the different mediums, I think lends a consistency to the character that's very uncommon."
Dawson updated the audience again in September of 2022, telling them that only a few more months of filming remained.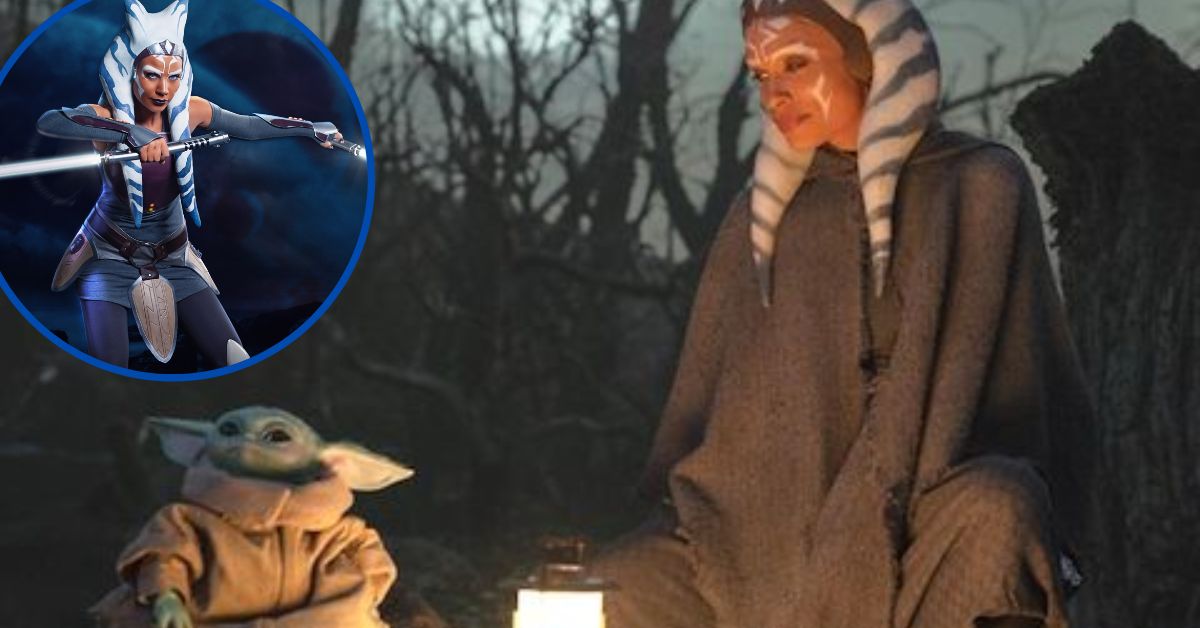 "Yes, we're still filming it right now. We just have a couple of months left. It's going great. It's really amazing learning martial arts in my 40s," she told Screenrant.
"It's super amazing, and I don't use that word very lightly. My grandmother used to say, 'Amazing is two blue horses,' if you ever said something was amazing. Because it'd be like, 'No, amazing is two blue horses. That pizza slice probably isn't amazing.'"
With the necessity for CGI and special effects added in post-production, it is unlikely that we will see the new series until at least late 2023. There have been no additional details on when Ahsoka will conclude production as of February 2023, though it is probably just a matter of time now.
Here you check some latest movies' release dates:
Who Will Co-Star With Rosario Dawson in Ahsoka?
These actors and actresses have been confirmed for Ahsoka:
Rosario Dawson – Ahsoka Tano
Hayden Christensen – Anakin Skywalker
Natasha Liu Bordizzo – Sabine Wren
Eman Esfandi – Ezra Bridger
Mary Elizabeth Winstead – TBC
Ivanna Sakhno – TBC
Ray Stevenson – TBC
Rosario Dawson will reprise her role as Ahsoka for the new show, succeeding Ashley Eckstein, who voiced the character for several seasons across The Clone Wars and Star Wars Rebels (and had a brief appearance in the upcoming film The Rise of Skywalker).
Her mentor, Anakin Skywalker, who is expected to appear in flashbacks or as a force ghost, will be reprised by Hayden Christensen, who was confirmed to be joining the cast in October 2021.
When the role of Sabine Wren from the animated Star Wars Rebels series became available, it was announced in November 2021 that Natasha Liu Bordizzo (The Society) would be performing the role.
Sabine, a Mandalorian graffiti artist, was hinted at by Ahsoka author Dave Filoni in an earlier post.
After Ahsoka's Mandalorian appearance, Filoni suggested in an interview that an epilogue sequence set after Ahsoka's departure might have occurred, implying that the duo's hunt might be recounted in the live-action series.
What Could Happen in the Series?
Although the Disney announcement provided few specifics regarding Ahsoka's story beyond the fact that it takes place around the same era as The Mandalorian, we may have been given some hints about her in the second season of The Mandalorian.
Ahsoka went on the hunt for Grand Admiral Thrawn in the fifth episode of the second season of Star Wars Rebels. Thrawn had vanished in the series finale along with one of the series' primary heroes, Jedi-in-training Ezra Bridger.
A new Star Wars series was announced in a tweet. Following is the complete tweet that was provided to you-
Ahsoka, a new Original Series, starring @RosarioDawson and set within the timeline of @TheMandalorian, is coming to @DisneyPlus. pic.twitter.com/jD8byvNvDP

— Star Wars | #TheMandalorian is Now Streaming (@starwars) December 10, 2020
It's reasonable to suppose that this tease was added on purpose, and it's possible that over the course of multiple episodes, Ahsoka may witness Dawson's hero pursuing down Thrawn (and trying to save Ezra).
Perhaps this will also shed light on the personalities of the show's protagonists and antagonists.
You can check the release dates of some of the newest movies here:
When Will the Ahsoka Trailer Be Available?
Although production recently kicked off, there is no trailer just yet. If and when a release date is set for Ahsoka, the trailer would likely drop one month before the show's debut.
We'll let you know as soon as we find out, so stay tuned in the meantime.