Rihanna is once again showing off her growing baby bump to her fans. The singer and her rapper partner A$AP Rocky are expecting their second child together. On Tuesday, the 35-year-old singer posted a series of Instagram Stories featuring her naked stomach and two dishes of pasta.
The "Diamonds" singer captioned the first snapshot of her her bump with the phrase "Drive-tru," which appeared to be a reference to the green napkin and bowl of spaghetti laying on her blue pants.
And then there was another photo, this one with a peek of her naked belly and a plate of what looked like gnocchi and ravioli in a sauce. The musician only added one emoji of a woman feeding a baby with a bottle to the photo, which was taken in a car.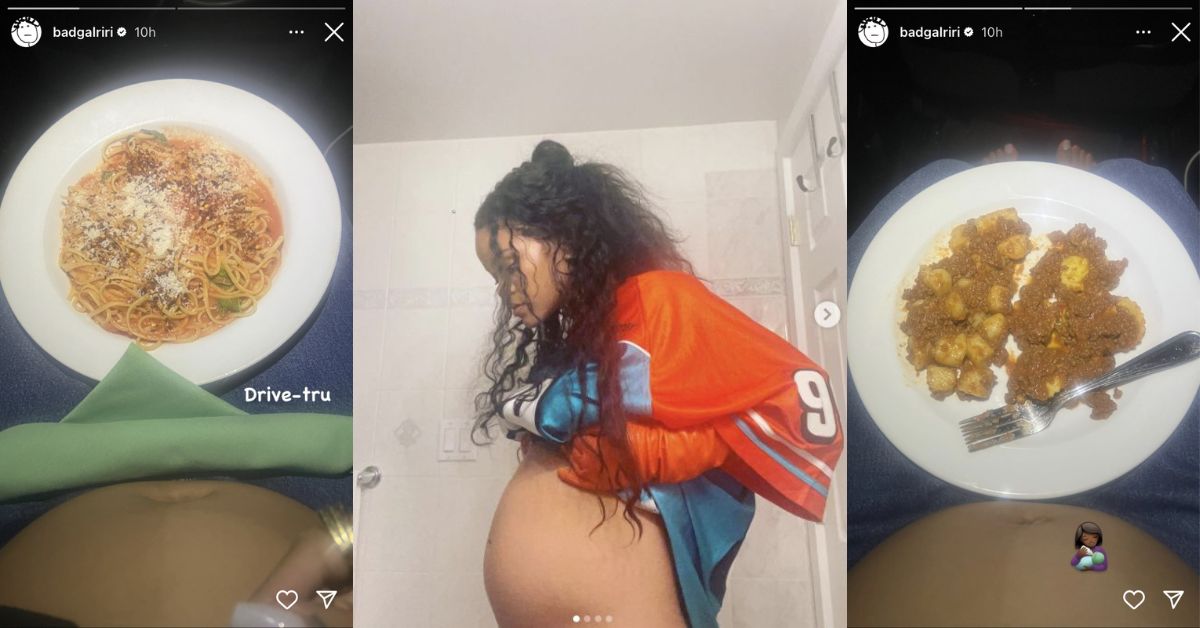 Rihanna got the food to go from Giorgio Baldi, a restaurant she frequents in Santa Monica, California. In a May 2022 cover story for Vogue, she discussed her pregnancy cravings, saying that chocolate and tangerines dusted with salt were her favorites during her first pregnancy. Have a Look at her Instagram post given to you below-
View this post on Instagram
The diva, who has a 10-month-old son with her husband A$AP Rocky, has not been shy about flaunting her baby belly since announcing her second pregnancy in February, shortly after her performance at the Super Bowl halftime show.
We've recently written top articles about Rihanna's pregnancy. If you want to know more about her and recent news, check out the links below:
Rihanna wore a mint green skirt and faux fur wrap outfit that revealed her stomach to the 2023 Academy Awards earlier this month. She finished off her ensemble with a pair of mint-colored stiletto shoes and gloves.
A few days later, she wore low-waisted baggy trousers and a striped rugby shirt tucked into her bra as she stepped out in West Hollywood with her rapper boyfriend, 34.
The "Lift Me Up" singer made headlines in January 2022 when she revealed her baby bump while out in New York. Rhianna, who was accompanied by the "Praise The Lord" rapper, was seen in a long pink jacket with an open bottom that revealed a gold cross covered in bright gems.
After Rihanna showed off her baby bump at the Super Bowl while wearing an all-red ensemble, her rep confirmed the news to PEOPLE. Someone close to her said last month that she was "super excited to confirm" her pregnancy at the time.
The insider shared, "Rihanna has so many things she is grateful for. She is ecstatic about how her show went."